Beauty is the gift that keeps giving.
Thanks to the blooming beauty industry in Taiwan, our beauty bucket list continues to grow with the emergence of exciting technologies, unique brand philosophies, and distinctive creations decoding Asian beauty ideals.
For local skincare junkies always on the prowl for the next big thing, here's our roundup with the best Taiwanese beauty products to try in 2018.
A great story lies behind this lip gloss and it begins in 1945 with a family-based cosmetic workshop specialising in using peanut oil as a key ingredient. Fast forward a decade, Ching Seng Tong Cosmetic Co. was inaugurated and rapidly made their name with iconic contributions in the beauty market, such as the mini thumb-sized lipstick.
PureArt is their house brand, focusing on the consumer's experience. Their informal mantra may be "You think it and we will probably sell it", but this claim is far from being a bluff. Their R&D lab is currently able to blend more than 1500 colours for lipsticks alone and this translates into 30 gorgeous shades for their Colour Boundless Mini Rouge collection. Aside from the warm to natural colour palette, the lipsticks are made of rice bran oil with Vitamin E to keep lips extra supple and plump.
But if you are someone who can only touch up once or twice throughout the day, go for their new Blockbuster Long-lasting Lip Tint. Not only does its unique formula, consisting of macadamia nut oil, babassu oil and Mediterranean mustard seed, provide nourishment and moisture, it is also transfer-proof, with a reported lasting power of up to 12 hours. The lip tint has a satin finish as the formula is part gloss to lock in the colour vibrancy, but it is not sticky after drying completely.
Put your hands up if you have oily-dry combination skin and nothing else works for you. We recently learnt from the founder of YUANLI that a lack of oil and water balance in the skin will actually cause more oil production, which means that it is pertinent to hydrate, hydrate, and hydrate the skin. For those who are older, cream-based products work better as it is more efficacious and covers a large surface area. For those who are younger, lotions can penetrate the skin more easily and efficiently.
The Hydra Matifying Gel Cream is a water-based moisturiser and facial cream, meant for daily application and can even act as a makeup base. Not only does it glide on smoothly, it also has a cooling menthol finish to reduce any puffiness and inflammation. It mattifies in a natural way, restoring the oil to water ratio in the skin so that oil secretion is controlled. A skincare necessity for those who find themselves in situations where the outdoor is very humid and indoors are dry and cold due to air-conditioning, such as everywhere in Singapore.
Beauty gurus have a love-hate relationship with jelly masks. Aside from the longer application time (around 45 minutes), it brings to mind a messy process involving a small spatula, tight headband, and a lot of splashing. When one invests so much in a mask, the result should speak for itself, and right now we are hearing: Bonanza. While many of us might have heard or even used another Taiwanese beauty brand specialising in jelly masks, Bonanza stands out for having no chemicals and preservatives in their jel products at all.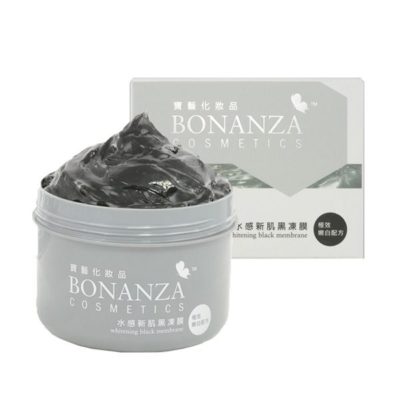 Located in Taichung, the family-owned business takes pride in developing gentle, effective products that can be used by even those of chronic skin conditions, such as atopic dermatitis or after-surgery wounds. The Whitening Black Jel Mask uses activated charcoal powder and liquorice extract to extract impurities, brightening, repair, as well as sooth any surface irritation.
Since it is completely void of preservatives, it has a shorter shelf life of around three months after opening, almost half of what other beauty products claim to last, but one tub properly applied should be good for only five rounds. On the first contact with skin, it will be ice-cold and watery but work with it patiently as there is no danger of it drying out. It will brighten the skin by at least two shades, so be sure to apply evenly on the skin.
Every Hong Kong household will have a tube of MOPIKO. Every Singaporean household will have a bottle of Tiger Balm. Every Taiwanese household will have a tub of Cellina. In its classic blue and white packaging, this ubiquitous cream has stayed as the top-seller in the body care department for over 40 years in Taiwan. Made from camellia oil, the cream acts as a mild to rich body moisturiser that can nourish, soften, whiten, and repair skin of all ages.
Earlier this year, they launched the Sakura Body Cream, a lighter version of the household staple for women and those who prefer something lighter and not greasy at all. It is formulated with cherry extract and an elegant cherry blossom fragrance, which is a refreshing change from the slightly chemical notes in the classic version. The revamped packaging, timeless cherry blossoms paired to soft pastel pink hues, also makes the cream a lovely addition to any vanity table.
Seeing how we are on the cusp of the EOY madness, there is no better time for My Beauty Diary's new masks. According to a user survey conducted by Fashion Guide 2017, 50% of users use facial masks to brighten dull skin. Dull skin comes from a myriad of factors, such as stress, pollution, inactivity, improper sleeping habits which can be fixed with cbd gummies for sleep, and long-term use of cosmetics, all contributing to a lack of oxygen.
We often take it for granted that our skin is exposed to the same air we take in, but even if we were to improve all the earlier factors, we cannot beat the biggest oxygen killer: age. Oxidized skin actually causes fine lines (e.g. crow's feet) and enlarged pores, which then opens the skin to sagginess, dark spots, and uneven surfaces.
Always at the forefront of facial masks, MBD's latest innovation targets this issue with Oxypump, an oxygenating serum formulated with Perfluorodecalin. The Viva Glow Ox Mask range injects a boost of oxygen to metabolise and revitalise the skin, then uses sprouts (Perilla leave sprouts and Marvel-of-Peru sprouts) as an active ingredient to repair and revive problematic areas, all through a vehicle of botanical long-chain fibre fabric sheet, which is pressurised and super absorbent. While it is a premium range formulated for a more mature crowd, it is never too early (or late!) to include anti-aging measures in your skincare routine.
===
Stay updated and social with Popspoken: