Organic beauty is having its moment.
Only two years ago, Huffington Post revealed that the average woman applies over 500 synthetic chemicals directly on her body every single day. Today, the typical Asian beauty consumer is spoilt for choice when faced with a buffet of products from beauty powerhouses such as Taiwan, Japan, or Korea.
However, consumers are sharper than ever. This is partially thanks to the accessibility of online beauty forums, the emergence of influential independent brands, and the tightening of global regulations on various chemicals. All of these factors work to beget disruption in the skincare industry, and gradually, natural products become very appealing for skincare.
What was once a field thought to only concern young millennial females, is now increasingly revealed to affect a range of consumers, like parents. For Asian families, the roles parents play become more significant as they are tasked with choosing products that are not only effective, but healthy.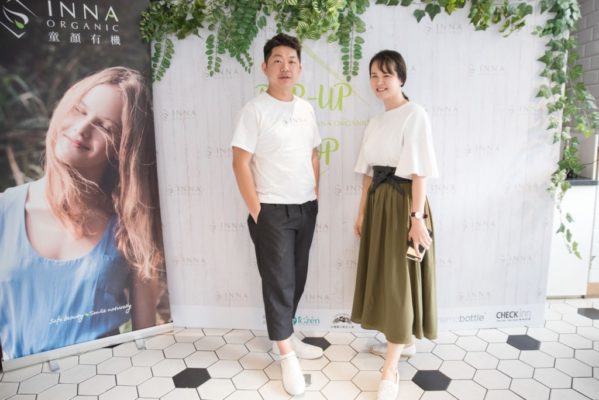 Meet Cecily Pan, the co-founder of Inna Organic, the first and only dual-certified Taiwanese organic beauty brand. Started in 2016, the company's products are already listed on the two international platforms: Cosmos (COSMetic Organic and Natural Standard) and EWG (Environmental Working Group). Her motto is simple: Healthy skin is beautiful, but a happy soul [is one that] truly glows. As a mother herself, she recounts her family's role in propelling her towards clean and natural skincare.
We chat with her about what natural skincare means, the brand itself, and how her philosophy falls in with Asian beauty ideals.
It all started with…
My love for masks. I love using masks, but I didn't find one that I like in the market, so I decided to come up with my own brand of facial masks. Aside from this motivation, I would say family. My son has atopic eczema, so he will often scratch until he starts bleeding. It is very common to find his blood on bedsheets. I started purchasing aloe vera for his skin, but it wasn't very effective.
Then I started looking at ingredients to understand what exactly is suitable for him and his skin condition. For example, he cannot use shower gels or typical body wash, only water or specific all-natural soap. This line of enquiry really fuelled my concerns with the ingredients that are suitable for people with sensitive skin.
It was around that point of time that I met Jimmy, and he comes with a comprehensive knowledge of organic ingredients. It led me to think: can we come up with a brand that we are happy with and a skincare range that is naturally suitable for all?
One of the most recognisable traits of a natural or organic product is the way it is stripped down to its core and fragrances are usually the first to go. Why the use of aromatherapy for the brand?
It is true that fragrances can be very stimulating for people with sensitive skin. Our body lotion is without any scents, as it was developed for this market in mind. The use of aromatherapy in our facial masks is mainly to help people destress. There is a key difference in using aromatherapy, as compared to man-made scents. Organic products should not have the latter, so all our products use natural essential oils or scents from our in-house extraction and formulation process.
What does "natural" mean to you? How do you define it when there are no regulations?
Natural to me stands for basic ingredients that we can see and subsequently, consume. Nothing mixed or processed, like sausages. Our products are also verified by Cosmos and EWG. EWG checks products for ingredients against its database and there is a global standard for products to adhere to, such as free from chemicals and good for the consumer's wellbeing.
How does Inna Organic stand out from its competitors? Why are organic skincare products so important?
There are not many organic brands in Taiwan at the moment. Generally, when people buy beauty products for their skin, they do not care too much about the safety of the ingredients and carrying on using them as long as it works. Long-term use of these products that do not have safe ingredients or use chemicals, or even parabens, may have a long-lasting impact on your body. But people don't think about it on a normal, day to day basis. It is only when they become mothers and have to look out for another, or when their children have severe eczema, or if they fall sick, or develop an allergic reaction, THEN they think about the components of their beauty products— whether they are safe or not.
How do you come up with new products? Is there an internal vetting process?
We look into what our customers need. We have our own VIP group, with about a hundred users. This is where we ask them what they want, or our customers let us know directly what they want to see next. For example, I personally do not use toner, but a lot of our customers want a toner, so we created for them.
I also do not use whitening products, but our customers informed us that they wanted so the range was created. Once a product is developed, the VIP group tests the product and gives us their feedback. Only when it is effective with visible results, then we will open it to the rest of the market.
What other skincare brands do you rate?
I like Aesop. They use natural, complementing scents to enhance their products, which is a pretty similar philosophy to Inna Organic.
The top three products to pick up for a skin care enthusiast are…
Our most popular item, the Myrrh Detoxifying Facial Mask. Any gender or age will benefit from hydration. This is what we recommend for most, even for those with eczema. The other one is the Neroli Brightening Facial Mask. I understand this, with brightening and whitening qualities, to be quite popular with Southeast Asia countries. The last item will be our Frankincense Revitalizing Face Lotion, which repairs skin, smoothens out fine lines, and soothes any irritation.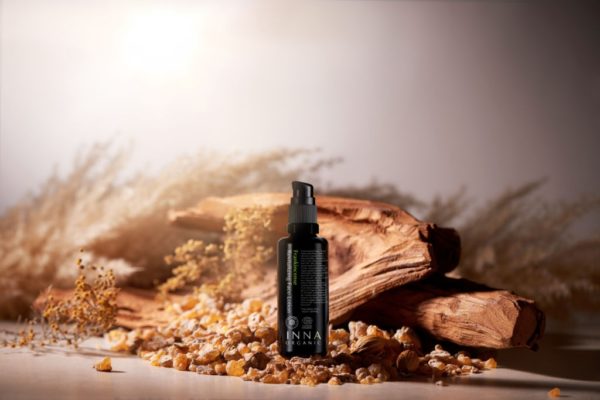 When there are abrupt changes in the season, a friend of mine will have itchy skin. My advice to her is to avoid makeup altogether; simply clean her face and use the face lotion. For older consumers, our Frankincense Revitalizing Face & Eye Cream might be more suitable as the higher oil content will protect the natural skin barrier as well.
What can we expect from Inna Organic in the upcoming year?
For the following year, we will come up with a range of facial masks without any aromas as many people with sensitive skin have voiced their preferences. We are also improving our moisturisers as we are looking to enter the European and American market. The current range, formulated for tropical climate, will not be rich enough.
Interview was conducted in Mandarin and then translated by the author.
===
Inna Organic is now available on Pure Tincture on their website and physical store at Tras Street
Stay updated and social with Popspoken: