After a three-year hiatus, ZoukOut 2022's The Futuristic City of Dreams returns with the likes of "modern day Mozart" Andrew Rayel, veteran DJ Armin van Buuren, Grammy Award-winning Tiesto, multi-platinum DJ/producer Zedd and many more. 
Partnering with AEG, producers of world-renowned Coachella, celebrate the end of 2022 with an anticipated crowd of 30,000 revellers while dancing in unison to some of the top international, regional and local names in the EDM scene.
Attendees can expect a dusk-to-dawn full-fledged festival with experiential booths, customised installations, roving acts and spectacular stage designs. Food lovers will also be treated to a gastronomic food village with brands like Five Guys, Two Men Bagel House, Rappu Handroll Bar and Vatos Urban Tacos, alongside VIP food offerings by Sushi Ichizuke and Burnt Ends.
Just a few days shy of one of the most anticipated events of the year, we speak with Zouk Group CEO Andrew Li to discuss strategy and the challenges leading up to ZoukOut's sublime return post-pandemic.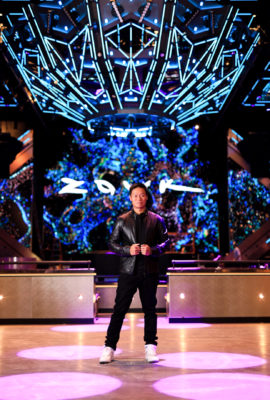 Popspoken: Could you share with us the process of planning & strategising for a festival of this scale?
Andrew: Under normal circumstances we would start the planning a year ahead, but this year, we could only start planning the festival when restrictions were lifted – which gave us about six months. It has been challenging to plan a music festival with this shorter timeframe while running our other businesses, but given AEG has worked on several festivals, we were able to tap our experience and make it happen.
Pospoken: Were there any challenges you & your team faced in planning for ZoukOut 2022?
Festivals come with unique challenges. It requires a collective effort to strategise on the theme, DJ programming, installations, food offerings and many other experiences. As time was limited and ticking fast, it required us to move quickly and effectively to ensure we executed all the tasks at hand. The biggest hurdle was confirming the DJ lineup. Luckily we were able to work alongside Zouk Las Vegas to help solidify several of the headliners – specifically Tiesto and Zedd.
Popspoken: Post-pandemic, what do you think people expect from live events & what is ZoukOut 2022 doing to keep up with delivering a stellar festival experience?
Andrew: People are looking forward to the return of live events and are excited for experiences that resemble pre-pandemic times. We'll continue to improve each and every year and delight festival guests with experiences that surpass expectations, with a specific focus on overall experience, which encapsulates food, activations, music and moments.
Popspoken: What advice would you give to young enthusiasts who would like to organise their own festival someday?
Andrew: Go for it! Healthy competition is important and good for the festival culture. Better yet, come join Zouk Group and play a role in elevating upcoming ZoukOut festivals.
Singapore's biggest beach party and Asia's longest running dance music festival ZoukOut returns 2 – 3 December 2022. Partygoers from all around the world can gather once again at the iconic beachfront festival experience with the company of a wide variety of world-class acts consisting of both international and regional DJs.
Ticket prices range from $168 for general One-Day passes to $428 for VIP Two-Day passes. VIP, VVIP and VVIP table service packages are also available. Full ticket details are available here.