Dave Pynt, the chef-owner of Burnt Ends is not an individual who sugarcoats things. Just like his food, known for its bold, straightforward, and unadulterated flavours cooked over fire and coals, the Perth native is refreshingly honest and humble. If you've ever had the pleasure of a counter seat to watch and eavesdrop on Dave and his team orchestrating a feast over the four tonne, custom-built, dual cavity, wood-burning machines with four elevation grills, you'll see that the magic – a little sea salt here mixed in with some good humoured banter, topped by a dash of brown butter or a moreish burnt onion sauce – is all smoke, no mirrors.
Burnt Ends is arguably one of the more famous modern barbecue joints globally. It has no set menu and getting a reservation is almost mission impossible. Dave himself is celebrated for his ability to coax nuanced flavours out of almost any ingredient, putting a creative spin on everything from bone marrow and marshmallows to flat iron steaks and quail eggs. As a result, Burnt Ends has nabbed numerous accolades (currently #14 Asia 50 Best, #34 World 50 Best Restaurants, One Michelin Star since 2018) and pivoted to several successful off-shoots including Meatsmith, Burnt Ends Bakery, Burnt End Cellars, Meatsmith Xpress and The Ledge by Dave Pynt in the Maldives.
In December 2021, Burnt Ends moved into a spanking new home at 7 Dempsey Road, sizable enough to host three times the number of guests at its original Teck Kim location – so you might finally be able to get a same month booking – and Dave is not showing any signs of slowing down anytime soon.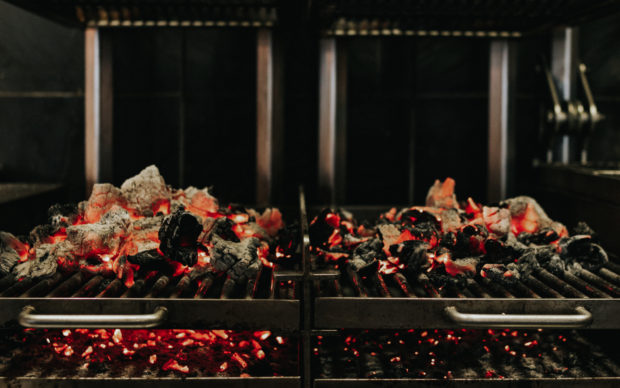 Despite all the success, the Burnt Ends group has not been spared by the pandemic. Overnight, Dave and his team had to re-look and pivot the business and ramp-up online offerings, which pre-pandemic was not a priority. Plans for a brewpub have had to be shelved indefinitely due to "massive labour shortage, rising labour and food costs, inflation, rising rents". And while the next 6 to 12 months in Singapore is going to be "very hard", Dave remains focused on pushing the boundaries at Burnt Ends and ramping up the sustainable dining angle – extending to ingredients, cooking methods, organic wines, etc – to give his guests more of the delicious flavours and textures they have come to know and crave from his kitchen.
We speak to Dave about what's ahead, how climatarianism is playing out in his kitchens, and what's on his playlist.
Sustainable dining is quite the buzzword now but you've always professed a love for sustainability, renewable energy, the ocean. How are you infusing these passions in your menus and restaurants?
We are constantly hunting for products that are sustainably caught and raised. This is very important because ultimately it will affect the quality of what we are serving – but more importantly, we want to make sure that it will be around the same or better condition for our kids. We aim to infuse sustainable elements into our food by embracing native and organic ingredients – a big focus is on using whole animals, seafood, and vegetables. Of course, it's also about ensuring we run our operations sustainably. We make sure we are using reusables and recyclable containers, and advocate for sustainable practices amongst our staff to ensure a holistic approach across our menus and restaurants.
When it comes to organic, eco-friendly, and indigenous ingredients, what's finding favour with you recently?
At Burnt Ends, the King Crab is one of our perennial favourite ingredients, and we like to include some caviar as a finishing accent as well. We source such ingredients from responsible and sustainable suppliers. At our restaurant "The Ledge" in Maldives (which opened in 2019) we focus on local and sustainably sourced seafood – with a variety of reef fish, grouper, tuna supplied by sustainable fisheries, and even locally caught lobsters.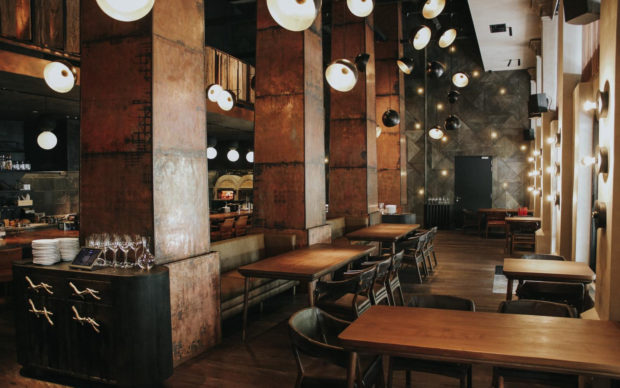 Has 'climatarianism' found a home in your restaurants? Are you steering clear of certain ingredients with a high carbon footprint while embracing some others?
I try to use alternative, more sustainable fuel. For instance, I don't use charcoal – it takes out all the essential oils in cooking, doesn't add anything to the cooking process, and has no flavour. Plus it generates three times the amount of greenhouse gases as gas grills in practice. Instead, we use fire directly to maximise the tastiness of the ingredients. There are many ways to get great fire – the best fuel source in my opinion is a sustainable hardwood like Jarrah, and we cook directly on coals too – we do it a lot with meat to begin the cooking process. It gives the ingredients much more colour, and imparts a strong smoky flavour.
What ingredient trends are you seeing post-pandemic?
We are certainly seeing an increased demand for locally sourced food, and people are more conscious about what they're eating. Besides that, there is a growing movement and demand for pétillant naturel (pét-nat) or organic wines. At Burnt Ends, we are wine aficionados as well and have increased such selections via our Burnt Ends Cellars website. Many of our wines come from grower-producer labels and from mostly family-owned wineries in Australia.
Restaurants are a challenging business. How do you approach the balance of environmental sustainability with financial sustainability?
The short answer is you have to pass the costs on to the guests and if the guests don't want to pay, you don't have a business.
If someone wanted to taste a dish that's largely inspired by your childhood, what would it be?
Definitely the Western Australian marron. It is a freshwater crustacean native to the South West of Western Australia. It is an incredible product that always reminds me of home! Now that Western Australia is open to fully vaccinated international travellers, it's an ingredient that people should get familiar with and excited by.
Creating an ambiance is part of the whole dining experience, Burnt End's playlist, in particular, deserves a mention – what's playing these days, and how do you decide on the music?
We work with our mates that play music for a living, previously Dan Willis from The Clove Club and now Matty Wainwright from DJ Dispensary. We work hard on tempo and style of music!
What are you listening/reading/watching these days?
A lot of Triple J radio, watching "Street Food Collection" on Netflix, and reading "Matilda" by Roald Dahl to the kids.
Finally, what has been your most memorable meal/cooking experience?
I will always remember cooking for Raymond Blanc for a TV show he shot when we did our first pop-up, and eating at one Michelin star Asador Etxebarri will always be something I look forward to.
To try Dave Pynt's food in person, make a reservation at burntends.com.sg.
To discover more interesting and creative dining options, check out our Lifestyle Section.