You might have had a deeply derivative version of our national dish – chicken rice, most likely while sat in a kitschy cafe located in the trendiest boroughs of your city. Best case scenario, it was compellingly authentic and took you on a vicarious journey to the hustle and sweltering heat of Maxwell.  I honestly hoped it reaped those benefits for you. One thing is for sure, food will always be better at its place of origin, and hawker aficionados are quick to defend the sanctity of the islands dishes within the city itself.
So, suppose you had 48 hours to spend in Singapore and are on a food conquest, hear ye.
We chat up a few prominent chefs, all with at least a coveted Michelin star to their name, to see what they would eat. Why the country's top chefs you might ask? Don't they only eat 'atas' aka elevated fare? Think again. Off the clock, these foodies are city slickers and bargain hunters. Trust that the best of the best can sniff out a good meal, even it means a simple steamed Bao or a health boosting liver dish from a nondescript coffee shop.
Here, Chef Julien Royer, Johanne Siy and more of Singapore's Michelin guardians dish on their must-eats while on the skimpiest of layovers on the island.
Chef Louis Han
Currently dishing out 'contemporary Seoul cuisine' in his inaugural restaurant, one-Michelin starred NAE:UM. Chef Louis injects a sense of familiarity into newfangled dishes that reverberate the vibrancy and cultural patchwork that make up Seoul.
"A must-eat is Cheng Mun Kee Pig Organ Soup along Foch Road," Chef Louis says, obviously steering down the road of nostalgia. The stall sells a special pig organ soup that is "both comforting, yet complex in taste", he boosts.
It also has the added bonus of being open until late, so chefs can still enjoy a meal there after a long days work.
Chef Tristin Farmer
Some chefs command a brigade, Chef Tristin Farmer over at the neo-Nordic restaurant Zen conducts a world-class orchestra. In this traditional shophouse, he signals a downbeat and the symphony of intricate flavours commences.
"48 hours? I can fit in a whole bunch!", he says unabashedly, claiming the challenge with tenacity. "My go to would be Keng Eng Kee", he says, "I love to hang out with Paul".
Interestingly, Paul Liew, together with his brother Wayne are third-generation owners to a homegrown zichar restaurant, famous for many dishes such as coffee pork ribs and salted egg squid imbued with the breath of a wok.
In Singapore where trendy and worldly food concepts enjoy a fleeting existence, Chef Tristin singles out Restaurant Revolver on Tras street. "It's a cool new spot with an open fire Indian Grill," he says. "Make sure to order their Kulchette!"
For late night eats, Chef Tristin is all about satay and beer at Lau Pa Sat. He is quick to admit that Siu Mai is his favourite local dish and when in need of indulging after-work cravings, "go check out Swee Choon."
Chef Julien Royer
Needing no introduction, Chef Julien Royer's crown jewel restaurant Odette, has risen up the ranks of awards and lists time and time again. Its beautiful interiors decked out in gentle hues and soft fabrics is a rare temple of gastronomy where one can have a fantastic meal and have a great time. Besides the undeniable perfect execution with their cuisine, the hospitality is second to none.
Chef Julien, who has also opened Claudine last year, has several favourite addresses but recommends Tian Tian Chicken rice above all. He then surprises by adding, "a little humble suggestion, go to Tanjong Rhu Pau and order a pork bun"
Chef Francesco di Marzio
At the helms of La Dame de Pic's kitchen while it was awarded its first Michelin Star in 2022, is Chef Francesco di Marzio. This Italian chef who enjoys soaking in the cultural diversity of Singapore loves discovering new restaurants and hawker food in his free time.
He zooms in on the chicken rice from Sing Swee Kee and echoes Chef Farmer's suggestion for satay at Lau Pa Sat, "stall 7 and 8, that's where the money is," he endorses.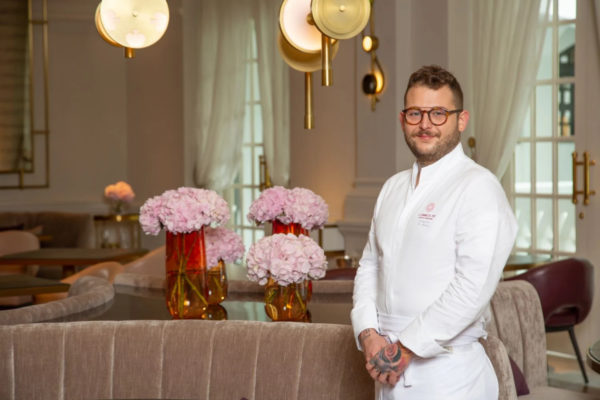 Chef Jason Tan
At homegrown talent Chef Jason Tan's restaurant Euphoria, things often get hot and steamy – or at least, with the onion that is. His technique-driven dishes are reinforced with a 50-shades-of-allium type narrative and always make for incredible IG content.
He vouches for the Long Ji Zi Char which harkens back to 80s China, particularly the Crab Bee Hoon for its "nice wok hei and flavourful broth base". Other dishes to order: "the fresh cold cockles in garlic and vinegar," he says. Another industry favourite hangout is Keng Eng Kee where Chef Jason swears by the Claypot liver dish. "It's incredibly tender and the liver is done just right." He gushes, "The sauce is also super delicious".
Chef Johanne Siy
Recently named Asia's Best Female Chef 2023, Head Chef Johanne of Lolla has proved that pursuing your passion, combined with hard work and pure talent can lead to a successful career. However it wasn't always a straight path for this visionary chef whom before entering the culinary world, was a brand-builder for Procter & Gamble.
Chef Johanne zeros in on prawn noodles as the hero dish of Singaporean cuisine, spieling that "Prawn noodles has got to be my ultimate comfort food." One venue she swears by is Da Shi Jia at 89 Killiney Road. "I've brought visiting friends there on many occasions," she says, "the wok-fried big prawn white bee Hoon is a must-order." She recounts its deliciousness in exquisite detail: "its saucy and imbued with tons of layers, flavours and wok hei."and advises other diners to order fresh green apple juice with sour plum to aid in cutting through the dish's inherent richness.
Another indispensable side of Singapore's multi faceted cuisine is Peranakan cuisine and Chef Johanne strongly recommends exploring at least one eatery during a layover. "The flavours are fascinating and very unique to this part of the world," she claims. "Definitely try the Kueh Salat." – we are not fighting that.
Chef Mano Thevar
It would be blasphemous to classify restaurant Thevar's food as. Mod Indian cuisine. In actual fact, Chef Mano's menu could better be described as 'rojak', or an interracial mix of childhood to adult experiences. Everything from being born and bred in the Malaysian peninsula to his formative years in Guy Savoy's kitchen, articulating a final cuisine that would ultimately cinch him two Michelin stars last year.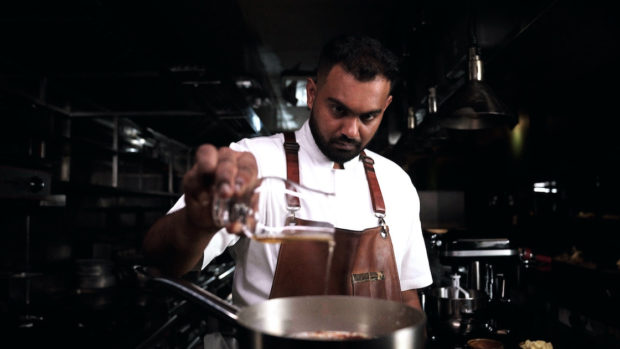 "If I had only 48 hours in Singapore, the two places that I will go to are 88 Hong Kong Roast Meat and Da Dong Prawn Noodles," claims the 33-year old chef. "The char siew noodles with chili is impeccable," he says and reinforces ordering extra wantons with that. At the latter address, he is adamant about ordering the pork rib and prawn noodles and strictly specifies to "order it dry with extra sambal chili."
Featured image: Oignon Jamboree from Restaurant Euphoria