Onions are a big deal France, but while there are phrases dedicated to making sure that one minds their own business – "S'occuper de ses oignons"; Chef Jason Tan's fascination with the allium is neither selfish nor reticent. In a recent meal set up in the handsome quarters of Restaurant Euphoria, Jason gives a sprawling, generous commentary into his line-up of sauces which he refers to as a symphony de légume. This was done fittingly against an immaculately manicured lush landscape intermingling with sexy concrete curves and muted skylight, which beyond its futuristic aesthetics; upon closer inspection – resembles the chef's beloved onion.
We sit down with Jason and attempt to peel back the layers on this transcendental concept. He used to be about all about elite produce flexing. Don't get us wrong, we aren't contrary to a good smattering of caviar and Piedmont white truffle. But now, Jason seeks to strike a balance between the humblest of vegetables with the most luxe ingredients one can lay their hands on. Call it a radical yin-yang approach to gastronomy or just brilliant marketing, at Restaurant Euphoria, the pungent bulb is hardwired to cardinal status and the winning proof in the pudding is in the lacquered (légumes only) demi-glace.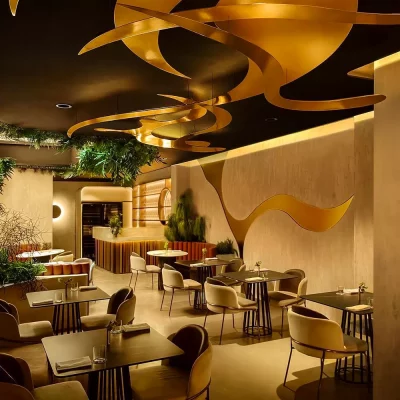 Popspoken : Tell us more about Euphoria. Why did you revolve the whole restaurant concept around the onion?
Jason: First and foremost, we wanted to evoke a feeling of intense excitement and happiness since these sentiments are at the heart of creating a memorable dining experience. True to the spirit of 'euphoria', we set out at Restaurant Euphoria to be a place where special and joyful memories can be forged through our unique Gastro-Botanica journey and cuisine. In fact, our brand logo is inspired by the Chinese character 忆, which symbolises the imprinting of indelible memories, reflecting my Singaporean-Chinese heritage.
At Restaurant Euphoria, with every aspect of our concept, be it our cuisine or design, we strive to constantly push our boundaries with innovation. We work towards the seamless melding of the classical and cutting edge, heritage with innovation, with the aim to re-imagine something existing, into something new and memorable.
At Euphoria, the connecting spaces allows our guests to walk through an indoor garden of bursting greenery and streaming light. The humble allium was also pulled into the design aesthetics; the walls are organically curved and composed of abstract plaster overlaid on a gold base to suggest peeling onion skin. Slatted and tufted furnishings and a custom-designed six-metre-long lighting installation captures the eye with organically formed, stainless brass-coated metal layers akin to an onion. The earthy texture of stone, wood and leaves paired with a palette of charcoal, brown and green brings warmth and coherence to a fitting stage for a sophisticated cuisine.
Popspoken: Could you tell us how did the Gastro-Botanica concept evolve ever since your move from Corner House to your new home in Euphoria?
Jason: Restaurant Euphoria has evolved and elevated my original version of 'Gastro-Botanica'. Fans of my signature Cévennes onion dish back in Corner House got to experience it again at Euphoria, albeit in a new artful presentation. I also took the liberty to develop and create an entire new collection – Gastro-Botanica 2.0, for Restaurant Euphoria's opening in Nov2020. Here, botanical elements take on an even more prominent and significant role, and form a key part of the fundamental flavour creation that form the backbone of my cuisine.
Popspoken: Between your Corner House career and Restaurant Euphoria endeavours, how did you cope during the pandemic?
Jason: I am grateful for the opportunity of this milestone, and thankful of the support and guidance I gained over the years working with mentor chefs, large hotel groups, and independent fine dining restaurants.
I am especially lucky to be supported by Arissa, my business partner for Restaurant Euphoria, who is herself an experienced international and resourceful entrepreneur who owns multiple businesses based in North America, from marketing to design consultancy, with focus on global projects. We have shared a complementary and seamless partnership, where her design talents and innate sensibilities and experience in fine dining has helped me to visualise, translate, enhance and realise my creative thoughts to the various aspects of the restaurant business during pandemic. In addition, we had wonderful Restaurant Euphoria team to support our vision and concepts since the launch of the restaurants.
Mommy Boy Chicken Curry was a side charity project that was our form of contribution during the start of the pandemic. Based on my flavours from my childhood memories, the end product got lots of positive feedback.
Also manifested during the pandemic stay-home period, was the "Mochishire Savoury Baked Box". Restaurant Euphoria's official take out menu project was pivotal in us staying afloat. We are extremely fortunate to be supported by our diners and recognised by the World's 50 Best.
Popspoken: Over the years, you've dealt with the expectations of hungry and ever-evolving diners. How do you deal with the pressure that comes with it?
Jason: Cooking is the passion of my life, I come to restaurant every day and cook with pleasure.
Popspoken: One of your beliefs is 'elevating the most humble of ingredients into something extraordinary'. Is that something that is integral to the entire concept or only something extended to your methodology with vegetables.
Jason: The best way to address the question would be to focus on my new evolved concept of Gastro-Botanica 2.0, which while based on the original cuisine infrastructure, has elevated the role of botanicals. With Version 2.0, I have introduced Gastro-Botanica Essences – La Symphonie de Légumes; meatless base sauces made from pure botanical extractions and reductions that serve the purpose of flavouring dishes. It marks a radical departure from the foundational 'mother sauces' of French haute cuisine, and paves the way for further innovation.
Popspoken: Do you find it contradictory serving the humblest of ingredients alongside the most luxurious of produce such as caviar, truffle, white asparagus and such? Or is there something beautiful in its juxtaposition?
Jason: I do not find it contradictory at all, in fact my focus has always been providing the freshest ingredients to provide balance in my cuisine, and this motto runs across the humblest to the most luxurious ingredients.
Popspoken: What would you consider to be the most luxurious ingredient you've ever worked with? Were you nervous about it?
Jason: I have always been pretty confident with my preparation, however, I am always very careful dealing all ingredients, including our daily hand-picked Cevennes onion for my original signature dishes "My favourite vegetable", to our new signature "Oignon Jamboree".
Popspoken: Right now, your focus is on pure vegetable extraction and meatless reduction sauces. Are you considering to introduce an all-vegetarian menu in the future?
Jason: No, we are not planning to have a pure vegetable menu.
Popspoken: We hear you're a luxury brand enthusiast. What are some of your favourite watches that you own at the moment.
Jason: My current collection only consists of Audemars Piguet royal oak and royal oak offshore.
These are what I own and love at the moment:
Audemars Piguet royal oak 15500 41mm
Audemars Piguet royal oak Chronograph 26240 50 anniversary 41mm
Audemars Piguet royal oak offshore 26240 Taupe dial 43 mm
Audemars Piguet royal oak offshore Chronograph 26400 rose gold 44mm
Popspoken: You recently catered for an outdoor event with Audemars Piguet, how did you get roped into this grand affair? What was your experience like?
Jason: We first had the opportunity to demonstrate our design and cuisine creativity during the pandemic period to provide VIP luxury bento box to VIP clients to Audemars Piguet and we received great feedback from the clients.
Following that, we were approached again for the outdoor VIP event. The experience was wonderful and we are extremely honoured to be part of the Audemars Piguet 50th anniversary.
Popspoken: Tell us more about the inspiration behind this event menu. Was it challenging to align your culinary vision with that of the brand? How much liberty did AP give you in expressing yourself on a plate?
Jason: We followed Audermars Piguet event concept and guideline to the T and curated a special menu that aligned the storytelling of the brand history to celebrate its 50th anniversary.
Mrs. "Onion" Arissa and myself worked together to research, curate and R&D the entire event menu that would not only fulfil the requirements of the events, but dazzle. As the original mission of our new company JTAW Culinary Design Studio, we provide top-to-bottom culinary and design service which is now in our new business portfolio, on top of Restaurant Euphoria.
Popspoken: Looking back, would you want a repeat on such an experience again?
Jason: Absolutely, we love working with Audermars Piguet on both business and personal level. After all, it's my favourite watch brand!
Popspoken: What is your one kitchen mantra that you tell all your staff?
Jason: Cook with passion and love, that, is the key to success in fine dining.
Restaurant Euphoria, 76 Tras St, Singapore 079015.
This was a review done independently. Popspoken has no affiliations with Restaurant Euphoria.