Cecil Street, prime real estate and second home to the humdrum existence of the working crowd. The very ground in which Rosemead is centrally located, once used to be art-deco themed The Black Swan circa 2013, which many would hold fond memories of, whether via business lunches and New York inspired post-work parties.
The Vibe
It is no surprise then, that the Jigger & Pony Group had chosen to model their new venture after the same American themed ethos. Particularly since Chef-Owner David Tang also double hats at the group's Caffe Fernet and hails from Los Angeles, known for its communal sharing plates even at fine dining establishments. Those familiar with the space will notice that it retains the iconic globular lights, restyled with warmer finishings and takes a more laidback Californian approach, as contrasted with the original darkened, elegant interiors by Takenouchi Webb that has paid homage to its very beginnings as the Kwangtung Provincial Bank.
Having opened its doors at the tail end of 2021, we were fortunate to have secured a reservation in the middle of February, which incidentally was the day Rosemead hosted familiar faces from the industry in the middle of the restaurant, next to its wood-fired oven, alongside a vivacious, buzzing well-heeled crowd.
The Food
The House Rolls & Shitake Cultured Butter ($19) provides a hearty and heady start, served fresh from the oven with swathes of bacon oil and dished with a side of home-made butter. The bulbous bread, glazed with saccharine maple syrup, glistens, and is a fantastic carbohydrate-loaded appetizer to whet stomachs for the rest of the items on the dinner menu.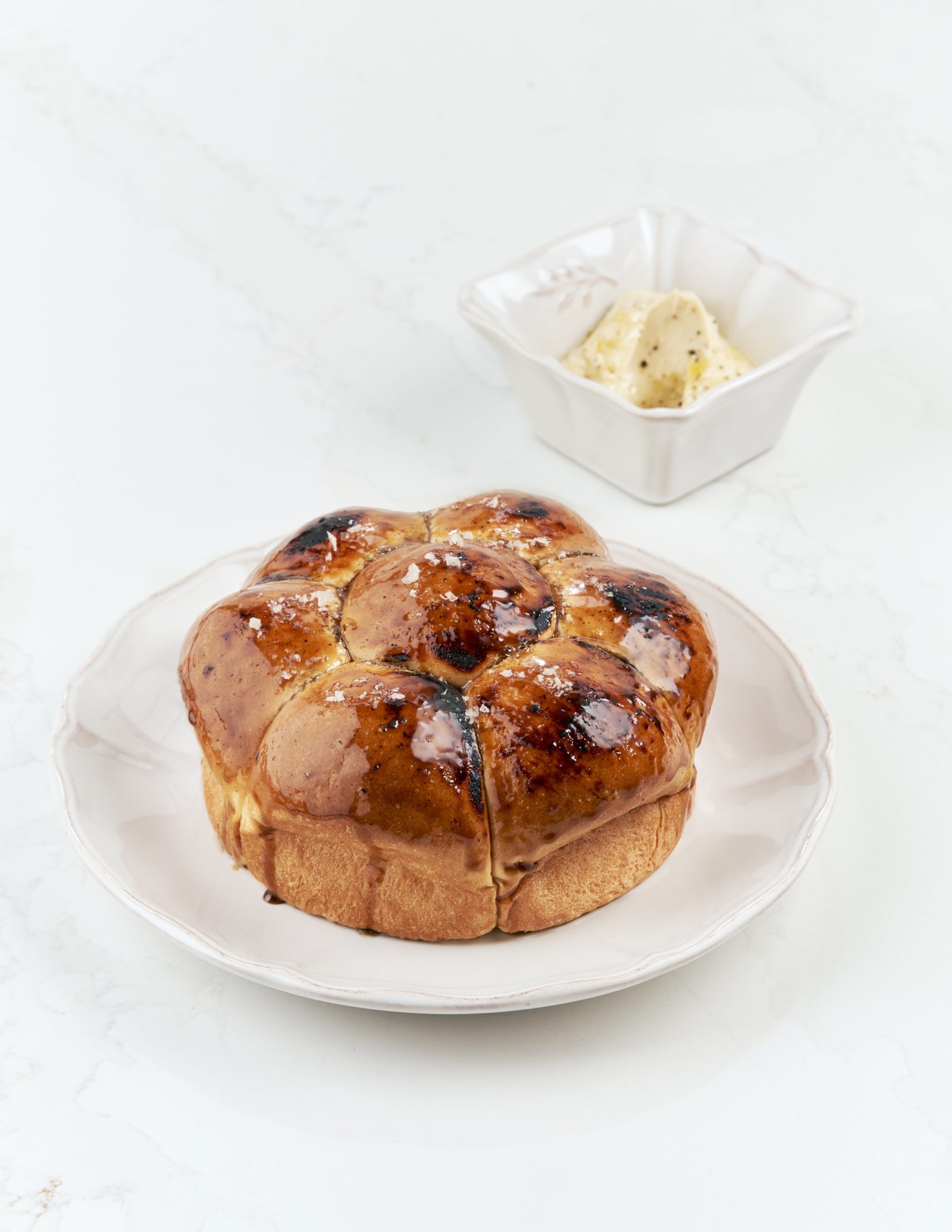 We opted for a bottle of red on their extensive wine list, with approximately 170 labels, before progressing to the starters, of which the Mangrove Crab Tartine, Avocado and Yuzu ($33) piqued our interest. The seasonality of avocadoes with its growing origins in south-central Mexico is oft-used in Californian cuisine, has since been popularized globally and we were initially drawn to the presentation seen on multiple Instagram feeds. Perhaps even one of the swaying factors that led us to choose this particular dining establishment over all other new restaurant launches, to spend our Wednesday evening.
Lamentably, the tartine's flavour profile resembled that of cold-processed crab meat found atop sushi rolls, drizzled with citrusy yuzu sauce, to add a sprightly touch. If you are not particular about how your crab is processed, then this is the dish for you, with huge plus points for the thinly sliced avocadoes, which has makings of a strong, Western-inspired maki roll, though falling short of the requirements of an expert-styled fusion roll.
Being regulars of seafood haunts, we had to try the Swordtip Squid & Mussel, Green Chili Harissa ($27). A key focus was the sauce, deftly mixed with well-grounded chilies and was easy on the palate. The only gripe we had was in relation to the quality of the seafood catch, which in our humble opinion should be on the larger side, for better retention and absorption of the flavours that have been refined through a mixture of chopped spinach and mussel stock.
Other items on the menu we tried included the Grilled Canary Island Bass, Chioggia Beet and Chermoula (S$68) – chi-chi sounding ingredients aside, it is, in essence, fresh seafood served with creamy sauce. One definitely cannot go wrong with this safe combination. Decent, but not particularly memorable especially, since we could get a similar offering served up with more culinary finesse at a couple of other local joints.
Californian cuisine is known for minimally-processed, fresh, sustainably sourced catches from the West Coast, grilling with mesquite, or a combination of French and Japanese techniques. Not something we saw highlighted in this locally-inspired Californian-styled establishment. Dessert was good, though nothing worth shouting out about.
All in all, it is most definitely a jaunt location worthy of unwinding at after work, as long as one lowers expectations for the food menu. We continue to be ardent fans of their cocktail and wines list, formulated and curated by some of the nation's best bartenders at Gibson and Jigger & Pony.
This review was done independently, Popsopken has no affiliations with the Jigger & Pony group or related companies.
—
Rosemead
Venue: 19 Cecil Street, Singapore 049704
Opening hours:
Dinner: 6.00m to 9.00pm (last seating) – Closed on Mondays
Lunch: 12.00pm to 1.30pm (last seating) – Wednesdays to Fridays
Corkage Policy: $65 per bottle. Alternatively, buy a bottle at Rosemead and the corkage fee on your own bottle will be waived.
Reservations can be made here.
Discover more interesting chef and food stories in our Lifestyle Section.