Here's a post-COVID lesson for the ages: never take your bartender for granted. Firstly, if anyone can make slapping mint leaves sexy, it's probably them. Secondly, if the modern-day bar stands as the urbanite's equivalent of a community campfire, then bartenders are the ones who keep the fire burning all night. Not to mention being part enabler, accidental therapist and benevolent being that descends from the heavens when mankind is in great need of a strong, ice-cold, delicious cocktail.
Which would be right about now.
The stark reality is that COVID-19 has tightened the noose exponentially around the F&B industry, amongst many other sectors. While the industry has leapt into action with everything from hosting online bar nights with William Grant & Sons to DIY cocktail kits, admittedly, nothing makes up for the buzz of a crowded bar. After all, cocktail culture has always been about bringing people closer. Not further. In these trying times, we looked to bartenders from some of our favourite watering holes to see how they've been embracing the new normal.
---
How have you been spending your time?
We have been spending our time turning our business model on its ear. All our efforts over the past few weeks have been to adjust to this paradigm shift and to work our tails off to protect the jobs on our team.
Circuit-breaker drink and music of choice.
There has not been much time for me to take a drink right now. At home, I like drinking simple. A Highball of any kind or a freezer-batch Martini is what I tend to reach for. For our delivery guests, 28's Remember the Maine cocktail has been the #1. We've also been hosting a bunch of 28HKS Virtual House Parties, so I have been listening to our critically acclaimed hip hop playlists pretty often during this period.
What will it take for the industry to emerge victorious?
There are no easy answers here. It is going to take sustained support from the government, our vendors and our business partners. We need support from the F&B-loving community. The world needs cooperation and a unified effort to eradicate this awful virus. Lastly, it will take personal fortitude, social responsibility, and an understanding that we are all in this together to come out victorious.
Which community would you like to shine the spotlight on during this time?
There are many vulnerable communities that need a spotlight in this trying moment. I am solely focused on and perhaps only qualified to talk about our F&B community. We need your support, not just 28 HongKong Street, but all of us in this community. Please continue to let us cook for you and to send you cocktails created with love. If you have good memories from a night out at a venue, please place orders with them now, when they need it the most. Bars and restaurants are not brick and mortar things, bars and restaurants are people. We are your neighbours and friends and we all need your support. Be our (socially distanced) guest.
28 Hong Kong Street brings the party direct to the doorstep, with a newly-launched virtual house parties. Private groups of 4 or more will be hosted personally by the 28HKS bar team, complete with food, drinks and a 'cutting-edge' playlist. Details on their website.
Yugnes Susela, Co-Owner & Head Bartender: Elephant Room  
How have you been spending your time?
Curating the flow of deliveries for cocktails and food of the bar. Ensuring guests still get majority of the bar's experience even at the comfort of their own homes. Working towards presenting the brand greater than when we first started.
Isolation drink and playlist of choice?
Ol' and good G&T, Lo-Fi Beats
What it's going take for the industry to come out victorious?
Keep improvising on customer experience and coming out with new cocktails and food.
If there's one message you'd like to send out to the community or which community would you like to shine the spotlight on in this time?
Definitely to our frontline workers, "remember every storm runs out of rain."
This period has definitely been stressful and nerve-wrecking as we only launched early 2020. We have been very innovative in coming up with ideas and taking baby steps in making use of what may seem like idle period into a massive work in progress nevertheless. The industry to him is all about not giving up at this moment with the restrictions given, using this as advantage to take a break and yet at the same time using the time to come out greater than before.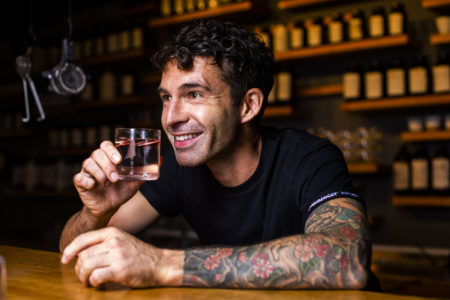 How have you been spending your time?
Working mainly. We have been super busy implementing new policies and trying to find solutions for surviving (take away, deliveries). Finally we decided to suspend operations and to use this period as an opportunity to re-think our bar from the basics of our business model to the way we are creating drinks. We are turning into a lab: over the next months we will be researching, experimenting and tasting. The idea is also to involve our guests and friends into the process, to engage with our community. This is a very exciting project that will be launching soon: #DaggerMetamorphosis.
Circuit-breaker drink and music of choice.
I'm lucky enough to have a flatmate who's very passionate about wine, and did a fantastic job stocking up for us. So we've some pretty cool stuff to drink, mainly from France and Italy. But the best drink I've had so far is a Poire (pear cider) from Eric Bordelet. My playlist these days is from my favourite beach club in Bali: Ulu Cliffhouse. It's got a strong 70s Afro-funk, disco vibe. Exactly what we need right now.
https://www.instagram.com/p/B-eSofOFpPc/
What will it take for the industry to emerge victorious?
Time. I'm not too worried about the future of our industry as a whole. Team spirit, hard work, flexibility and innovation have all been hallmark characteristics of the hospitality industry. So we will adapt, and recover. Just look at all the great initiatives springing up. But it will be tough. Some of us are going to lose jobs and businesses. We really need to look out for each other. Thankfully there's also great solidarity within the industry, especially in Singapore.
Which community would you like to shine the spotlight on during this time?
So many people are suffering from this situation. The elderly are the ones who have been at higher risk of contracting the virus, but also affected by the social distancing measures. Unlike the younger folk who are more connected, we don't really hear their voice if we don't actively go and look after them.
Sam Wong, Head Bartender: Shin Gi Tai
How have you been spending your time?
I've been working since Shin Gi Tai is still open, but the bartenders are now scheduled on alternate days. This so that we have minimum interaction among ourselves in case someone contracts the virus. Otherwise, I've been learning to cook and reading up new ways of making cocktails – it's important to stay curious and innovative, even away from the bar.
Circuit-breaker drink and music of choice.
Old Pal – traditionally made with Rye whiskey, French vermouth and Campari. I've also had The XX's playlist on repeat.
What will it take for the industry to emerge victorious?
Wow, this is a tough one. Honestly, I think this is something everyone is still asking themselves and are working on at the moment. It's a case of "woah, we didn't see that coming", you know what I mean? There is still a lot of confusion going on. Not surprising since we're still in the middle of the shake up, and reacting to things as they come. I really don't have an answer for this.
Which community would you like to shine the spotlight on during this time?
All the frontliners of this pandemic! From the doctors and nurses, the cleaners, hawkers, drivers so on and so forth. Thank you for still doing what you do on a daily basis, in spite of the risks involved. Without you guys and the essential work you do, Singapore would probably grind to a massive standstill.
Shin Gi Tai's food and cocktail delivery menu is available here. Feeling lucky? We recommend their mystery box of 6 constantly refreshed cocktails.
https://www.instagram.com/p/B_HG04YHfdh/
Silvio Daniele, Senior Bartender: Jigger and Pony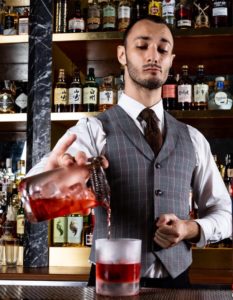 How have you been spending your time?
I'm currently working on my "Cacao Cocktails" project  I've been collecting chocolate bars, cocoa butter, nibs, beans from all over Southeast Asia the last few years. My fridge has run out of space and I need room for some "normal food" now that we are on lockdown. It's a very new ingredient which needs lots of trial and error – Pina Colada with 70% Taiwanese dark chocolate is banging! But in a world where people are getting more interested in the food they eat, chocolate should also get the right attention. So I'm making a big effort to make it happen, not just during isolation. Other than that, it's like a regular day off. Zoom boxing classes are a must, along with Netflix, trashy shows and more chocolate. It could be worst. 
https://www.instagram.com/p/B_WwapPlNe7/
Circuit-breaker drink and music of choice.
It's my time off to detox from my daily bartender life that requires a lot of tastings and plenty drinks after shift. It's a crucial time to stay healthy right now so loads of water, fruit juices and some coffee it's what I'm having. Music is the same as usual. Rap and trap, mostly American or Italian. A album I can listen to all day is "Distant Relatives" by Nas and Damian Marley. Rap music with a hint of reggae. "Patience" is my favourite track off the album.
What will it take for the industry to emerge victorious?
There really isn't a how-to guide for this. Being aware of how the pandemic is evolving in our own country and readjusting plans accordingly is what the bar industry should be focused on. Singapore can fortunately rely on a beautiful bar clientele that has made cocktails a daily ritual even during this hard time. 
Which community would you like to shine the spotlight on during this time?
Food and drinks are socially very important during this time, and the lengths at which the F&B industry is going to keep people employed and deliver something that tastes great despite much lower revenues is impressive. But it won't save lives. We're completely in the hands of the medical community, and the Singapore government. I'd wish PM Lee's confidence on the leaders of every single country going through this right now.
Bottled cocktail orders from Jigger & Pony, including punch bowls are available here. They've also partnered with the folks at Manhattan to barrel age a cocktail together, in collaboration with Maker's Mark whiskey – a portion of proceeds will go directly to the employees. Register interest here. 
Beverly Yeoh, Owner/Bartender-in-training: Bitters & Love
How have you been spending your time?
I've been working non-stop, since we're open 7 days a week during the circuit breaker, just making sure we're doing our best to adjust to this new business model of takeaways and delivery.
Circuit-breaker drink and music of choice.
Pina Coladas and a Beach House playlist. Positive vibes to remind us of the good ol' beach days, where we could be carefree!
What will it take for the industry to emerge victorious?
A united nation to support each other. We just need to be kind to one another, order from all your favourite hawkers, bars and restaurants because every order no matter how little or big counts. We just need to ride through this together and think of creative ways to reach out to our friends, customers and people who have never heard of us – islandwide. This is really the best opportunity to cater to everyone, since we have always been focused on the organic CBD walk in crowd.
https://www.instagram.com/p/B_HsRxDHcqr/
Which community would you like to shine the spotlight on during this time?
The healthcare community, the people supporting the healthcare community and everyone that's fighting this on a daily basis. We know that they are more vulnerable due to the contact with patients and how hard the cleaners have to work to make sure every inch is sanitized day in and out. If anyone has long hours, it's them. And I just want to say that we are so proud of them, proud that they are on the frontlines and we are cheering them on.
Order from Bitters and Love + Free The Robot's combined delivery menu here. Want to show someone you really care? Their Drinks Care package comes with a coffee and a cocktail. Genius, period.
Michael Foong, Head Bartender: Jekyll & Hyde
How have you been spending your time?
Thinking about bottled cocktails. They're all the rage now so being innovative in terms of offerings is something I've been spending more time on. It's not just bottled cocktails per se but the beverage programme too. We've gathered copious amounts of feedback from our beloved customers whilst doing bottled cocktails which we will take into consideration when the time comes for our new menu development.
On a personal level, I've been taking the initiative to better understand and support my team members. Teamwork makes the dreamwork! Working from home also gives me the opportunity to see my parents more, which my work schedule doesn't always allow and thats something I really appreciate too.
Circuit-breaker drink and music of choice.
Low ABV (Alcohol by Volume) for me so something of an aperitivo style like an Americano (consisting of Campari, sweet Vermouth mixed with soda) really appeals to me. Also, I really like teh peng so mainly these two for now! My current playlist would be Sax House on Spotify. Got to keep the vibes going yo.
What will it take for the industry to emerge victorious?
Hard work. The entire industry has to work together to make this happen. If I can sum it up in one word: solidarity. We all have to extend a hand and help each other in any way possible to tide this through, which has been happening the past few weeks and extremely heartwarming to see. We'll come out even stronger after this.
Which community would you like to shine the spotlight on during this time?
Singapore as a whole because everyone is badly affected by this episode. So long as we are responsible together, I believe we can get through this safe and sound. Huge shoutout to the medical frontliners for their effort day in and out, risking their lives for the nation. And how could I forget the restaurant and bar industry. "Hard is never too hard and far is never too far away". Look in the distance and we can all see more promising days ahead!
Stay up to date with Jekyll & Hyde's new-weekly cocktail menu here. No excuse not to – their next order closes May 7th.
Image Credit: Singapore Cocktail Festival
==
Stay updated and social with Popspoken: Telegram| Facebook | Twitter | Instagram