There are officially two more weeks till Christmas, and it seems as though everyone is prepared. From special dinner menus to seasonal sweets, the theme of good food jingles loud and clear.
But of course, in Singapore, celebrations come with a hefty price-tag. A good 5 course dinner will probably set you back around $120+ per person. Log cakes come in flavours like salted egg yolk and chicken floss, and can range anywhere from $40 to $90, depending on size. As the crucial week draws closer, the gift piles become higher and your wallet becomes lighter.
This Christmas, we've gathered piquant choices that are not only appropriately festive, but also fulfil the value-for-money checkbox.
Walk along the chain of Fullerton buildings, and you'll come to 1919 Waterboat House resting at the side of the Singapore river. The interior is candlelit intimate and cosy, and this year, European classics are taken up a notch with the new local head chef.
Their Christmas menus go for $88+ and $108+ respectively, with the addition of an extra course (five in total) for the latter.
The highlight here would be their Deconstructed Turkey Pie: a sous vide tribute to the traditional bird, paired with creamy soup base, a sheet of golden pastry and cranberries. Granted that its an unorthodox way of having turkey, but we assure you it's worth a try.
Not a fan of the bird anyway? Then their Beef Tartare will be sure to delight, what with their flavourful combination of shallots, chives, tart French pickles (cornichon), capers, egg, homemade mayo, and hard toast. The raw beef may be a little moist, but everything else balances it out and makes it a truly beautiful appetiser.
Holly Jolly: NikuNoHi @ Suntec City
Also known as 'The Day of Meat' (which sounds like the next big zombie movie), NikuNoHi is for those who want to have Jap, but Jap style meat, or more specifically: grilled Jap beef.
We're talking about high quality beef on coals here. Luckily, their newest creations make their price point just a little bit more affordable. The beef don and beef salad are each generously topped with sexy roasted sirloin strips, which are best paired with the wasabi mayo dip.
In our opinion, the loaded ricebowl, with its fluffy Jap rice and mouthwatering yolk, is more satisfying out of the two. The only thing that stood out for the salad was the ponzu jelly (warning: do not eat this by itself because it is incredibly salty).
For those giving the nightlife a miss, no fear: Open Door Policy will be serving their newly amped up weekend brunch fare, 100% gluten and dairy-free, throughout Christmas weekend (24 and 24 Dec).
We can think of no better way to start Christmas morning than with their King Crab Eggs Florentine, a grandiose medley of sautéed spinach, poached eggs and torched béchamel sauce.
Chef Ryan Clift is the man who completely revamped the old menu to solely focus on nutritionally-conscious dishes. The table stars embody the passage where 'delicious' and 'healthy' meet, and then copulate for the better good of our appetites.
If you previously thought that switching out some of the more traditional condiments or ingredients will cause the flavours to become bland or unauthentic, give ODP a try. Plus, old fans will be sure to get a kick out of their new decor. True to their mission, the walls are decked with homegrown herbs and spices, coupled with green lights to add that extra oomph.
Be Home For Christmas: Fratini la Trattoria @ Greenwood Avenue
Italian dishes are so indulgent, but at the same time, so misunderstood. It is all at once everywhere, and yet, it is hard to pinpoint one that is truly good. Presenting Greenwood Avenue's gem: Fratini la Trattoria.
Here is where we taste the millennial determination to exceed, exceed and exceed. Their no-menu (omakase) style plays with Italian dishes and allows one to eat around the country. We're talking about various meats (steak, lamb, chicken) to seafood (scallops, lobsters, prawns) to DIY pasta (your choice of sauce and noodles) and dessert in a single sitting.
Portions are generous, execution surpasses the price ($60/$90 for 10~ courses), and the 25 year old couple, Chomel Yang and Januver Chow, behind everything inspires us.
In addition to their daily offerings, their Christmas takeaway menu (the only "menu" available ever) is open till 20 December. There are two packages, A ($128) and B ($275), and the bundles come with roast meats, lasagna, salads, and even choice of sides.
Must Be Santa: boxgreen Christmas Gift Box
Nothing says "hohoho" like receiving gifts in the mail.
Introducing boxgreen, a local healthy snacking concept that allows one to snack without guilt. We are seeing more and more of these delivery subscriptions pop up in Singapore lately, which also means more affordable options to treat yourself.
Plus, there's an option to send these boxes out as gifts — killing two birds with one stone indeed.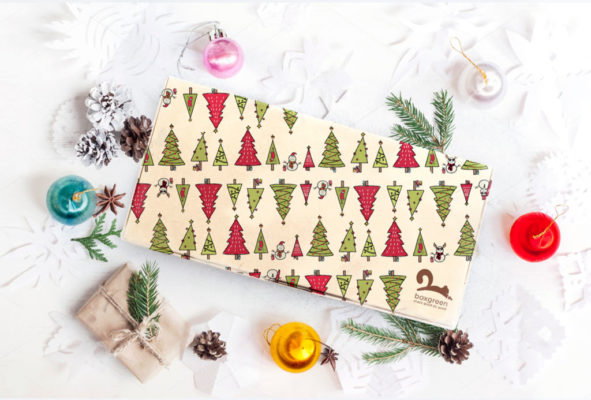 Not only is their design super appealing with its quirky-indie charm; great attention is paid to small details such as your name, the messages, as well as each component of the actual snack involved. Their Christmas gift box comes with fruit cake, gingerfruit muesli munch, choco twilight biscotti, as well as a bag of nuts, endearingly termed the Herb Garlic Garden.
While each portion is small (20g to 40g per item), the idea of indulging in healthy snacks does rely on having a moderated amount each time. Each box is meant to amount to one meal, and they are currently on sale here now.
This Christmas, it will taste like coming home.
==
Stay updated and social with Popspoken: Facebook | Twitter | Instagram