Most people are well acquainted with Potato Head Folk's artfully prepared, mouth-watering burgers but the eclectic restaurant at Keong Saik Road is about to become known for something else: its new brunch menu.
"The Wild Brunch", as the menu was aptly titled, brought us on a piquant culinary mid-morning stroll with all its breakfast hallmarks. Fluffy brioche? Check. Granola? Check. Tater Tots? CHECK. How is that even remotely wild, you ask? Enter the bak kwa, coconut rice griddlecakes, and fresh Scottish salmon contenders!
On our first plate, We Found Nemo ($19). Not literally, thank goodness, because it would have been strange eating a clownfish – instead, we were delighted to find fresh Scottish Loch Fyne smoked salmon slathered with a slightly tart lemon and dill cream cheese whip under a bagel. It's quite hard to fail with this triptych: the lemon accentuated the lightly smoked salmon and the dill-speckled cheese gave the bagel a pleasant familiarity. The dish came with a side of tater tots (or tiny hashbrowns!) with a sort of hollandaise sauce that was light and paired well with Nemo.


Next, we were served the Wubenz ($18), a delightful sandwich of 96-hour-cooked salt beef, Sriracha-style Russian dressing, seared sauerkraut, and smoked cheese on perfectly charred rye bread. If you're having doubts about the strong accents in this sarnie, don't. The beef shreds were not at all briny and the sauerkraut paired off really well with the mild dressing. This dish also came with tater tots and the yummy hollandaise sauce.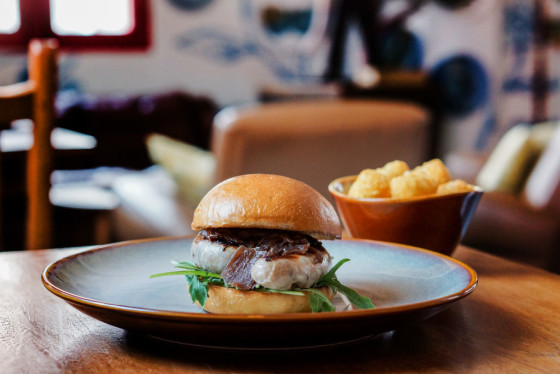 The Lil' Miss Piggy ($19) and Kid N Play ($17) both came with yep, you guessed it: tater tots and light, spongy demi brioche buns – but that's where the similarities end. Lil' Miss Piggy herself was a Cumberland sausage smothered with truffle onion jam. While we found the Dingley Dell sausage well-seasoned, the jam – which actually looked more like caramelised onions – proved to be a tad too sweet for our taste buds.
Kid N Play did much better with its roasted Portobello mushroom, garlic miso butter, fried egg, and hollandaise. The sweetness of the bun paired with the smoky, earthy notes of the Portobello and runny yolk was nothing short of amazing. The mushroom was so juicy we had to check if it was a beef patty! And then you reach the garlic miso – an absolute home run.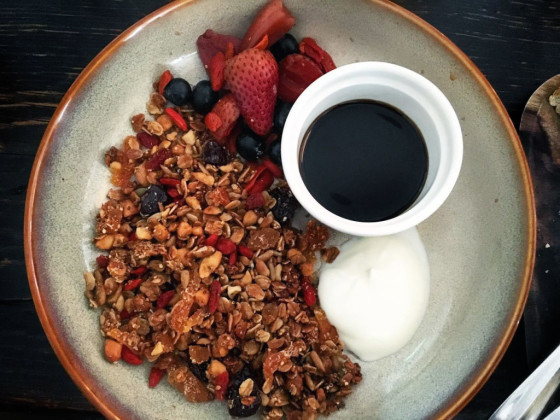 We were getting really stuffed at this point but then we eyed a pretty plate of Silibil N Brain Grains ($16) sailing across the room towards us and all was forgotten. Buckwheat, quinoa, chia and flax seed granola, berries, yoghurt and a small ramekin of treacly dark brown syrup that we realised was gula melaka! Surprisingly, the gula melaka wasn't too cloying and heavy; on the contrary, it magnified the tartness of the berries and the crunch of the granola.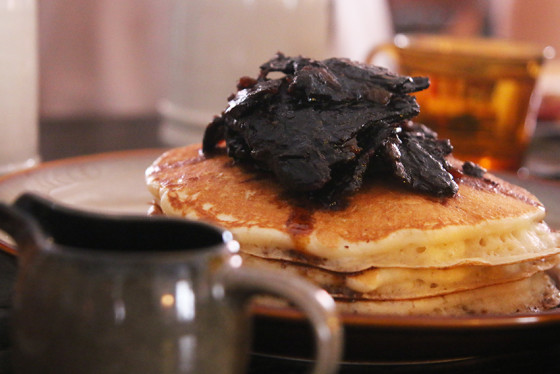 Our final dish had a strange description. Bak Kwa to Basics ($12) was to be coconut rice griddlecakes, Keong Saik Bak Kwa (from the shop next door), and maple syrup. We thought it was going to be nasi lemak rice atop pancakes but we were pleasantly surprised by a tall stack of fluffy griddlecakes instead. It probably wouldn't be uncommon to be slightly intimidated by the formidable tower of black bak kwa sitting smugly on the griddlecakes but be rest assured – they're only dark because they're coated in gula melaka. This dish is sure to be a novelty because who would have thought of combining bak kwa and griddlecakes! It's therefore a definite must try in our books.
The food on The Wild Brunch weekend menu is guaranteed to cure your hangover but we say fight fire with fire – give the cocktails on the menu a go! Their extremely potent Bloody Mary ($22), made up of Ketel One Citroen vodka, lemon juice, lime juice, olive brine, Worcestershire, celery bitters, sea salt pepper and Tabasco is one surefire to cure yourself.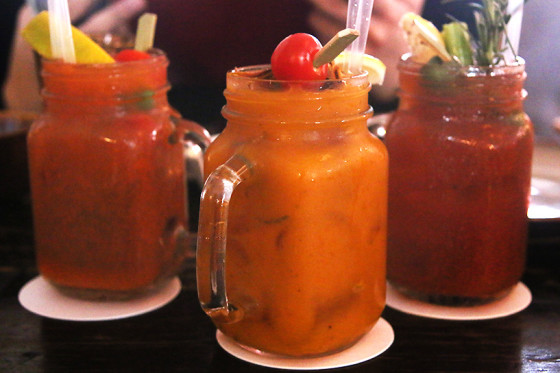 Or if you're a bit health conscious, you could try the Bunny Mary ($22) with its Tanqueray gin, carrot juice, lemon juice, lime juice, olive brine, Worcestershire, celery bitters, sea salt pepper, and Tabasco.
If you happened to be missing your traditional nasi lemak breakfast with the chilli and ikan bilis, look no further than the Mary A Go Go ($22). There are actual fried anchovies in the drink and as garnish, along with Cimarron Blanco, mango puree, passionfruit puree, chilli syrup, orange juice, lime juice, Worcestershire, sea salt and pepper. You'll want to order two of these. Trust us.
All in all, Potato Head Folk's new brunch menu is one of relish and full-bodied flavours we would be more than happy to guzzle every weekend. It's a perfect way to start or end the weekend!

This was an invited tasting.
Potato Head Folk
36 Keong Saik Rd, Singapore 089143
Tel: 65 6327 1939
==
Stay updated and social with Popspoken: Facebook | Twitter | Instagram