Though it is Christopher Chee's first time entering the TheatreWorks' Annual 24-Hours Playwriting Competition, he managed to come out tops with his work and have it staged for the Singapore public.
Titled The Good Farmer, the audience is invited to discover sibling rivalry and favouritism in a family through the lives of twins Jacob and Joseph. After being placed in separate streams after primary four, it seems that the father is starting to favour Joseph a little bit more. And then what happens next? About family and a common struggle between sibling relationships, The Good Farmer will appeal and be bringing this to everyone with its tour of the South East District of Singapore.
Popspoken speaks to Christopher to find out how he spent his 24 hours, how the venue helped and if the competition is a platform for everyone.
---
Popspoken: Did the venue of the 24hour Playwriting Competition inspire your play?
Christopher Chee: The title of my play, 'The Good Farmer' should be a dead giveaway that the venue is a huge inspiration for this play. From the very beginning, I have the intention to produce a play that is "true to the venue". With that in mind, I took in every stimulus that was given, which includes conversations and happenings that fall outside the compulsory 5 stimuli that were given. These other stimuli include various quotes found around Kampong Kampus, a farming experience (in which I was assigned to removing weeds) and a talk by the founder of the Ground-Up initiative, Mr Tay Lai Hock. Mr Tay, is really an inspiring figure and I have included some of his experiences into the history of one of my characters.
The farm was a fertile ground for playwriting (pun intended). The play focuses on sibling rivalry which coincidentally mirrors the story of the first two brothers of humanity (according to the Abrahamic religions), Cain and Abel, who happened to be farmers. Writing in a farm too, gave me another perspective of how we view our lands and nature in Singapore, and the vulnerability of lands that do not reap economic benefits. Furthermore, farming is often used as a metaphor for many things, "reap what we sow" for example. The play thus is a snapshot of what I learnt in Kampong Kampus in 24-hours; which reveals how much more we could learn if we spend more than 24 hours there. I strongly encourage all to go down one day and appreciate the venue yourself.
Popspoken: What do you think about the initiative and the different venues used every year?
Christopher: The annual competition brings aspiring playwrights and attention to places of significance but less traveled for average Singaporeans like me. I believe every venue, past and future, have a story to be told. I remember past venues such as the Institute of Mental Health and the Malay Heritage Centre which produces plays which highlighted on different issues in society. Some may think of my play about sibling rivalry shouldn't touch on areas that are political, but the venue where my play was conceived makes ignoring how the nation favours certain policies over other almost impossible; to not touch on these issues would make the play appear rather contrived.
The venue used last year highlights how the urban life of Singapore often overshadows the natural life we have in Singapore. We have quite a few of these nature reserves but they are often neglected because of the distractions and comfort we have living in a city. Mr Tay also gave us an insight on the political challenges he faced when trying to secure the survival of the initiative for the coming years. If Singaporeans continue to be apathetic to other values that land could bring other than its economic value, we might lose out on many things that money can't measure!
Popspoken: Share with me how you spent the 24 hours of the competition.
Christopher: To start off, this was my very first time taking in part in the competition and I really didn't know what to expect. But everybody there, from the staff to the playwrights were really friendly and encouraging and we made small talk here and there (when we are taking breaks from our works). I don't remember much of the 24 hours, but I do remember our looks of exclamation when we were stumped by stimuli that we totally didn't expect, exchanging smiles with fellow writers at 3am, knowing we were trapped in a surreal situation, writing a play in the middle of a farm because of our joy for writing. I must have drank like 5 cups of coffee (maybe more) with extra sugar. I didn't sleep but I did nap for 30 minutes whenever I ran out of ideas (I napped for an hour once because after waking up I still had no idea what to write about). Naps are important because I believe in those dream states, indistinct voices of certain characters become distinct without the interference of the author.
To end off, what really kept me going was not the caffeine or the naps, but looking at different playwrights, from the elders to the youths full of energy when writing (especially the youth still running and jumping around at 2am), regardless of their age committing themselves to the keyboard to produce the best piece of work they could in 24 hours. It was really humbling and motivating to write amongst those playwrights till the sun rose the next day
Popspoken: What about writing plays do you enjoy?
Christopher: I write plays for different reasons. Sometimes I enjoy writing because I need to write, as a cathartic release. The release is enjoyable, but when writing those plays, I am trapped in the minds of my characters, dwelling on their thoughts until I finish the play which could be really tormenting until the play is done.
But if I were to just point to a reason for writing, I continue to write because of the characters that emerged from my writings. Characters although born from my own imagination but are as foreign as the shadows I see while taking the public transport every morning. Characters who speak, characters who surprises me with their words, characters who made me cry and laugh, characters whose words although born through my own fingers, are not my own words. I write for these characters.
Popspoken: What aspect of The Good Farmer do you identify with the most?
Christopher: It would probably the unending quest to look for answers and the questioning of the self. Why am I born this way? Nature or nurture? And I think we often look at our environments and our peers to understand the self, and our siblings would probably be our closest peers when we were growing up. What they do, or who they are might have an impact on how we see ourselves as we grow up.
Another aspect I identify with would be the difficulty in expressing love to our family members. I think traditional parents often layer their care and concerns with naggings and even sarcasms. I wrote this aspect in for the father character of the two siblings. But I think if we try to look hard enough and listen with our hearts, as cliché as it is, love is more than words.
---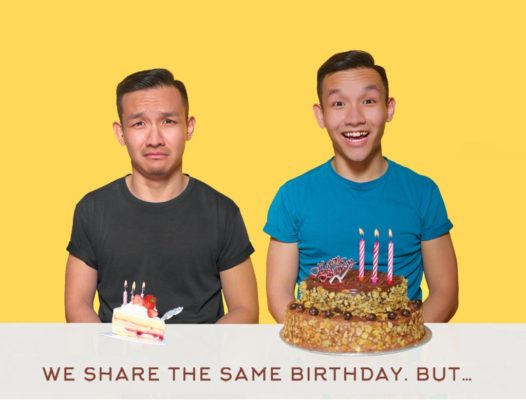 The Good Farmer
Date: 8th – 24th March 2018
Location: Mountbatten Community Centre (15th – 17th) / SingPost Centre Auditorium (23rd & 24th)
Time: 3pm / 8pm (Varies with date)
Admission: Free Admission with Registration (Click here to register.)
==
Stay updated and social with Popspoken: Facebook | Twitter | Instagram