Kicking off Pangdemonium's 2017 season, The Pillowman opens up a Pandora box of stories that explore the unspoken and unexplored distortions of family life – yes, even the perfect types.
In fact, Adrian and Tracie Pang have subtitled this year's series of productions "Family (and other natural disasters)," and they're talking family in a non-MCYS tone. While The Pillowman seems to introduce a web of various issues at first, ranging from mental disabilities to the heavy costs of artistic fame, boils its conflicts down to the faults found in the characters' families.
Returning a decade after its successful first run in 2008, Tracie Pang's spellbinding rendition of Martin McDonagh's thriller is remarkable in the way it unsettles, disturbs, and tickles the audience into rapturous laughter all within the span of its three acts.
Its hair-raising sounds and music by Darren Tan as well as a superb set by Eucien Chia definitely set us in the mood for an afternoon of uncanny nightmares set against the backdrop of a ice-cold, totalitarian state.
Katurian K. Katurian (Daniel Jenkins), the troubled writer and the subject-in-question, is pressured into confessing to child murders he did not commit. The only thing he would admit to, and also take great ownership of, however, is the very stories that supposedly caused the bloody deaths of three innocent children.
Katurian's love for his art, sadistic and morally unsound they may seem, perturbs policemen Tupolski and Ariel (Adrian Pang and Shane Mardjuki), who are confident that they will soon confirm his heinous misdeeds.
Instead, we get a string of stories-within-stories that bring the audiences closer to the cores of the characters. With the brilliant uses of multimedia staging, Katurian's chilling tales unfurl in intense narrations by Jenkins' character and eerie, animated comic strips cleverly curated by Mojo Studio.
This is also accompanied by live-action depictions, brilliantly portrayed by actors Bright Ong, Victoria Mintey, and the young Prudence Rivero who reprise different roles and bring Katurian's nightmarish fantasies into vivid reality.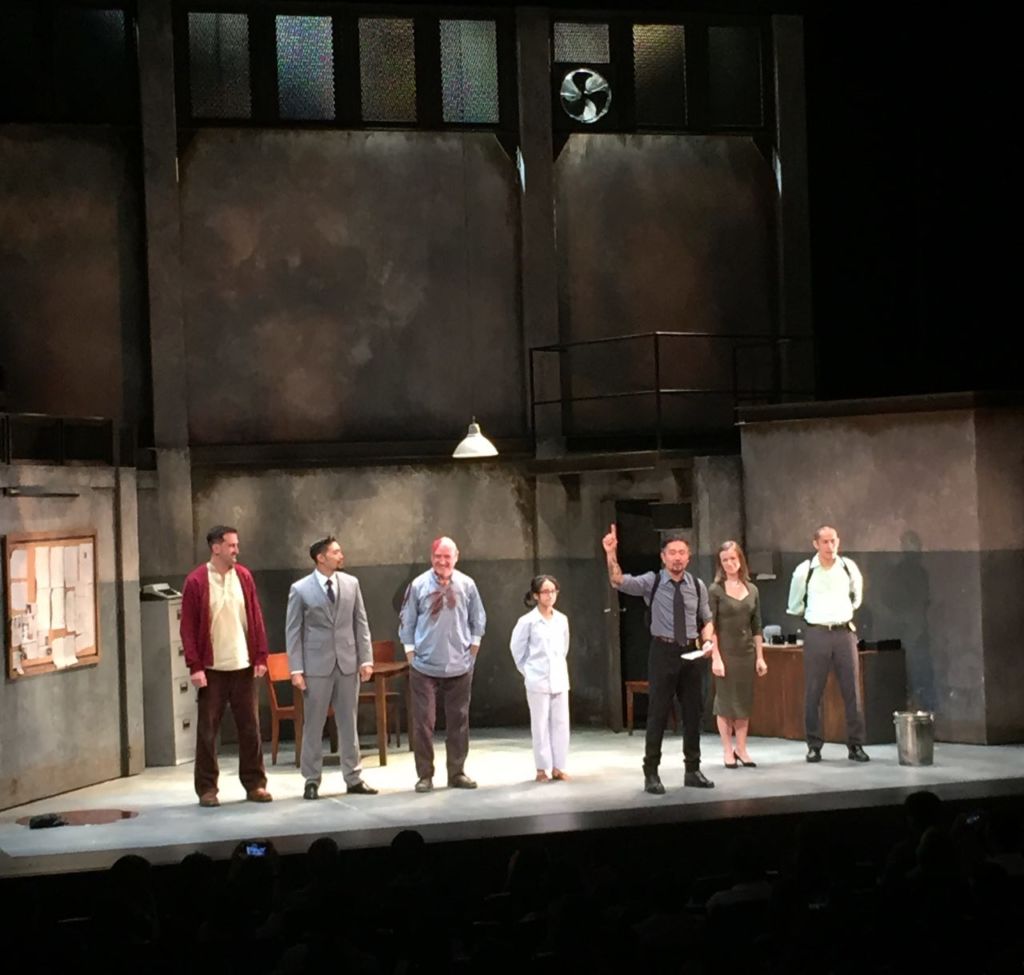 Then we finally meet Katurian's mentally-challenged brother Michal, played by the wonderful Andy Tear who enlivened the stage with his captivating performance of the dewy-eyed manchild. A revelation slowly unveils itself and opens a whole new can of worms, spurring the plot towards even more murders and grisly confessions.
Driving the plot strongly from beginning to end will be the actors' capacity and intensity with one another. Mardjuki and Pang's stage chemistry sets the ongoing tensions on fire, reeling in the audience in deeper and deeper into the psyche of the characters' minds and pushing further and further towards the edge of our seats.
Meanwhile, Jenkins' poignant portrayal of Katurian makes us dread his imminent tragedy. Love or hate Katurian, Jenkins' personification of the tortured artist undeniably had our hearts up in knots by the play's ending.
Beyond its spine-chilling allegories and dark wit, The Pillowman unspools these psychological puzzles to reveal something not too unfamiliar from ourselves; as renowned poet Philip Larkin has famously mentioned before – "Our parents fuck us up; and they may not mean to, but they do."
The dark comedy slash thriller is definitely the bold game-changer we all need on local stage; it twists our comfortable ideals of "Picture Perfect" nuclear Singaporean families, and unearths these inevitable human complexities we often refuse to confront.
---
Date: Now – 12 March 2017
Time: Tue-Fri: 7.30pm, Sat: 2.30pm & 7.30pm, Sun: 2.30pm, Sun: 7.30pm (12 Mar 2017)
Venue: Victoria Theatre
Admission:
Fri/Sat evenings
Standard: S$75, S$65, S$55
Sun/Tue/Wed/Thu/Sat matinees
Standard: S$65, S$55, S$45
For ticket purchases or more information, visit their SISTIC page.
Images from Pangdemonium, Crispian Chan & Popspoken Team
==
Stay updated and social with Popspoken: Facebook | Twitter | Instagram