Kelley Cheng has persisted through these years in her creative journey despite heartbreaks, with an unwavering pursuit of good design and nurturing the community. From setting up her own art bar, to creating and selling off a design-focused magazine, the multi-hyphenate and owner of design consultancy, The Press Room, is forever on the go.
As a testament to her tireless toil behind the scenes over the last two decades, she was awarded the President*s Designer of the Year Award conferred by Halimah Yacob.
She lets us in on her design pet peeves, inspirations and her latest labour of love, Studio SML that will be showcased at the National Design Centre till 31 October 2021.
Shaping the design scene cannot happen overnight and she recognizes that sowing such seeds starts from simple aspirations. Her motivation for the project stems from the need to document and archive Singaporean designers of all genres, that will hopefully to cultivating a truly unique design culture which will elevate how her profession is perceived.
---
Popspoken: What were the first thoughts that came to mind when you were informed of your win for the P*DA 2020 Designer of the Year award?
Kelley Cheng: I cried. It has been 22 years since I started iSh in 1999 and it has been a long journey. I have worked non-stop. There were ups and downs, heartbreaks and happiness along the way and in a moment, all these just flashed through my mind. In 1999, as an idealistic young designer, when I first wanted to start my own design magazine, iSh, my parents did not believe in it and they tried to discourage me. If I had not persisted despite their disapproval and lack of support, I would not be here today.
The first 2 years of running the magazine was tough. I could not get enough advertisers and I was constantly trying to make ends meet. In the early days when I had no money, I did everything myself – I wrote all the articles, I took all the photos, I did the design, I even delivered the magazines to the distributors and shops myself.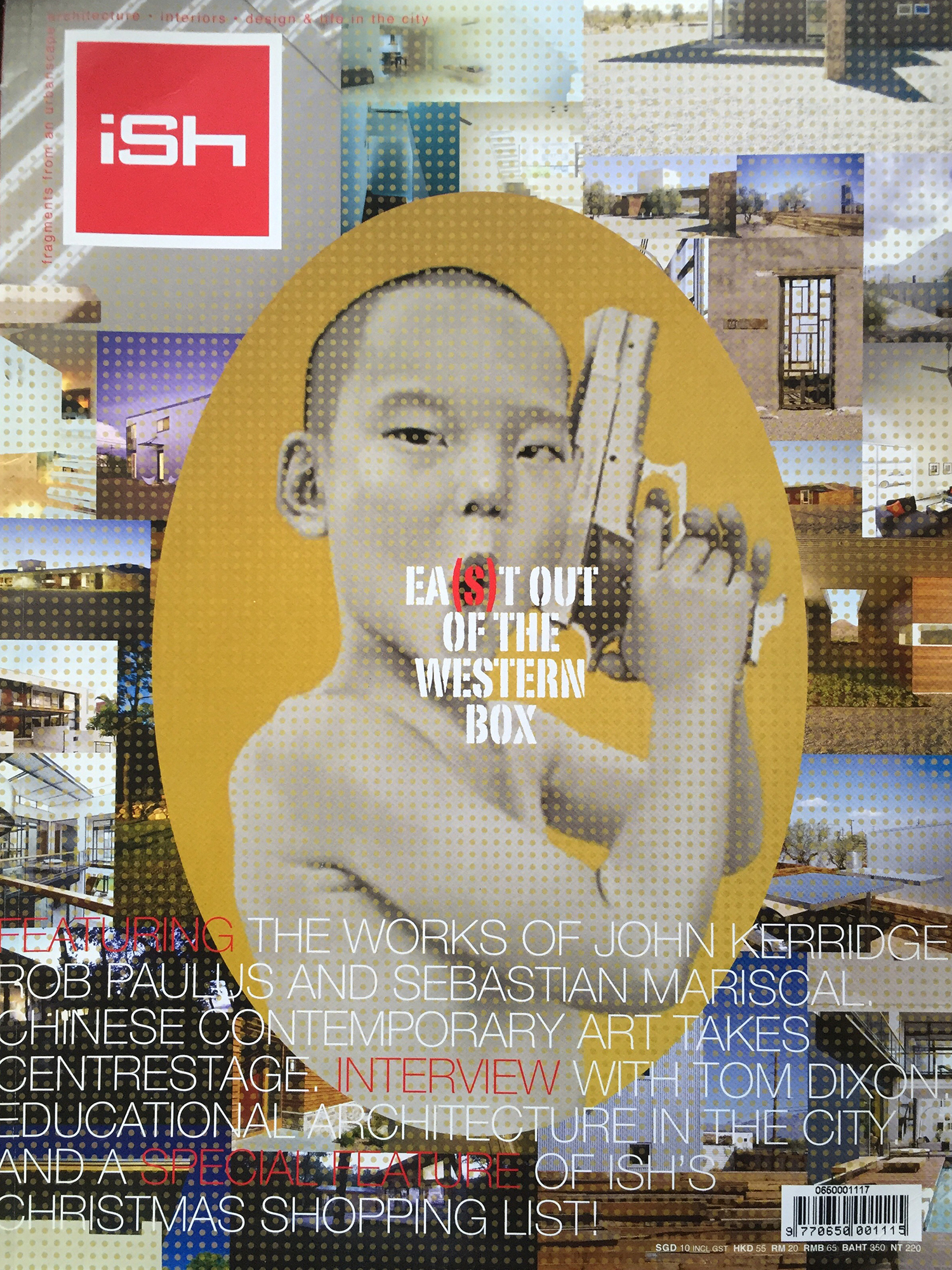 Sometimes after I paid my printer, I was left with not much for myself and will end up eating instant noodles for the rest of the month. I will always prioritise paying my suppliers and freelancers first, as I value their contribution to help realize my vision and my work. I wish that my parents had given me more support, but I am also glad that I can proudly say today that I made it entirely on my own.
Popspoken: Good business means more than a glossy finish and a pithy mission statement. Share with us what your approach is when building bridges with working partners and taking your business from zero, through the times at Night & Day to iSH, till now.
Kelley Cheng: Managing human relationships is the most important. Be it your partners, clients, suppliers or your staff. I always believe in being honest, sincere and authentic as a person. People want to feel that they can trust you. With the trust, you lay the path towards building a good work relationship.
This is not a one-way traffic though. If the other party is not honest, sincere or authentic, the relationship falls apart and you should walk away from people who are cunning or people who try to take advantage of your kindness and sincerity. It is really toxic if you hang on, as in the end, they will hurt or destroy you or your business. To be able to see and feel evil people is extremely important too.
Popspoken: What led to the decision to wind down a decade long love affair with iSH?
Kelley Cheng: It was a very tough decision indeed, it feels like abandoning my own child. In the third year of iSH, around 2001, I sold the magazine to the now-defunct Page One Group. I was with Page One Group for 8 years as an Editorial Director overseeing about 150 book titles a year, as well as was the Group Creative Director overseeing the branding and marketing aspects of the company. I was not aligned with the vision of the publishing arm of the company, which led to my resignation. At that point, I really could not find any reason to continue in Page One, but the only thing that I couldn't bear to leave was iSH magazine.
In 2009, the internet was already fast becoming the platform for news and information of all genres. I mooted the idea to the boss to take iSH online, which was rejected. I think that really gave me the courage to move on, as I did not want to stay and watch the demise of the magazine in an internet age.
It was a painful "departure" with iSH but honestly, I was truly hoping that Page One Group would continue the magazine under a new editorship despite my departure, but sadly they promptly closed down the magazine once I left.
Popspoken: Are there any specific years / projects that you look back on that defined your design career, and why those years?
Kelley Cheng: Your latest project is always your favourite because with every new project, you always learn something new, try something new and when the opportunity allows, look for breakthroughs in your design.
I hope that one day when I am 80 and still alive, I can have a body of works that can show the evolution of my journey as a designer, starting from when I was a rookie to a veteran, from 'not good'; to good. It is not always just about showing only the best. It is about showing your growth, your evolution, to your eventual arrival, and departure – and other people should pick the works to remember me by. Because I am always critical of my own work.
Popspoken: You had an all girl's team back in 2012, how has your outlook on building teams and leadership changed since?
Kelley Cheng: (Laughs) Yes, an all-girls-team was fun while it lasts. The reality is that people come and people go, staff don't stay forever. Our team has since evolved and we love our boys too. Truth be told, I am still learning everyday how to be a good leader.
If I had the choice to not manage people, I would rather not. One painful lesson was picking the wrong deputy. I had a deputy once that I completely trusted and I let him have a lot of authority in controlling the team. One day, I realized that he had turned the whole team against me. There were too many secrets and lies and eventually the whole team fell apart. It made me more cautious and not to trust anyone too easily.
Popspoken: Which off-beat pop culture icon do you relate to?
Kelley Cheng: One day in a bookshop, I chanced upon a book on Andy Warhol. I fell in love with Pop Art as a movement. I read up every book I could find about Warhol, discovered Nico and The Velvet Underground, Warhol's conceptual movies and during a trip to Tokyo, even bought the tapes of his videos. I even dreamt about having my own Factory.
Since young, I loved to draw but was not a super good painter. When I was in secondary school and junior college, I picked up photography and fell in love with it. It allowed me to be creative without being judged on how well or badly I painted.
I did the artwork of iconic indie band, The Oddfellow's Teenage Head, when I was contributing with the BigO magazine. I layered it by photo-stating on transparencies as I did not have access to silkscreen then, painted on different layers and manually assembled and scan them into one complete artwork. When I founded Night & Day, that was my art Factory. As much as I relate very much to Warhol as an artist, I also realised he is quite an a**hole, which is the part I totally don't relate to.
Popspoken: Studio SML was created to support small businesses in the local design scene. What are some upcoming initiatives that you have planned and what strategies will you be implementing to generate more job opportunities for them?
Kelley Cheng: The support and job opportunities is a more holistic one as the good will only be seen long term. Studio SML is a non-profit, or rather, no-profit passion-led project. I believe that 20 years from now, this will be an invaluable archive of design history and with history comes culture, perhaps one day we will truly have a Singapore design culture.
My project stems from three main themes. The first is the urgency to Document and Archive. There is no real depository of design history in Singapore, even though there are interviews in magazines, academic documentation, pictorial/project features. Most things are all over the place and my hope is to have all the biographies and stories of designers all in one place, like a Singapore designers' Wikipedia.
The next is to Educate & Entertain. Design as a profession still has some way to go before people will give the same respect to designers the same way they will give to lawyers and doctors. In order to elevate the professional status of designers, one of the things to do is to educate the public on the works that designers do, and to make them understand that doing a good design can be as complex as conducting a surgery, it is just different skill set.
The last is to Study & Share. I am curious why some studios remain as one-man shows, while some managed to grow exponentially to become large companies with a global presence. What are their secrets? is it by choice, luck, strategy? I believe this will become a good learning platform for design students, young designers and hopefully in the future – maybe even serve as teaching materials for schools.
Popspoken: Tell us more about the creative process with Sarah Choo's "Nowhere Near" and "The Art of Rehearsal". How did you begin to conceptualise the project with the artist, and what sort of involvement does The Press Room take on in such collaborations?
Kelley Cheng: At that time, Sarah Choo was represented by the now-defunct art gallery Sogan & Art, and one of the 2 partners was my schoolmate from Raffles Junior College and we are still very good friends today. He introduced me to Sarah's works which I thought was really good for such a young artist. When I was sitting on the nomination panel of the Icon de Martell Cordon Bleu photography award, I nominated her and to everybody's surprise, she beat all the veterans and won the $30,000 award.
She also got acquainted with The Press Room's works and for her first video work "The Hidden Dimension", we designed a limited edition collector's box set which was sold to Sogan & Art. It was very well received by her collectors and we designed 3 more box sets after that.
Sarah gives me 100% freedom in the design of all her box sets. The concept of all the designs are inspired by the narratives of her video works, and they are all designed to complement the artwork. Our involvement is really from beginning to end – concept to delivery.
Popspoken: For our younger readers who have just started off in their creative careers and are afraid to take the next step, could you share with us a memorable mistake when you first started out, and how you bounced back from it.
Kelley Cheng: It really is about trusting the wrong people – a thing that took me so long to learn.
When I founded iSh in 1999, I partnered a printer whom I made a silent partner on the condition that he gave me a good price in the printing. I would still pay for the supposedly "discounted" printing. I was too kind. I completely trusted him and did not check out printing prices elsewhere.
We sourced for a new printer when I sold it off. Which was when I realised that the printer-partner I trusted was charging me double the price of an average printer! Unfortunately, most of the money I got from the sale had to be paid to him for all the printing money I "owed" him as they were already invoiced. Luckily the money from the sale was enough to cover those exorbitant invoices.
The problem is I am a very soft-hearted person and I tend to trust in the goodness of people. Whatever it is, I don't want to allow my experiences with a few bad eggs to change me as a person. Even though I have met bad people who cheated me, at least I know that I am not the one who have done bad things to people and at the end of the day, I am able to sleep peacefully at night.
Popspoken: Mental health issues in the workplace has been exacerbated by COVID. Can you share with our readers some tips to master the art of saying "no" to prevent creative burnout?
Kelley Cheng: I used to have a bigger team which hovers between 10 – 15 people. After my deputy failed me, I had a cardiac arrest. I rebuild the team since then and we are a small team of 5. I am much happier. When I had a bigger team, I used to take on any job that comes along. It is a viscous cycle – too many jobs, staff get stressed, they leave. You re-hire and the same thing happens.
Now, I get to choose my mix of jobs, at times for non-profit organizations. If we take on a job, they must give us enough room to experiment. Of course, there are jobs that put bread on the table. We charge commercial companies market rates and if they try to lowball us, then maybe they are not the right client. Some potential clients can be rude, demanding or ask a laundry list of questions. Worst are those who ask for free design proposals – then no to them too.
As creatives, we really have to protect ourselves. If not, you will suffer from creative burnout. If you are sick, how to design? How to be creative? Always be ready to walk away from jobs that might make you suffer, if you can sense it.
Popspoken: What are some pet peeves you see in the local creative scene that you hope to be able to influence for the better?
Kelley Cheng: Having been designing books since the 90s, I consider myself a more traditional kind of book designer. I don't like fussy book covers that are complicated. The big book "kiap" small book "kiap", 10 different kinds of tip-ins and more. I get anxiety holding this kind of book because it feels like it will fall apart. Fussy books are really my pet peeves.
I like to make a simple good book. How does it feel as an object? The form and proportion as an object must feel good. You play with cover and paper material and thickness to form the bulk to you want, like building a massing model using paper.
Then, you layout the book from macro to micro. This involves choose good types, matching types, contrasting types or just one type with many line weights. You control the composition by proper blocking in each spread and you control the details like density of the line-weights. You can create tension or balance. It is all about controlling the space on each spread. The key is in the balancing of the negative spaces.
Lastly, you choose the right paper. I lament that a lot of these details are not toiled through in so many books and instead, many just do a fancy cover. Get the fundamentals right and make a good book. Don't use gimmicks.
Popspoken: How would you describe your design philosophy?
Kelley Cheng: Form follows content. Distillation rather than addition. Good proportion and good composition, with good emotion makes good design.