With a variety of shops targeted at different people it can be hard to find that one that suits you, even in tiny Singapore. If you are the kind of person to want to walk into a niche shop and find bits and pieces that suit a certain way of living, you will want to check out lifestyle stores.
Through the emergence of the Instagram generation, there is a growing demand for a new kind of shopping culture. It is not enough anymore to only sell clothes in an aesthetically-pleasing manner; customers have an increasing desire for something more, something intangible and something that will give them a greater overarching view of the brand's philosophy. The rise of Instagram influencers that offer an all-encompassing view of their life including their meal preferences, what magazines and books to read, and what to wear means that consumers want to buy into a lifestyle.
Surely enough, there is a plethora of lifestyle brands in Singapore offering ideologies and themes that surpass plain clothing. Here are our picks of the three best lifestyle shops in Singapore.
Club Monaco
Already on its second outlet here in Singapore, Club Monaco is a high-end, Ralph Lauren-owned retailer that has charmed many with its elegantly timeless pieces. With a focus on clothing, the stores offer a range of work and leisure garments for men and women, jewellery, hats and shoes amongst photographs and vintage furniture.
The shopping experience goes beyond this, however, as there is a carefully-curated selection of books including ones about drawing and woodcutting. This is how they place significance in the real-life experience and encourage you to browse through slowly to catch glimpses of the modest details. If you look carefully enough, you will also find a lamp that folds into a book and works as a portable charger!
Club Monaco also outsources the design of their jeans and jewellery to third parties that are exclusive to them, which gives shopping there that little aura of uniqueness. The theme of the shop becomes very clear once you talk to one of the sales assistants, who might tell you that the feathered artworks on the walls represent the fragility of life and are actually used as hats.
The new Club Monaco store is now open at The Shoppes at Marina Bay Sands, #B2-101.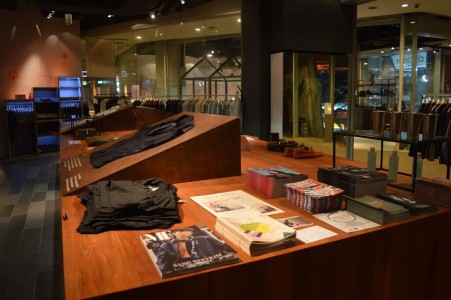 PACT
For an even more immersive shopping experience, pop into PACT. This mega lifestyle store has a focus on artisanal goods from independent labels, including some local ones such as Code Deco and LIM.
The labels that are a part of PACT all seem to have a common focus on craftsmanship, transparency of the manufacturing process and distinctive design. The empire sells a selection of perfumes, furniture, bespoke jewellery, clothing, homeware and has a hair salon, nail salon, and a casual restaurant that all connect through a common vision of a slowed-down society and an authentic lifestyle.
The unique design pieces are like trinkets full of sentimental value that you will want to keep for a long time, and because of their high quality, they will also stay as they are. The space feels like a casual museum where you don't feel restricted, but welcome to try things out and speak to the friendly staff. It definitely challenges traditional notions of shopping and presents an aspirational lifestyle that might inspire you or perhaps just make you want to come back again.
PACT is at #02-14 to 23, Orchard Central.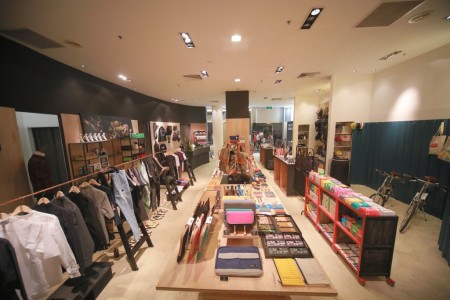 The Redundant Shop
For the intellectual shopper, The Redundant Shop is the perfect destination. With exclusive design pieces including bags, jewellery, stationary, homeware and magazines and books the folks at Redundant Shop focus on the best innovations of the craftsmen of our time.
The products are practical as they stock bicycles and disposable cameras and you can be sure that you will leave with lasting quality products. Fans of Redundant magazine will already know this, but the whole enterprise focuses on creativity and innovation instead of cool brands, which inadvertently makes the store so cool.
What makes the shop the perfect fit for a conscious designer is its yoga mat bags made of recycled advertising banners for example. It's all about selling the customers a way of living: appreciating great design, supporting independent and local talent and having a healthy and creative lifestyle consisting of biking, yoga and photography. With local labels like Chota House Collective and a mix of international brands from New Zealand to the US the multi-label offerings are sure to appeal to a range of customers.
The Redundant Shop is at Millenia Walk 01-71/72
==
Stay updated and social with Popspoken: Facebook | Twitter | Instagram