Alexis Mabille launched his label house in 2005 after receiving his diploma from Paris' Chambre Syndicale de la Haute Couture in 1997, undertaking apprenticeships for Ungaro and Nina Ricci and being with the Dior team for nine years. Under Dior, he made jewellery for John Galliano and was part of the Dior Homme line under Hedi Slimane. Most known for his bowtie motifs and his luxurious and imaginative couture creations, of which the first collection impacted the Paris runway barely a couple of years after his label's inception, Alexis has also been recently appointed as the artistic director for Cointreau Prive. His menswear label also reflects the same opulence in his ready-to-wear and couture options.
This year, he was invited to showcase his Autumn/Winter 2012-2013 collection as part of French Couture Week 2012 where he envisioned women as jewels. As he aptly puts it, "When she opens her jewel box, captivating visions emerge, their multiple facets revealed by lights. Precious and stately, these muses impose their charms – naturally attractive even in the rough."
The opulence of his AW 2012-2013 collection was borne out in a plethora of fancy gowns fabricated from vibrant mixes of rich silk and luxurious organza. There crowd reached a consensus that he was hitting all the right notes with his choice of luxe fabric but the devil was in the details – intricate ruffles, fringes, silk brocades, dyed furs were what stole the hearts of the audience. Over tea with the fashion maestro, I discovered that the sizzling Dita von Teese is a huge fan of his designs! Fortunately, Mabille's career has been smooth-sailing thus far and he has even formulated a concrete 8 year plan to further develop his label.
Popspoken: Which 3 words best describe your collection?
Alexis: Frivolous, classic, elegant.
I love this naughty side even if it's chic elegant with curves from the past, or from classic clothes. I like twists that are dirty, sexy and very feminine!
Popspoken: You are famous for the use of bow ties. Why bow ties?
Alexis: In both menswear and womenswear, the bow tie is present. So when I launched my first unisex collection in the beginning around 6 to 7 years ago, I decided to include the bow tie since it was a common denominator of menswear and womenswear. In France, bow ties are really old fashioned and no one wants to wear them any more. Only girls in the countryside wore bow ties since they are a bit old fashioned. So we decided to reinvent it, and it became a logo for us – an iconic detail.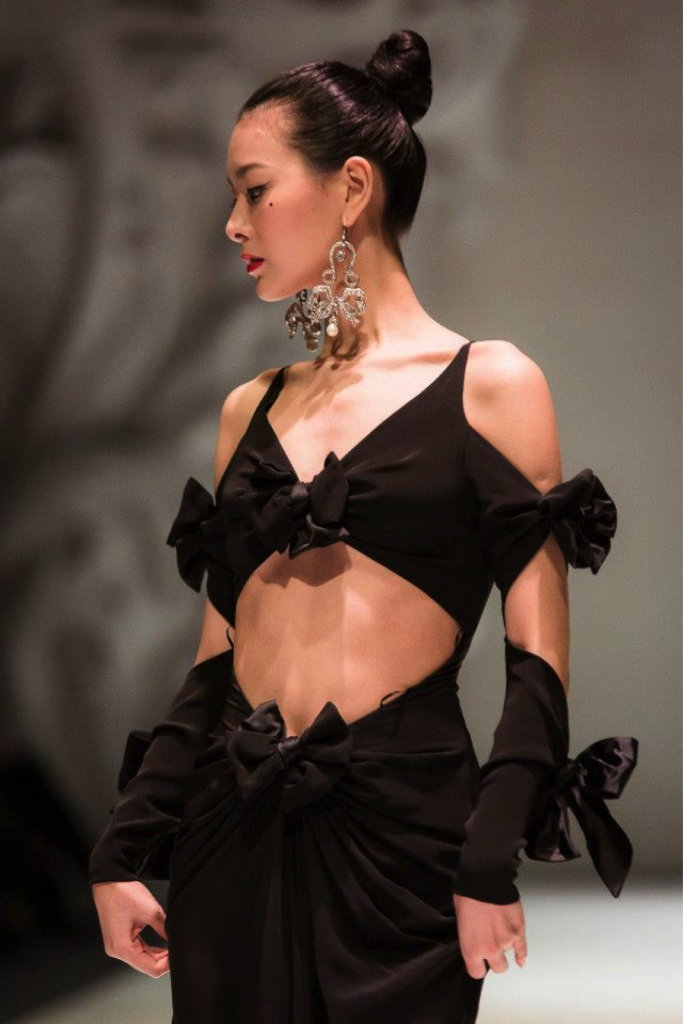 Popspoken: What are your thoughts about designers moving from one fashion house to the next?
Alexis: When you are a designer you can just be yourself. In a house, those designers don't have the capacity to be someone else. They become an actor, as though they are playing some kind of game. They need to play the skin of someone else since it's their own personality they are putting inside. It's a question of capacity. When you join a fashion house, you give your sensitivity to a company to express something different – it can also be seen as a kind of staff training.
Popspoken: Till this point, which has been your hardest obstacle to overcome?
Alexis: I was fortunate to have a good start. From far it's very glamorous to have a collection, however there is a lot of work involved in terms of precision. At the beginning of the launch of my new fashion house, I was a bit worried about what might happen. Aside from that, I've been lucky, because I have never encountered significant problems.
Popspoken: What are your design influences? Have they changed since you first came out of college? 
Alexis: Naturally, I get influenced by my love life, what I'm thinking, different desires from then until now. It's an evolution that stems from your relationship with your client, with what you do and with life.
I don't think so much about influences because I'm looking forward to the next collection every time. For example, the unisex style that I keep in men's shirts is a kind of detail that has become something like grammar for me . Or maybe next we may choose to do something crazy. It's more important to be focused on what you have become than to be focused on looking at other fashion houses.
Popspoken: Did you know you were going to end up being a fashion designer?
Alexis: Yeah, since the age of 8/9 years old. I come from a family of decorators, painters and more. I don't know why I started looking at fabrics and following that, I really wanted to work with it. More as a costume designer at the beginning, but very quickly I realized I didn't like after doing internships so I ended up designing clothes.
Popspoken: Which is your favourite piece out of everything you have designed?
Alexis: I like almost everything I design. Sometimes after a few months, I may not be so happy with something, but it's part of my 'humour'. In each of season, there is definitely one or two dresses that I like more.
For this season, I particularly like the nude dress with organza that is a bit destroyed – like fur. It makes the outfit look very impressive.
Popspoken: If you could resurrect someone from the dead to have dinner with, who would it be?
Alexis: I would love to meet the Queen of England. It would be fun as she is very interesting, I would be very happy to be received at the Court.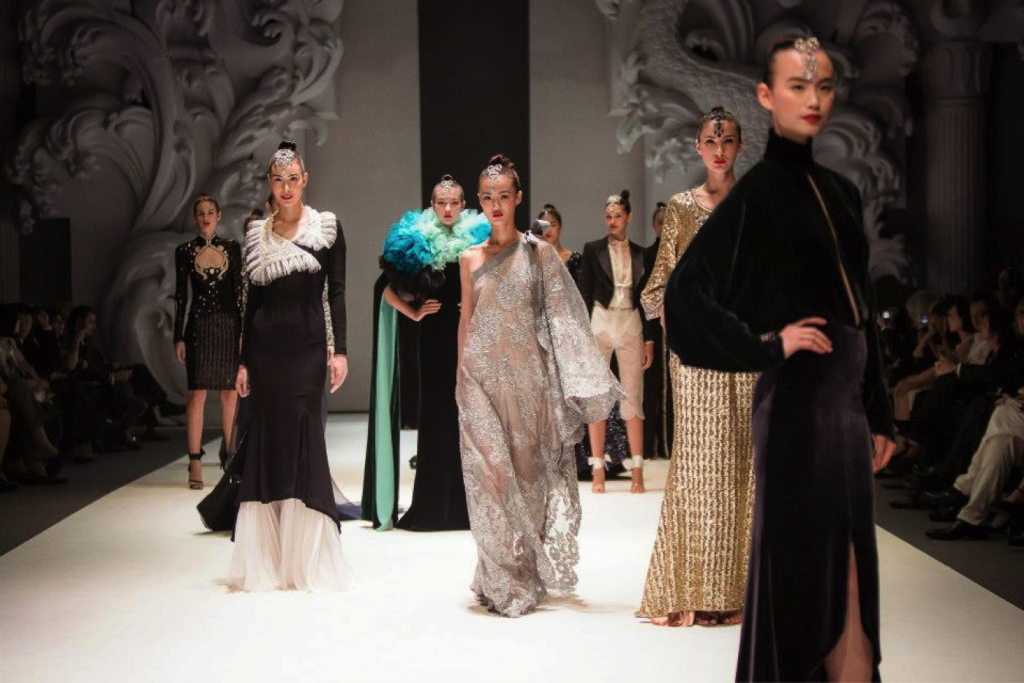 —–
For more pictures of Alexis Mabille's collection, click here