New Year, same you? These are the latest tracks to dig into by industry veterans and upcoming gems, as we flip the page for 2023.
There is a frenzy of new tracks dropping on the first new music Friday of the first month of the new year, but before we go headlong into fresh bangers, here are some tracks that are worth checking out.
Industry veterans Chok Kerong and Vanessa Fernandez collaborate for the first time
Kerong is known for compositions with clarity and depth, having worked on many musical arrangements performed by local maestros such as Jeremy Monteiro, Rani Singam, T'ang Quartet, to name a few.
Together with Australia-based Vandetta (Vanessa Fernandez), the duo have more than twenty years of professional experience behind them. Their new single, "Cry", weaves in introspective, genre-bending tunes. The classic hip-hop with alternative gospel beats, features weish. They are launching their debut album at Esplanade next month as part of the Mosaic Music Series.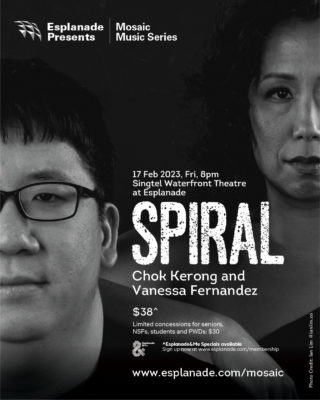 Syaz Smooth, 17-year old R&B prodigy
With his knack for storytelling, Syaz explores the darker side of love and obsession. Together with FlightSch's impeccable production, which injects reggaeton into the mix, Syaz's "Lari" is about a heartbroken man who is unable to let go of a partner who has left his side.

Merely 17, Syaz's talent and ability to relate to his audience is seen in all his tracks, hence it is no wonder why he tops the charts as Universal Music's youngest signee. He finds most of his inspiration through his love of film, particularly thrillers, especially those that elicit emotional reactions at all the right moments.
Not one to let his youth hold him back, Syaz's maturity in vocals shines through in this latest release. This maturity did not come easy and was honed through years of hustle, having entered Asia's Got Talent at a tender age of 12. His vocal finesse was developed under the legendary David Foster, who incidentally gave Syaz his artist moniker. A star in the making.
Rangga Jones sees red in latest track
Alongside youthful breakout stars such as Gentle Bones and Shye, Indonesian-born Rangga Jones has crossed 1 million monthly listeners, all within 3 years of starting his musical journey. Digging deeper into his own experiences, he has used his latest track as an outlet to vent his own frustrations.
"Something I wanted to try this year was to craft an overarching theme. I had this idea to explore emotions in relation to color, and how I could present that in my music. This track in particular represents the color red, in relation to exasperation and anger."

Rangga Jones
Influenced by Hip-Hop and the R&B sensibilities of Keshi and Justin Bieber, Jones' latest track "Waste Your Time" showcases a soundscape that is uniquely his.