It almost feels like New Years Day was just last week, but in the blink of an eye we have arrived at March. Here is a specially curated playlist of songs to accompany you as things start kicking in full swing at work or school.
---
Timeframe by Iman Fandi
20-year-old Iman Fandi might be a recognisable name in the modelling and media industry, but her debut single 'Timeframe' cements the Pop/R&B songstress as a rising pop star recently signed to Universal Music Singapore. Written in 2019 while on a taxi after bidding farewell to a close friend, the single was initially written with a 'slow lovey dovey vibe' but producer Flightsch revolutionised the track to become the fusion R&B/Pop/Dancehall banger reminiscent to the tunes of The Weeknd and Tate Mcrae.
Accompanying the single is an almost 6 and a 1/2 minute long music video directed by Choann (known for directing music videos for local big names Jasmine Sokko, Tabitha Nauser, etc.) packed with red lasers, cinematographic sets, dust particles and sand CGI and nine costume changes in which the starlet recalls was only given 30 minutes to do her hair, makeup and outfit for each scene.
She recalls feeling nervous shooting her first scene of the 2-day music video shoot, the scene involving her interacting with a scientist in the chocolate factory. "Am I a good actor? Why do I look so weird? I was looking at myself and I was like, oh my god, my eyes are so beady. It was huge and I was staring into the camera and I told myself, 'Iman, calm down,'" recounts the Adidas brand ambassador. She even surprised herself by her ability to cry on demand on set.
The challenge was finding my sound and finding my voice. I didn't really have a musical background where I was taking vocal lessons or play an instrument, but I taught myself. I am learning right now and am trying to grow.
COVID-19 had delayed the release of her debut single, but Iman trudged on and after finding the right production and arrangement for the track, kept the original melody and lyrics in the final product. "Basically, what I'm going through in the whole song is about missing someone overseas. I feel like people can possibly relate to that right now because you cannot travel," expressed Iman.
While the social media star may be green in the industry, 'Timeframe' frames the multi-talented performer as a star in the making whose vulnerability shines through in her journal-like lyrics and pristine audio and visual content. She humbly reveals that delving in fitness, modelling and dance has helped her on her journey to finding out who she wants to be.
As the world watches Iman bloom into the driven, conscious and charismatic songbird that is propelled to make international waves, we eagerly anticipate as the Gen-Z superstar works on the rest of her EP with more singles slated to be periodically released through the rest of the year. In the meantime, we shall continue to stream 'Timeframe' on loop as the chorus hook 'Timeframe, baby' streams into our subconscious minds going about our days.
2. uRight by Shigga Shay feat. Jay Park
Produced by superjdoug & OkayJJack, 'uRight' is a timely follow up to Shigga Shay's latest EP 'S$' released late last year. The single is a late-night sensual jam with a catchy chorus hook featuring the grungy rap vocals of Shigga accompanied by the sensuous smooth vocals from Korean R&B 'scene stalwart' Jay Park. Reminiscent to the likes of tracks off Justin Bieber's Changes album, 'uRight' is the kind of dance bop that you would blast at a party or while in the car driving to a social night out. The surefire hit layers contemporary vocal ad-libs that makeup popular music of 2021 and a synth hook that will be bound to stick in your head.
The accompanying music video features female lead social media star Sichen most known for posting makeup tutorials on Youtube and the picturesque architecture and skyline of Singapore. While the single does not stand out in terms of artistic creativity or peculiar arrangement or sonic deviation, the palatable radio-friendly track is slated to be a surefire hit amongst Gen-Z and millennials and a vibe to ring in the weekend.
3. Just Shut Up by Narelle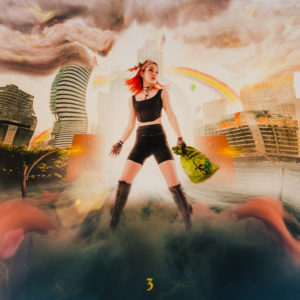 Narelle has been steadily carving an independent music career and confidently expressing her identity and struggles through her alternative indie-pop records since her debut release 'Some They Lie' in 2016. 'Just Shut Up' is a natural progression towards a more alternative-rock sound and the first release from her upcoming EP 'Part 3' set to be released later in the year.
'Part 3' is an indication of positive progress for Narelle and is her personal favourite out of the trilogy –  it represents the light at the end of the tunnel after her long bout with depression and dissociation. It is clear from the sonic arrangement that Narelle is embracing a more hopeful disposition past her mental and emotional struggles. The chugging guitar in the background almost showcases the quiet confidence of a woman who has learnt to live with and conquered some of her inner demons. As the song closes with a wailing police siren, one cannot help to question the intent behind the usage of such a piercing dramatic sound. Has her perpetrator been caught? Is it a motif to alert listeners that a new era is coming along with a newly invigorated singer-songwriter? We do not have the answers, but patiently await for her upcoming releases to unfold the story.
Don't know where we go from here, but I don't like it when you're close, so close to me. Overnight I disappear, you've been looking for me in your memories." – Just Shut Up, Narelle.
4. A Day At A Time by Gentle Bones & Clara Benin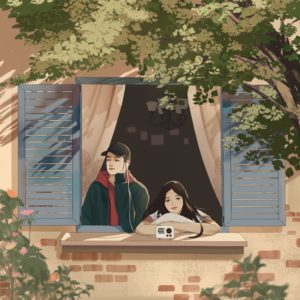 Recently signed to Cross Ratio Entertainment, pop-folk singer-songwriter Gentle Bones officially joins the label's roster of artists including Tay Kewei, Derrick Hoh, Alfred Sim, Ling Kai and Belinda Lee. Bones's latest release 'A Day At A Time' continues his brand of feel-good music with hard-hitting lyrics that strike a nifty balance between expressing real mental & emotional struggles before closing off in a optimistic note to embrace self-love and acceptance.
Lately I've been going through the motions struggling to get me outa of bed. But I'm not gonna lie, it's just harder these days. I put on a smile and say love yourself today if you can…" – A Day At A Time, Gentle Bones & Clara Benin
The single is a strong follow up to his prior single 'Better With You' with Benjamin Kheng. Fusing trumpet sounds, soothing bass and an almost throwback music arrangement to the early 20s, A Day At A Time is a timely reminder as the world gradually heals from the COVID19 pandemic and one of the darkest periods in recent times. If anything, Bones has truly grown comfortably into his sound and is ether a truly woke artist or a perceptive business mogul fully aware of creating easy listening music that treads between palatable and forthcoming – an incontestable way to connect with listeners as reflected in his rising stream counts. We eagerly await to see what else Bones has in store for us.
5. One Night by HYBRD
Singapore Hip-hop outfit HYBRD has been steadily building their repertoire and brand with the release of high quality music videos directed by Bless7Up and a series of independently organised school shows. The duo may have only made their debut in 2019 but have already accumulated five music videos under their belt.
'One Night' is their latest release leaning towards a softer sensual R&B sound with an accompanied IGTV music video by which rapper & singer-songwriter Q sings about 'lust and love in the modern dating generation'. The song is the first of many more IGTV music videos to be released through the year.
A follow up to their 3-phase live performance series with the last being 'Phase 1 – Wildin'", the 'One Night' music video documents snapshots and memories through the night as Q interacts with a female counterpart. A departure from their usual energetic loud bangers, HYBRD's latest release could lead listeners to a brand new sonic space while staying true to their dark and twisted visual roots, their most identifiable trait. Through it all, HYBRD seems to be adopting the long-term game, focusing on creating distinct visuals in belief that their music will stand the test of time.
6. The Last Man on Earth by Wolf Alice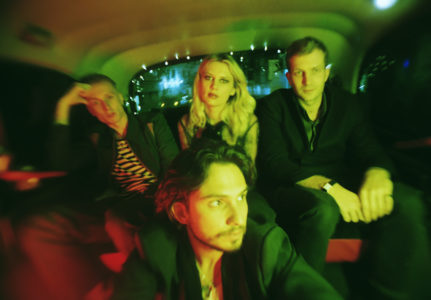 One of Britain's most revered bands and Mercury Prize 2018 winner Wolf Alice returns with an emotional ballad: the kind of song you would listen to while lying in your bedroom or driving through the highway at night ruminating about life. Starting with whispery vocals by lead singer Ellie Rowsell over soft playing keys before the guitar, drums and bass kick in for an epic bridge and final chorus similar to works by French electronic act M83, 'The Last Man on Earth' is a highly evocative storytelling piece uncommon in today's music infrastructure.
Holding so much beauty and grace in its delivery with fitting instrumental parts that complement and add to Ellie's vulnerable vocals, the track is a standout in today's climate of formulaic pop music about drugs, sex and love. The monochromatic trippy visuals in the music video add to the emotional potency of the track before concluding in a final scene with Ellie singing while surrounded by fire that burns arounds her.
It's about the arrogance of humans. I'd just read Kurt Vonnegut's Cat's Cradle and I had written the line 'Peculiar travel suggestions are dancing lessons from god' in my notes. But then I thought: 'Uh, your peculiar travel suggestion isn't a dancing lesson from god, it's just a travel suggestion! Why does everything need to mean something more?'" – Ellie Rowsell on the concept behind the song.
Their third album Blue Weekend was written in a converted church and an Airbnb in Somerset, England; before evolving into a full-fledged record produced by Markus Dravs (Arcade Fire, Björk, Brian Eno, Florence + The Machine). It will be released on 11 June 2021, and will be available on all digital streaming platforms, vinyl, CD & cassette.
7. Better for Me by Scott Quinn
London-based pop singer-songwriter Scott Quinn may be fresh off penning tunes for big names such Korean superstars BTS,  Swedish pop singer Zara Larsson and Australian country-pop legend Keith Urban, but the Yorkshire-born musician's latest single 'Better for Me' is an easy-listening guitar driven feel good track ideal for cozy afternoons & long road trips. An instant ear worm, the single may not be distinctly artistic, but its simple message drives home the point: "When I was going solo, I was feeling so low with nobody by my side. But you make it better, you make it better for me."
The accompanying music video is a compilation of heartwarming homemade clips from friends, family and friends that further builds on the message that community and relationships are the key to making life whole and fulfilling. Inspired by pop contemporaries such as Julia Michaels, benny blanco, Pharrell Williams and Charlie Puth; this electronic-pop track with a hinge of R&B influence is a pleasant addition to his current repertoire which has already racked up more than 8 million Spotify streams alone.
With the current emotional state of the world, a straightforward pick-me-up track just might be the solution to brighten our days as we gradually wrap up the first quarter of 2021.
==
Stay updated and social with Popspoken: Facebook | Twitter | Instagram