2020 has been quite the whirlwind with the world dealing with the ongoing Coronavirus pandemic. While most food and public places are open, live entertainment options remain rather limited in numbers and capacity space. To spice up your December holiday season, here is a curated list of digital and live events you can visit or watch online from the comfort of your home.
___________________________________________________
MUSIC MATTERS from Wonderful Indonesia
Music and culture meet on this online web conference featuring performances by 6 Indonesian top musicians, 4 International musicians in 3 stunning episodes with beautiful Indonesia serving as the backdrop. The episodes will premiere from 4th-6th December, starting at 19:00 WIB/04:00 PST onwards on Music Matter's Facebook and Youtube pages.
Soak in the scenic views of Danau Toba, Labuan Bajo, Yogyakarta and Borobudur while enjoying performances from Youtube sensations Kurt Hugo Schneider & Sam Tsui, X Factor USA finalist and social media star Jules Aurora, LA pop-duo Ni/Co and established and rising Indonesian acts Weird Genius, Danilla Riyadi, Isyana Sarasvati, PADI REBORN, Andmesh and Hondo.
Music Matters from Wonderful Indonesia promises to deliver a diverse range of music performances from pop, R&B, indie and EDM. Follow Music Matters Instagram page or click 'going' on the Facebook event page for updates.
NEW NORMAL by Jan Larsen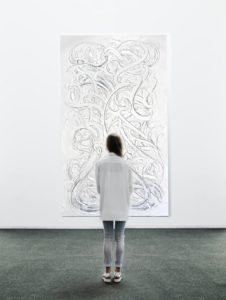 American Neo-Pop artist Jan Larsen's latest performance art piece is the first of a year-long series of exhibitions, charity auctions and retail activations. A presentation of 39 paintings, prints and sculptures, New Normal is designed to express Larsen's view of our new normal – an era of multi-faceted dynamism and positive social progress, expressed through his Dada-esque, Beuys-esque, experiential-sculptural societal lens. Some must see highlights include 'Synchrony 24 – Surf & Turf', 'My City Was Gone – Diamond Dust' and 'Up Next'.
Serving as an extension of his series of oeuvre since launching his career in 2015, New Normal is Larsen's second show in Singapore and is a reflection on how the global public health crisis brought on by COVID-19 has accelerated our progress towards becoming what Larsen calls a "fully distributed society: where opportunity and innovation is more fully distributed across multiple layers of society, and thanks to communications and data-sharing technology, progress is achieved on multiple fronts simultaneously."
Larsen has been based in Singapore since 2019, establishing Robertson House, a two-storey exhibition space and production studios near Robertson Quay and has since launched two initiatives with the opening of the New Normal show: JLA Cares and Robertson House Auctions. Larsen is supportive of Samaritans of Singapore in its work on crisis intervention and suicide prevention. An online charity auction was launched on 22 November and will close on 18 December with a live-streaming closing part.
Due to prevailing public health regulations and government requirements, viewing is by appointment only via email (enquiries@janlarsenart.com) and is limited to 10 persons at a time. New Normal runs until 20 December 2020.
SINGAPORE INTERNATIONAL FESTIVAL OF ARTS V2.020
Singapore's pinnacle arts festival wraps up 2020 with a series of shows, workshops, talks and podcasts since October. At the forefront of the new normal in arts and entertainment, SIFA has curated and developed innovative artistic experiences that embrace new mediums of working from Singapore and around the world, serving as a springboard for artists and audiences to connect and engage.
"I'm delighted by the wonderful reception the first wave of SIFA v2.020 had – one thing it clearly demonstrated was how much audiences are looking forward to being back in a theatre. Despite the countless challenges we are facing, artists have shown tenacity and grit," recounts festival director Gaurav Kripalani.
To round up their festivities, SIFA's December programs include:
For more information, visit SIFA's website to stay updated.
MURDER AT MANDAI CAMP: THE CASE REOPENS
A follow up to the first instalment of digital zoom murder mystery Murder at Mandai Camp by Sight Lines Production and directed by Chong Tze Chien, Murder at Mandai Camp: The Case Reopens presents Asia's first virtual horror-mystery escape room with live-action gameplay. With 360° views, augmented with immersive surround sound and choose-your-own-adventure mechanics, this sequel pushes the realms of digital theatre and will stream for 90 minutes on-demand between 8.00PM and 4.00AM daily, from 22 December 2020 to 2 January 2021.
The returning cast (Erwin Shah Ismail, Bright Ong, Irsyad Dawood and Ronald Goh) sees the addition of Benjamin Kheng (Vocalist of The Sam Willows, Fly Entertainment Artiste) as the key CID officer who reopens the case.
Tickets will be available at an accessible $20 per audience-participant (excluding booking fees) from 24 November 2020. An accompanying mystery draw of SG$1,000 (viewers who have collected all the key evidence and identified the true culprit will qualify for the draw automatically) is also running coherently till 6 December.
To top it off, a collaboration with local cocktail institution Ah Sam Cold Drink Stall can complete your experience at home with two themed bottled cocktails, inspired by the production. The Scent of Plumeria and Pisang Noir (2 bottles at $75; 4 bottles at $130, excluding GST) are available for pre-order and purchase on their webstore. The cocktail packages will come with an exclusive clue to solve the mystery.
Play the demo experience of Murder at Mandai Camp: The Case Reopens or get your tickets here.
==
Stay updated and social with Popspoken: Facebook | Twitter | Instagram