Independent Singapore-based record label Zendyll has teamed up with the National Arts Council (NAC) to feature 7 local artists in a brand new web-series sharing original music and stories inspired by the constraints of the circuit breaker. To be  launched weekly, the 30-minute At Home Sessions are concurrently running and will premiere every Friday at 8.00pm with the support of Ebenex Music and can be streamed directly on Youtube from the safety & comfort of your homes.
We felt like we wanted to give a platform for artists to showcase their original music and to do it in the comfort of their own homes, especially given that it's the place where most of their writing happens. It's a great way to get artists to talk about their music and their experiences during Circuit Breaker, and connect more with their fans despite the need for social distancing," shares Creative Director and Founder of Zendyll, Jon Chua JX, best known as one of the members of local pop quartet The Sam Willows.
Get to know more about the 7 featured local artistes in a quick fire round of questions below:
Popspoken: You started a series of videos called 'Songs by Historically Oppressed People' (SBHOP). What goes into deciding the songs that you cover? Do you personally identify with any of the songs you've covered and how have they impacted you?
RENE: I started the series half as a joke, but also because I wanted to highlight songs I liked that weren't written/released by people of privilege. Mainly straight white men. So I choose songs by artists who are queer/not male/not white.
Popspoken: It's been awhile since your last release 'Taking the Blame' with The Great Singapore Replay 2 earlier this year. How has your music taste & journey progressed since then?
RENE: Since releasing the track in January, I've been working on my EP which will be out next year! I played 2 new songs during my At Home Session, which will be included in the EP.
Popspoken: Your music journey started when you were 16. How has your perspective on music & the industry shifted since then and what made you decide to pursue the artist route last year?
thecolofractal: The entire business model of music has shifted quite drastically since the time I started. Back then, record sales were still a big part of an artist's income stream. With online streaming services, that portion has been slashed tremendously, but artists have to adapt by generating other sources of revenue. I decided to dive back into the artist route because I genuinely enjoy creating original music, despite it not being a legitimate source of income.
Popspoken: Pursuing music full-time is not easy and still a relatively young industry in Singapore. What advice would you give to aspiring musicians who would like to pursue music as a career?
thecolorfractal: Pursuing music full-time is not easy anywhere in the world, not just in Singapore. I'm still quite young in my journey so I'm not sure if anyone should be taking advice from me, but if there was anything I'd like to share with aspiring musicians, it's this. Practice hard and work on your craft as if it were a full time job. Believe in yourself because if you don't, no one will.
Popspoken: You recently released a web series 'Digital Love' in relation to your single 'Pursuing Love'. What challenges did you face creating & producing the web series?
Marcus Lee: It was a really crazy tight timeline! We initially envisioned a completely different music video for the song, and it was supposed to be shot in M'sia. Then COVID happened and we were stuck in limbo for a while and had to revisit our original plans and ideas. I spent quite a bit of the Circuit Breaker working on this and they were all just ideas I bounced around with the team. So from the moment we received NAC's support on the series, we had only had a few days to go into production and to get a shoot going just as the country went into Phase 2. Adhering to the COVID guidelines for how many people could be on set, social distancing measures and making sure everyone was safe and healthy were pretty real challenges that none of us had ever encountered before.
Popspoken: Artistes are expected to wear many hats these days. What do you do to keep sane and continually move forward in your music journey?
Marcus Lee: Oh, definitely agree to the part about wearing many hats. Apart from just writing and recording my own original stuff, I'm usually kept busy working on content and covers, whether on my own or with collaborators, so I picked up a bunch of new skills during Circuit Breaker like getting better at editing videos and learning bits and pieces about how to market myself and engage more with an audience. Learning how to push out content on newer platforms like Tiktok also pushes me forward as an artiste and is a good challenge. When I'm not busy with all the music stuff, I love board games that are centred around social observation and strategy or just simply heading out to eat at some of my local hawker faves – these are definitely my go-to's.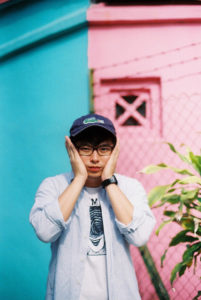 Popspoken: You hold a full time job while pursuing music part-time. Were there any funny/inspiring instances when both worlds collided? How did you handle it?
Quite Quiet: Actually none that u can think of but I think the closest is that my company is one of the the participants in one of the festivals my band played, thats all haha.
Popspoken: 'Bedroom musicians' have been quite the trend in recent years. How do you stay inspired and productive in your own personal bedroom space?
Quite Quiet: Actually I only do it whenever I feel like it and it's really random and unplanned, I prefer it to be that way because I don't like to force things~.
Popspoken: You released your debut music video 'Victoria' in July. What was the process/journey like leading up to the shoot and how did you conceptualise the music video?
KHAi: Going back to the concept of the MV, I knew I wanted the MV to be a little darker than what the song portrays. I had to go back to the root of what the song's about to conceptualise this MV. Because to me, 'Victoria' is a song about 'the one that got away'- the right person for you but you weren't right for them. So with the story that I had, there were a lot of directions I could've gone with. I'm just Glad with the one that we settled with.The preparation for the music video was really just a lot of back and forth conversations over Skype with my director, Tony. We were talking about the music video since late 2019, actually. Because the entire team is in Bangkok, I flew over a few days before the actual shoot date to finalise certain details of that shoot. It was so much fun!
Popspoken: How has KHAi as an artist/person evolved since the start of making your Strange[r] EP to having released it last month? Any advice you would give to yourself in the music making process?
KHAi: The start of me writing Strange[r] was like me having so many pieces of a puzzle trying to figure out where it all fits. I was a lot more unsure of my direction with music back then. I can safely say that I've grown quite a bit since the very start of this EP. I think my lyrical and musical ability were the main things that showed the most growth.But one thing that I've learned in my music making process is that I shouldn't put so much pressure on myself. I find myself getting consumed by the art of making music from time to time. To be honest, My mental health hasn't been the best throughout the whole process of this EP. So now and then, I make sure to tune in to myself and check in on my own feelings to see if I'm up for what I'm up to. Whatever body of work that I'm intending to releasing in the future, I'll make sure that I won't let it consume me too much this time.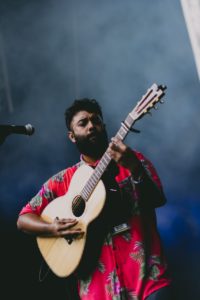 Popspoken: Your first and last release was an original song 'Taxi' back in 2017. How have you evolved as a musician since then and are there any future plans?
SHAK: I mean I wouldn't call it my last release, but when Taxi came out I was still in the process of discovering my voice and what I wanted my sound to be. Over the years of playing I eventually settled into the Blues and Soul as the base of everything I want to do. When I found that base/home, everything just started to click and get scary because the more I knew the less I knew and it was and is still quite crippling; but we move. I'm currently sitting on a 5 track EP that honestly should have come out a long time ago, fortunately it is slated to be released at the end of the year and I've been working towards that recently. I've also been working on an album to follow the EP. I don't know if I have evolved as a musician, but I am definitely blessed to have good people and musicians around me to help me fill gaps and live easier.
Popspoken: You started music playing/hosting in the open mic circuit. What significance were those years to you & how have they shaped you as a person/musician?
SHAK: If it wasn't for the open mic I wouldn't be singing, period. When I started playing open mics it really was for my own sanity and well-being, like I just needed a safe space for catharsis, to just sing and let it out ya know? And becoming a host I just wanted to give back the room for other people to breathe and just be. To come hang out, play some tunes, have a good laugh and go home feeling a bit better about being alive in the chaos we call life. It truly was a humbling experience, just seeing all the talent we have in this country week after week for the better part of 3 years and then some. I don't think I ever took an off day from hosting in those 3 odd years unless I was incapacitated from illness or unfortunate circumstance. I am grateful for my time as a host, it really taught me to sing and play with the right intent, whatever you perceive that to be.
Popspoken: You are pretty active on TikTok and social media. As an artist, how do you navigate creatively using the platform to promote yourself and your music? How do you come up with these ideas?
Estelle Fly: When it comes to TikTok, I'm able to express myself a lot better and the editing system on the app is a huge huge help! I always found it lot easier for me to express myself through videos and tiktok is the perfect platform to do just that. Honestly, there are crazy creative people on tiktok as there are on any social media platform, but one of the interesting things about the app was the fact that it made me want to be Creative in my own way.  On top of that, I felt like tiktok was a way of expressing a more genuine part of myself which I was never able to before. On tiktok, it's all about being relatable, don't get me wrong, it does pay off to be outstandingly Creative on the app. However, when it comes to involving people should I intend to release a new song to the world of tiktok, is showing them they can be a part of it too. No matter how good of an artist/Dancer/content creator you are, even if you're just a user on the app. I've my had my fair share of time on tiktok so I always make sure that it's easier to replicate the videos I put out, more people will feel less intimidated to try it out for themselves too!
Popspoken: Dance and gaming are a big part of your life & artistry. What do they mean to you & how do they influence your music creation process?
Estelle Fly: Dance has always been in my life as a kid, I'd dance to everything. Classical, musicals, disco… everything. It was one of the reasons as to why I love music so much. My folks always made sure there was music in the car and that was when I discovered singing. I sang along out loud in the in car all the time, so dance and music were always one entity to me. I couldn't imagine one without the other. A lot of my taste in music was influenced by my folks as well, we always preferred tunes that were groovy and upbeat which is mostly reflected in my releases. As for gaming, I feel it's been a part of my private life for a very long time. It's something I do for leisure however I've yet to bring that part of my life into my music as of yet. However, I've always thought it'll be amazing to bring that part of me in a more aesthetic sense, who knows! It might just happen soon!
Zendyll At Home Sessions is proudly supported by homegrown music and lifestyle news portal Popspoken and will run till 25th September. Spend your Friday nights listening to originals & covers by these talented homegrown artists.