Five months into his new job as General Manager of Sony Music Entertainment in Taiwan, Kevin Foo pulled off a feat – in the the midst of a growing global Covid-19 outbreak, no less –  that no one thought possible.
In February this year, Sony Music artist Eric Chou had planned to donate the proceeds from his song 'Forever Beautiful', originally released late last year in support of a breast cancer campaign, to bolster Covid-19 relief efforts. Foo, sensing the opportunity to amplify Chou's efforts, roped in 14 other Asian artists signed with the global music conglomerate to record a new release of the song, one that weaved the vocal stylings of such acts as Malaysian R&B singer NYK, Ben & Ben from Philippines, and Singaporean favourites such as Benjamin Kheng and Sezairi Sezali.
Two weeks after, the new version of Chou's 'Forever Beautiful' hit the market.
"Artists from every Sony Music office across the whole of Asia were represented. They recorded their parts and some of them in China couldn't even get out of their homes, so they recorded from home," shares Foo.
Never mind that he managed to engineer this 15-artist, eight-country collaboration in a fortnight. Equally impressive is the fact that at 41 years old, Foo is the first Southeast Asian to head the Sony Music Entertainment office in Taiwan, one of the company's most mature markets in Asia.
Appointed to the role in October last year, Foo oversees all aspects of the company's business and operations in Taiwan, including artistes marketing, market share growth, and diversification through new verticals like podcasting and merchandising.
In some ways, Foo appears to be an unlikely candidate for the position. Here's a man who grew up on a diet of Western music ("I don't listen to Chinese music much") and is now tasked to bolster a portfolio that includes some of the biggest stars in the Mandopop world. "Sony was the first major label that Jay Chou worked with and the current Golden Melody Awards album by Jolin Tsai was also released by Sony," says Foo, who admits that he takes on the role with "excitement and a little bit of trepidation".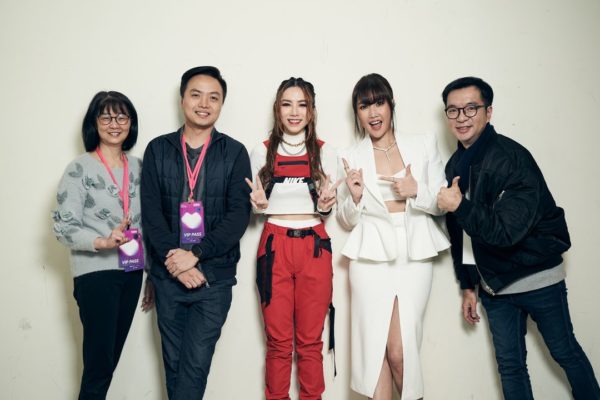 With a 55-strong team behind him, the sizeable headcount is a metric that couldn't lie any further from the bootstrapping startup life he led while founding and running indie music label and artist development company Umami Records; artist management company Foundation Music; as well as Beep Studios, a boutique recording facility birthed in a crammed apartment in Jurong, Singapore. All of which supported the growth of local artists – think Linying, Charlie Lim, The Sam Willows, Nathan Hartono and more – at every stage of the way, from recording and mastering of tracks to production, marketing, and distribution.
Yet, backed with over 15 years of experience spanning various facets of the music industry, one could say that Foo is the David who finally joined the Goliaths, and a David that comes with the requisite skills to steer a legacy brand in the digital era.
His appointment comes at a time where major music labels are not only forced to reckon with one another, but also with an increasingly fragmented attention economy spread across digital platforms such as Netflix, TikTok, and the like. For the consumer seeking a spot of entertainment, the options are vast, seemingly endless, and available quite literally, at one's finger tips.
Foo isn't new to the maze of distribution channels and platforms of the digital world. In fact, he had already started studying and experimenting with it back in 2013, the year he co-founded Umami Records. "I had met so many talented musicians in Singapore but wondered why all this good music was not reaching the audience it deserved… at that time, we didn't work with artists who insisted on selling CDs and physicals, so we could put a lot of our attention into figuring out how to make things work on the digital platforms," says Foo. By scouring listenership analytics and interpreting consumer data, Foo who was able to work on plugging the gap in digital distribution and promotional efforts for indie English music acts.
"We tried and failed with many different artists, but in 2015, some of the acts we worked with started to gain traction," he shares. Singaporean singer-songwriter Linying, for one, clinched a spot in Spotify's Global Viral 50 chart with her soulful single 'Sticky Leaves'.
Foo approaches talent management the same way one would a start-up. "It's about finding the right value proposition in the sphere of the music economy before finding the right investment around it," he explains. It is this same approach he carries over to Sony's roster of artists, even if the stakes now are higher and he's working with well-established Mandarin artists the likes of Taiwanese singer and actress Vivian Hsu.
Now, he also finds at his disposal the strength of a legacy label as well as the resources and advantages that come with it. For emerging singer Ariel Tsai who released her debut single 'Cheerio' in February, Foo's team managed to create more visibility for her by featuring her in the performances of other younger artistes signed to the label. When Sony artistes were invited to appear on variety shows, Foo's team would help to secure Tsai a spot as well.
One of the biggest challenges Foo faces is navigating the shift in the Mandopop power axis from the region of Taiwan to China. "Back in the pre-digital era, as long as you do good music that wins awards in Taiwan, the rest of the Mandarin-speaking world will lap it up. Back then, even some of the biggest Chinese acts from China had to break in Taiwan and win awards before they could become bigger in China," says Foo.
But the tables have turned and China now commands not only the eyeballs but the promise to grow new revenue streams as well. According to a report by Statista, revenue in China's digital music segment stands at US$1,538 million in 2020, a figure that is expected to show an annual growth rate of 6.5% and result in a market volume of US$1,980 million by 2024. Compared to China's 1.4 billion-strong population, Taiwan's population of 24 million is but a drop in the ocean.
To carve a slice of the lucrative Mandopop market in China, Foo will also need to navigate a new arsenal of digital tools. There's no Spotify or YouTube. Instead, there's Alibaba's Ali Music; Baidu Music, powered by China's leading search engine Baidu; and QQ Music – China's answer to Spotify, but one with added social functions such as the ability for users to purchase and send virtual gifts to others on the platform.
"Everyone wants to break into China because the size of the market is huge, but nothing you do outside of China actually impacts what's happening inside," says Foo.
Sony artist Eric Chou, famed for his two melancholic tunes ("The Distance of Love" and "How Have You Been?) that have broken through the 130 million view-count on Youtube, might have the star power to pack concert arenas, but according to Foo, "his presence in China is not comparable to that of his presence outside of China. So Eric has to approach China as he would an emerging artist. He has to work hard at it."
Conversely, Chinese singer G.E.M., who rose to prominence in Hong Kong about 10 years ago, ricocheted to fame in China after taking part in a reality show called 'I Am A Singer'. "I think her popularity outside of China wouldn't have translated into fame in China if she didn't take part in the reality show," says Foo.
But it's not just China that Foo has set his eyes on. He believes that digital channels will also allow Mandopop artists to regard the world as their oyster. "There are 700 million people in Southeast Asia's growing middle class. If you think about the Chinese diaspora out there, it's a lot larger than say the 24 million in the region of Taiwan. So it's not just about developing great music and talent here, but also figuring out the steps we need to take to help a talent reach an audience."
(Photo credits: Yang Shih Chuan for Sony Music Entertainment Taiwan)
==
Stay updated and social with Popspoken: Telegram| Facebook | Twitter | Instagram