Back for its fifth year sailing the open seas, IT'S THE SHIP has announced the official 2018 lineup and ship captain for the Phuket-bound voyage from Singapore happening this 4th to 7th November.
The globally renowned festival experience will have shipmates expecting a variety of themed pop-up parties, exciting artist-led side activities, and a multitude of surprises onboard the floating city perched atop a cruise liner.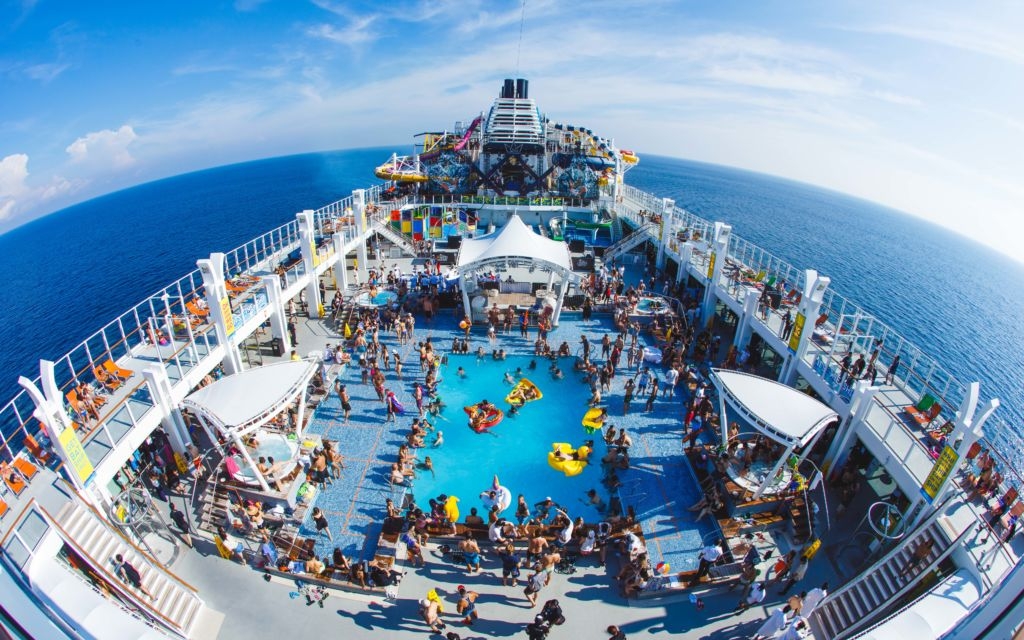 Set to take place during a long public holiday weekend this year during Deepavali, the pioneers of the cruise music experience in Asia are about to turn up the heat and make sure this ship-cation is an unforgettable and incomparable experience for all. The 2018 headliners are Vini Vici, EDM bigwigs Cash Cash and Showtek, household trance name Paul Van Dyk as well as house DJ, Sander Van Doorn.
Anchoring the ship will be viral sensation turned rapper, BIG SHAQ – this year's appointed captain. Check out the full line-up here, or the official playlist below:
In light of IT'S THE SHIP 2018, we speak with Mr. Darren Waide, Creative Director of the event organiser Livescape Group Creative on his day-to-day, inspirations behind his creative direction, and what to expect in this year's 5th anniversary edition.
Popspoken: What do you do at Livescape and what does a typical day for you look like?

Darren Waide: I am the Creative Director at the Livescape Group, a father of 3, and a Sydney-native who has been living in Malaysia for the past 5 ½ years. My main responsibility is to make sure everything, from creation to execution, whether in TV production, set design, or the setup of an event, has a creative edge.
Besides changing nappies, serving milk, and cleaning up vomit at home, my typical day normally includes cross checking creative ideas, brainstorming sessions, and review meetings to ensure that every aspect of our flagship event, IT'S THE SHIP goes according to plan and to make sure the customer experience is always our top priority.
Popspoken: What have you done at IT'S THE SHIP that you're most proud of?

Darren Waide: That's tough, there are so many! One great memory was when I helped move our 2016 ship captain, David Hasselhoff from his cabin to the stage without being mobbed! On a serious note, I am proud that every year, our small team always does the impossible and works together to setup and dismantle the stage, with only a limited amount of time given. Not only that, every year, our team get to create a guest experience that keeps shipmates excited and engaged for 4 days straight! There's definitely a lot of work involved but the hard work pays off when you see the shipmates having the best time of their lives!
Popspoken: Tell us your craziest memory while onboard IT'S THE SHIP.
Darren Waide: One of my greatest memories was when the Livescape team and I had to relocate the Main Stage headlining acts to a brand new indoor stage due to bad weather all within the span of a few hours! The setup was crazy but the team managed to make it happen, all because we wanted to ensure all shipmates had the best experience onboard Asia's Largest Festival at Sea.
Popspoken: What makes IT'S THE SHIP unique, as compared to other music festival cruises?
Darren Waide: While there aren't many music festival cruises in the region, we always ensure IT'S THE SHIP provides a unique experience for all guests. With an impressive music lineup, secret parties and fitness activities paired with luxurious comforts and 24-hour catering, shipmates are never short of options. IT'S THE SHIP is another great avenue for music fans to gather and meet with one another from all around the world, whilst getting a chance to enjoy close encounters with their favourite artists.
Each sailing features an island stopover, with this year's shipcation taking us to Phuket. The stopover is great as it gives shipmates a chance to take a break from the activities onboard and recharge for the next chapter of the festival.
Popspoken: You lead the creatives in setting the lights, sounds and stage setup of IT'S THE SHIP. Where do you get your inspiration from, and what do you have in mind as you design these sets?
Darren Waide: This is a massive team effort that involves myself, the production team, and the design team here at the Livescape Group and includes us working really closely with our suppliers and within the ship's operation guidelines. IT'S THE SHIP runs round the clock for 4 days and 3 nights, so everything we do has to look amazing no matter what time it is!
The whole process doesn't only involve lights and lasers, but also a mix of scenic elements, printing, and LED screens. The unusual challenge we face is scaling back our creative design approach because we only have 6 hours to set up, 4 hours to strike, a whole bunch of restrictions, and only a limited number of places to tie a stage onto a moving ship.
My inspiration normally comes from following global trends, seeing these trends and coming up with new ways to change them up and create something different. Everything created and shared pre-, during, and post-sailing including the graphic designs, posters, videos, websites, feeds, and everything onboard the ship work hand in hand, and are designed to make the experience whole.
https://www.instagram.com/p/Blc1vT8HHBe/?taken-by=itstheship
Popspoken: What we can expect at the 5th edition of IT'S THE SHIP this year?
Darren Waide: IT'S THE SHIP is a globally renowned festival experience like no other. Aside from the biggest artist line up we have ever announced, this year, shipmates can expect a variety of themed pop up parties, exciting artist-led side activities, and a multitude of surprises onboard the floating city.
Oh! Not forgetting the big reunion for our veteran shipmates who have been supporting IT'S THE SHIP for the past 5 years! We are about to turn up the heat onboard Asia's Largest Festival At Sea, making sure this shipcation is an unforgettable and incomparable experience for all.
The festival's early bird promotion is now open here for all shipmates with cabins going from as low as USD$423 per person. Cabin prices are inclusive of complimentary 24-hour dining, selected non-alcoholic beverages, and free usage of most of the ship's facilities.
==
Stay updated and social with Popspoken: Facebook | Twitter | Instagram