Prominent serial entrepreneur Chris Ducker identifies one of the most crucial traits of being an entrepreneur as "the ability to be flexible; to move in the right direction when the time strikes and to turn, or pivot in another, when required." Indeed, Aarika Lee's knack for changing gears and adapting has earned her a large variety of achievements under her belt, and made her a true career chameleon.
In addition to being part of the founding team at marketing and branding agency Elementary Co., she is a resident artist at The Mad Men Attic Bar, and also a mother to two lovely children.
Instantly recognisable in photos from her iconic headwraps, no one would have guessed that it was a move that happened on a whim. Yet, there is a deeper philosophy to her unique appearance.
"I used it as a way to distinguish myself because that was always in my nature. I feel like you will come to a point where you decide if you want to be part of the status quo, or be different."
Embracing the hustle life
From the beginning, Aarika had an interest in multiple mediums. "I think my goal was always to be in the creative industry, but I didn't know what my space was," she muses. "Advertising always appealed to me because television commercials (TVCs) were more common [in Singapore 12 years ago]. And music has always come as second nature to me, so I always wanted to keep it in my life."
Her first job out of university was at an ad agency, but she was simultaneously busy with a myriad of side hustles. "I was already doing other things part-time. I was there for a year, but being in an agency requires a specific type of personality and it wasn't what I wanted," she says.
Sensing a career change, this led her to pivot towards music and production, performing with her own band. As the band grew in popularity, she began doing music full-time. Opportunities to perform for original bands was still growing at the time, so she also earned by taking on a paid residency with her band where they mostly did covers of songs. On top of that, she also did radio jingles, voice overs, and taught kids speech and drama.
She scaled down her residency gig once her daughter Zola was born. Coincidentally, at the time, her best friends wanted to build something strong that would give them greater time and autonomy on their hands. Aarika decided to join them in their business venture, and thus Elementary Co. was born.
The shift from being a creative artist to starting your own business can be a daunting prospect. Thankfully, the support of her partners Charmaine Seah-Ong and Derek Ong helped push her forward.
"My partners are the ones who handled a large part of the business development at Elementary," she says. "At the beginning, I handled copywriting, video/photography shoots, client management, and shared the responsibility of overseeing marketing campaigns for the team. Charmaine had marketing experience from Resorts World Sentosa while Derek was a consultant, so all of us had different strengths which played a part in setting up the business."
"What I've learned along the way is that it's important to recognise your strengths and weaknesses for the greater good of the business. For example, if your business partners are better at something than you are, you let them do it," she elaborated.
Leveraging on connections
Aarika used her networking skills to her advantage when building Elementary Co. "When we started, it was our connections from work and hanging out with people who were in different fields that helped," she mentions. "Companies who felt like they needed a marketing campaign would refer us to their friends. It was our duty to follow through and deliver."
The connections you make in life right now may not seem all that important, but "you won't know when they will come in handy," Aarika says. "If there is something you want to work on, be confident to share it. Because you will never know who might be able to offer you an opportunity, or put you in touch with someone who can."
Aarika also isn't afraid of asking others for help when she needs it. "Sometimes I may not see the potential [in an opportunity], but others do. I have a strong support system and I trust the people around me. Even if it is something that doesn't work, I can say that I gave it a shot."
However, what if you don't have a very strong network?
"We live in a world where it is easier to make new connections. The business world is very willing to help and collaborate," she explains. "Find out the people who have done it, speak to them, and try to get them to teach you how to do it. Growth is about figuring out those who have been successful and learning from them."
Learning to say 'no'
As a multi-talented creative, Aarika has never failed to reinvent herself over the years, always dipping her toes into new projects that inspire her. How does she make such a smooth transition each time?
To her, it is about figuring out if an opportunity is going to be worth it; "Will it help you grow?" If you find value in it, go ahead. Other times, saying 'no' may be much more empowering than doing something for the sheer sake of it.
She recalls some of the times when she had to make such decisions as a musician. "There have been cases where I wondered 'why am I here?', but I would come back to why I began doing it in the first place. Being able to connect with people has always brought me joy, and music continues to do that for me, even at times when I feel stretched or challenged. However, time is a precious commodity when you have a young family, so I've also learned to say 'no' to some opportunities."
At Elementary & Co., there were similar challenges in its early days, where they had to take on less-than-ideal projects in order to sustain the welfare of the business and its employees.
"It is very important to have a reserve. The directors of the company would take delayed salaries in order to pay the staff when we first began," she says, citing the importance of adaptability and taking good care of your staff.
Despite being an opportunist, she realises that it is far more important to "stay committed to things I have said 'yes' to," as other great opportunities will rear their head.
Admittedly, branching out isn't for everyone. Aarika elaborates, "For some people, they have a do-or-die mentality in one area and need that motivation to do well. While they still have reserves, and put themselves out there, their focus is on the one thing they are good at."
When you have big dreams, it can be tough to decide which passions to pursue. For Aarika, the kicker is to "see if there is an opportunity to grow or learn from. There will always be a lot of fun things to do, but you must learn to be discerning and if something takes you to the next level, you should say yes."
Leaving a legacy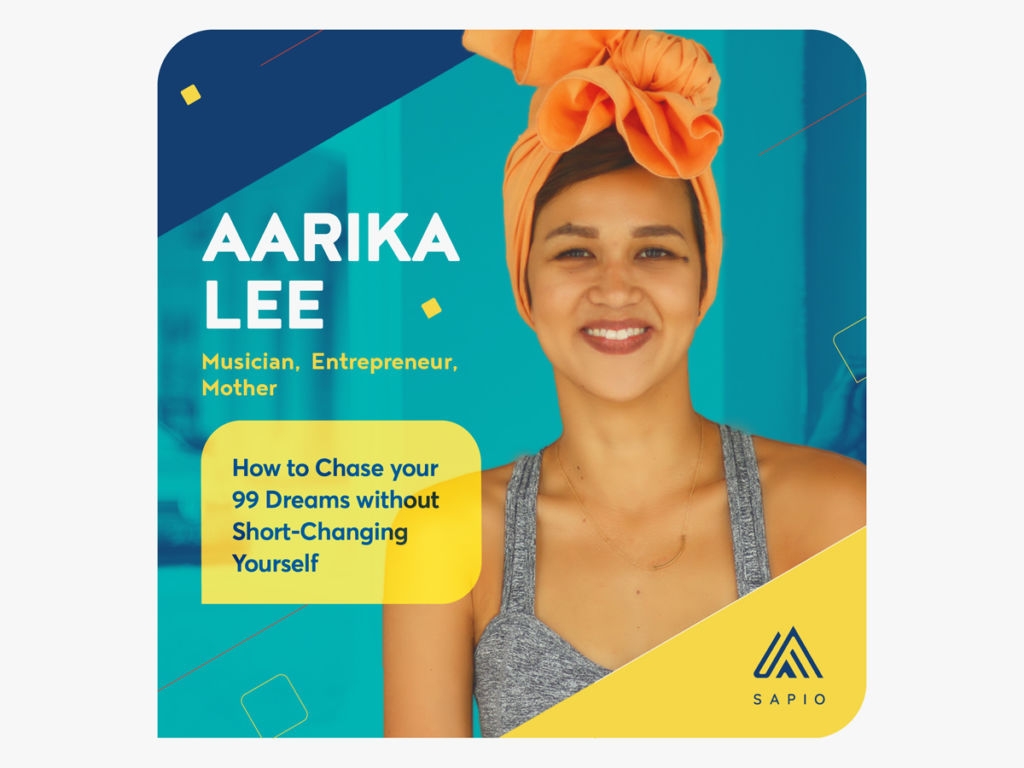 Never one to rest on her laurels, Aarika has ventured into acting as well, having starred on Toggle's The Breakup List. Although it wasn't something she thought she had initially felt comfortable with doing, she enjoyed the experience and challenge it presented.
"I think it is easy to cruise, but you should try to be actively growing in areas that are new to you," Aarika shares. "And you would be surprised how people are willing to share. It is good to approach people and take a step to ask. That is the first step to moving forward."
When it came to building a brand, the process was more organic for Aarika. Being clear about her identity and what she represented was crucial in attracting the type of audience who could relate to her. Realising that many teenagers were captivated by her Instagram feed whenever she spoke to them, "[she] wanted to portray an image of positivity and working hard."
Since having kids, she has become more introspective and selective about what she wants to do. Given that some decisions require taking time out from her kids, "it must not be something I sold out for, but one that I did willingly." "As long as it is meaningful to you," is her marker for making decisions.
Finally, she regales us with an anecdote of her time in Boston, where she picked up some valuable advice from her history teacher. "He told me, 'the world is filled with mediocrity, and it is up to you to stand out.' I think you should always chase something that inspires you and I've struck to that mantra since."
Photos by No Limits Photography & Sapio
Aarika Lee is one of Sapio's first 50 experts. Her session, "How to Chase your 99 Dreams without Short-Changing Yourself", will be held in early 2018!
Sapio sessions are bite-sized talks that allow you to meet the most sought-after entrepreneurs, industry insiders, and thought leaders face-to-face. Sign up now on Sapio's website before 30 Dec 2017 to receive an exclusive $5 off your first session.
==
Stay updated and social with Popspoken: Facebook | Twitter | Instagram