Hey big spender: Singaporeans have done it again. Just a month after moving 100,000 tickets for Coldplay's two-night shows, music fans here have snapped up all available tickets for Ed Sheeran's two shows in November within a matter of hours on Thursday morning.
Tickets to the original November 11 date sold out within 40 minutes of going on sale, and a second date was quickly added for the following day. Tickets for the second show went on sale at 11AM and were declared sold out by Sportshub Tix at 1PM.
See you again then: @edsheeran will be playing a SECOND SHOW on Nov 12, after tickets to his first show sold out within 40mins this morning.

— Popspoken Music (@PopspokenMusic) May 11, 2017
Scalpers were also quick to post listings for tickets, with Bandwagon and Coconuts reporting resale ticket prices of up to $2,295 on Viagogo – close to ten times the price of Cat 1 tickets.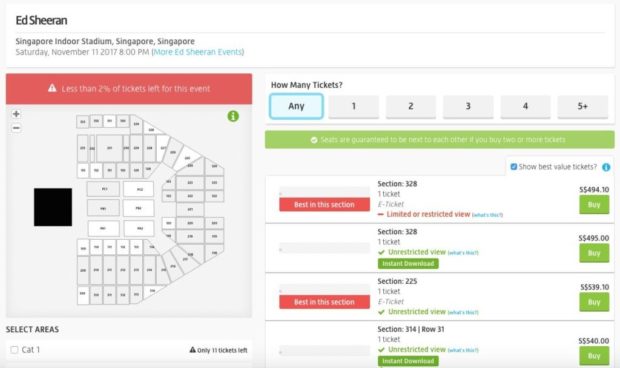 Some went on Twitter to vent their frustration.
feeling this secondhand stress from da peeps back home tryna buy ed sheeran tix hey fuck u scalpers

— summer (@summerisuncool) May 11, 2017
if you don't buy tickets from the scalpers then they won't have anyone to sell them to.

— nic shields (@nicshields) May 11, 2017
ed sheeran concert tix issue exactly the same as coldplay's. good luck y'all.

— داي (@daiyonce) May 11, 2017

https://twitter.com/deeyouwee/status/862513171256532993
The ginger with a guitar was last here in 2015, playing a sold-out show at The Star Theatre. With two shows at the Singapore Indoor Stadium in November, Ed will be playing to more than four times the size of the 2015 crowd.
Past the castle on the hill, it only gets bigger from here.
https://www.instagram.com/p/0Nf1IjkpCx/
In other news (and stark contrast), the Singapore stop on Pitbull's "Climate Change Tour" has been cancelled. Organisers Live Nation Lushington Singapore cited "scheduling conflicts" for the cancellation, but poor ticket sales may have also been a possibility.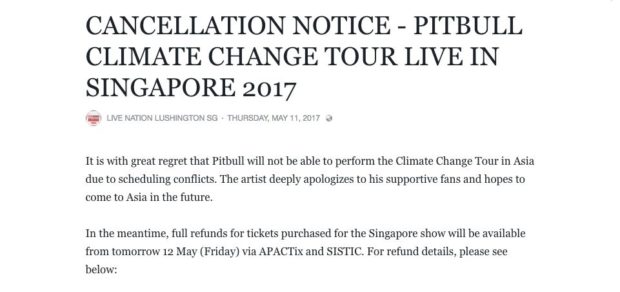 Live Nation Lushington Singapore has offered a full refund, and details can be found on their Facebook event page.
Mr. Worldwide*

*Asia-Pacific region sold separately https://t.co/uuR82q0XaC

— Jovi Ho (@hovsjovs) May 11, 2017
==
Stay updated and social with Popspoken: Facebook | Twitter | Instagram