Unveiling a new realm of music exploration on this side of the world, boutique brand Figure8 Agency, introduces a stellar lineup of the latest and most intriguing artists out of France.
Debuting first in Singapore for their Asia tour on 7th March 2017 is La Femme. Contrary to having a name which translates to "The Woman" in French, the band is made up of 5 males and 1 leading lady.
Touted as the "future of French rock", the band was chosen by Red Hot Chili Peppers to support them during their 2016 European tour. Inspired by a love of retro sounds through Gene Vincent, The Velvet Underground and Kraftwerk, La Femme has emerged with a grim- meets-glam genre of its own; like a new-wave rave filtered through The Ventures' back catalogue.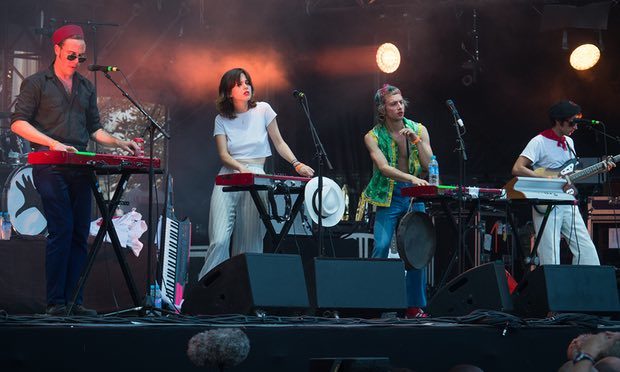 They've cultivated a unique style for themselves which takes influence from broad range of the vintages – particularly 80s synth wave, nuvo-surf; 60s pop and glam rock.
No sooner had their debut album launch in 2013, did it hit No.1 in the French digital charts making La Femme the next best IT group overnight. The band have premiered at festivals such as Glastonbury, The Great Escape, Primavera Sound, SXSW, Clockenflap and more.
Consistent with the voice of female strength and spirit, up and coming Singaporean noir pop duo, TOMGIRL will open the night. Inspired by classic film noir thrillers, motorbike ganglands and insidious femme fatales, the band prepare to showcase its deadly assault of heavy guitar riffs, pounding drumbeats and fuzzy bass lines.
We are excited to bring La Femme to Singapore for the first time. They are the synthesis of everything we've loved for the past 50 years in the pop & rock genre in France. Following this first 2017 gig, Figure8 will continue to bring the best of the French Touch from electronic acts to pop and folk. – Dany Inthaxoum, Director of Figure8 Agency.
---
LA FEMME – Live in Singapore
7th March 2017
SCAPE The Ground Theatre
2 Orchard Link #04-01, 237978
Doors open at 7pm.
Tickets available from 60 SGD/pax on Ticketbox.sg at https://ticketbox.sg/la-femme-live-in-singapore
=
Cover Photo: BETC POP
Stay updated and social with Popspoken: Facebook | Twitter | Instagram