It might have been the countless shots of vodka, the relentless winds that threatened to blow everyone overboard or the thumping beats of 'One Smile' by Dada Life – or it might even have been all of it – but the weekend passed in dizzying whirlwind of non-stop partying.
From wedding proposals with David Hasselhoff to sunrise parties with mankinis and guys in banana suits, the 2016 edition of Southeast Asia's annual dance party on the sea It's The Ship has seen some crazy unforgettable moments in three days and four stages.
Partying on a ship is a festival on another level where everyone can't leave. You gotta be pretty desperate to want to leave!
– Dada Life
It's true that you bump into every DJ at least once during the entire cruise; I seemed to be bumping into The Saxy Sax Man and Some Blonde every other hour. Lucky enough to catch a couple of DJs while on It's the Ship, we pick their brains on their journey onto the DJ console and understand more about their lives as a touring DJ.
Most ravers only get to see you from below the stage. What's the air like up there behind the DJ booth?
Ryan Marciano: It's better than the captain's (on the ship).
Sunnery James: The thing with the ship is that you feel like you're of the people partying. It doesn't really have a different perspective. You're all together y'know. It's not like a festival where you have a backstage; here you're part of the party. You're like one family. You don't really see how many people are on the ship until you step out behind the decks, and it's amazing.
Dada Life: It's beautiful up there. It's fun to be able to control the happiness level of a crowd. When you're up there, you forget what a crowd is. It's like an organ of so many people acting like one. It's like an ant farm – in a good way! It's so many people feeling the same thing at the same time. We want to push the crowd to feel something and that feeling is pretty amazing.
Joel Fletcher: When you first start out, it's actually pretty intimidating. I started out playing house parties, so to jump up onto the big stage it's a pretty big step. It's a thrill.
Andrew Rayel: A lot of people think its something different, unique and fun up there, but what we [DJs] do is a not as easy or fun as most people think. We spend a lot of time preparing in advance, so that we can enjoy the performance itself. The DJ console is just a bunch of equipment that we work with. I know a lot of people want to go backstage, but when they come up, they see that there is nothing magical happening. It's way more fun to be in the crowd and enjoy it from that side.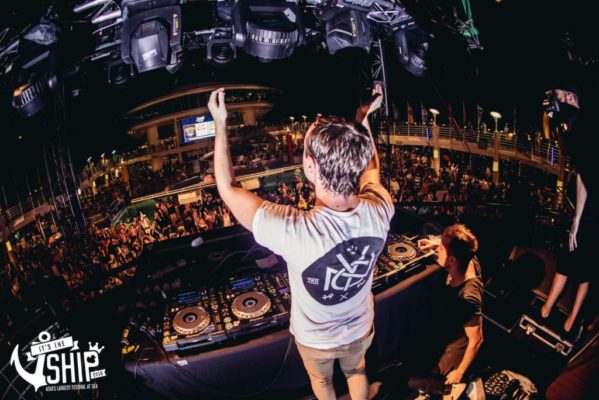 Prohgress (Far East Movement): Yeah, [yesterday] was pretty cool. I mean, we had a 5am set on an ice skating rink because it was raining.
Kev Nish (Far East Movement): The place was just buzzing with energy. When you're all moshing and everything, it looks really fun from up there. [Prohgress] is notorious for stage diving at every show. I was worried cos it didn't look like there was enough people to hold him.
Prohgress: I think in Asia, they've probably been working on their bicep curls. First couple of times I stagedived in Asia, I fall everytime no matter how much I tell them to come up in front. But these days, I'm lasting a little bit longer. I'll last about three seconds before I fall down.
Do you remember the exact moment when you decided to pursue DJ-ing as a career?
Dada Life: I started when I was 13 and DJ-ing with vinyl. It was basically because I was interested in playing music really loud on a system. And people would dance if you played music on a loud system. That really intrigued me, and eventually led to me producing music. I didn't like the music out there, and I was like, I can do better than this!
Andrew Rayel:  I actually started out more as a producer than a DJ first. I was creating my own music and tracks, and at some point, I saw that a lot of famous DJs like Armin and Tiesto were playing my tracks. And I said, 'Why should I let other people play my music when I can do it as well?' so people can see the actual creator of those tracks. I first decided to be a DJ at 17, but I actually started producing my own songs when I was 13. It took about 5 years to become a good producer/ DJ, before I started going out to festivals.
Joel Fletcher: My mate used to play at house parties and I looked up to him. And then I went out and bought a DJ set. He was my inspiration.
Sunnery James: For me, it was when Ryan bought the decks and the vinyls. Back in the day, I was pushing him to be a DJ. And then I started doing it, and I was like, I like this. And then Ryan got angry at me cos I played the same records I loved for six months and he said, 'Get your own stuff'. And then we threw a party and we thought it would be the biggest party ever but only 10 people showed up. I played all night because [Ryan] didn't want to, and then he came up to me and said, 'You are a fucking amazing DJ. You have the feeling for this, you have to do this."
Ryan Marciano: It started out for fun and collecting and mixing music. We never thought that playing stadiums and travelling would be out job.
Sunnery James: It's because we love music and we just want to create something out of it. we are young, and we do want money, but its also all about having fun and enjoying yourself. But now we can do it as out job, and I feel really blessed.
The touring DJ life consists a lot of traveling, partying and drinking. How do you keep up with that lifestyle?
Kev Nish: Power naps.
Dada Life: Number one rule of touring is always get sleep when you get a chance. You get a lot of sleep, but in small shards, and not necessarily when you want! Like just before this (interview), we had a 40 minute nap. We'll probably nap again after this.
Andrew Rayel: I was never a big fan of drinking partying. Usually I would come about half an hour before my set to see what's going on, play my set, and stay for about half an hour more. I rather party with my friends, but not so often. Touring life can be hard, so I tend not to party a lot; I try to sleep more. It does look like all we do is party because of the show, but DJ-ing is like an intensive sport.
Joel Fletcher: You gotta eat healthy! And I'm pretty big, so just smash the gym every day. Nah, just stay healthy and try not to drink too much (laughs). But it's pretty hard!
Sunnery James: Don't keep up with the drinking! (Laughs) Stay healthy and eat green stuff!
Ryan Marciano: If you have the time, sleep.
Sunnery James: Yeah, we try to sleep as much as we can. I fall asleep really easily on boats, so I've been sleeping a lot on this ship!
Bangkok Invaders: My sleeping schedule is messed up. But hey, we try to keep healthy. We are in the clubs 6 to 7 nights a week, and on FM radio 6 times a week and touring every week. It comes with the age, but you gotta keep up.
Do you have any *ahem* guilty pleasures?
Kev Nish: Aw man. What is this interview rated?
Prohgress: We do have a hell load of a ride. We definitely do partake in a lot of fun, and I'm just going to leave it at there. (Laughs)
Dada Life: Why feel guilty? (Laughs) I like listening to Christmas music. But I'm going to keep those tunes to myself.
Andrew Rayel: My biggest guilty pleasure is chocolate. I'm constantly eating chocolate, and my parents always tell me I can't so much chocolate in one day. It doesn't matter what brand, as long as its chocolate, I like it.
Joel Fletcher: MacDonald's. Just junk food. You try staying healthy, but you just end up eating junk food on tour.
Sunnery James: I like dirty underground reggae parties. I like the dirty dancing. (Laughs)
Bangkok Invaders: Juice. We used to, but now its all about the juice.
What's your best festival or gig moment?
Dada Life: When we were doing a Dada Life tour, and we had these giant dinosaurs next to us and then they activated these lasers from the eyes of the dinosaurs. And everything was just falling into place with the lasers and lights, and it was amazing.
Andrew Rayel: When Armin Van Buuren picked my up and put me on his shoulders while we were playing during A State of Trance in Malaysia. It was really unexpected.
Joel Fletcher: Stereosonic in 2014. Me and Will Sparks played back-to-back and it was mad crazy.
Sunnery James: Wow. To do main stage at Tomorrowland was one of the best experiences. Everyone's watching, and it was one of our biggest achievements.
What is your one go-to song that is guaranteed to be a crowd-pleaser?
Andrew Rayel: Probably Dark Warrior.
Sunnery James and Ryan Marciano: Right now it's a remix for Sweet Dreams by Eurythmics. It's a classic.
Joel Fletcher: Swing. It's a collab with Savage.
Kev Nish: Well, it seems like a go-to for everybody, but if you mash up EDM and hip hop, it kind of represents LA. Anything by Dr Dre as well.
Just as a little bonus, Bangkok Invaders gave us a little tip on making it as a DJ to all those aspiring DJs or producers out there.
You gotta hit every aspect of DJ, whether it's at a club. Get your name out there, gain some respect as a DJ. If you can get on the radio. The last thing is getting into the studio and making your own edits or original music.
Interviews were edited for clarity.
==
Stay updated and social with Popspoken: Facebook | Twitter | Instagram