The long-awaited 100 Bands Festival has finally arrived, and the spectacle will run for three weekends long at the open field opposite Paya Lebar Airbase, from 16 September to 2 October.
The music festival will feature a diverse mixture of acts, ranging from local stalwarts that have made it big overseas such as grindcore outfit Wormrot and post-rock luminaries I Am David Sparkle, up-and-comers such as shoegaze outfit Specific Islander and dream-pop five piece Subsonic Eye, as well as reuniting bands such as Amateur Takes Control, Force Vomit and Two Seas.
The festival follows in the footsteps of previous incarnations in 2015 and 2014, where it was held at unique locations such as Bedok Reservoir and at the Kovan Bus Interchange respectively.
For those worrying about the isolated venue location – Fear not. Food and drinks can be purchased at the festival, with the grounds boasting a wide selection of F&B vendors such as The Lab, and Encik Rizal.
Festival goers can take bus number 72 and alight at Bus Stop 64189 if travelling from Tampines to Yio Chu Kang, or alight at Bus Stop 64181 if travelling from Yio Chu Kang to Tampines.
Admission is free.
Popspoken Recommends
Wormrot (17 September, Saturday)
It's almost a blessing that Singapore's very own grindcore stalwarts will be performing at this festival. The revered three-piece will be releasing their third album Voices after a five-year long hiatus from well-received sophomore album, Digre, and will be embarking on a eight city-long Europe tour in February next year. New drummer Vijesh will be joining them on tour.
[bandcamp width=100% height=120 album=2743324536 size=large bgcol=ffffff linkcol=0687f5 tracklist=false artwork=small track=1958387719]
Expect many-a Napalm Death stylings, 1 minute blast beats, twisted guitar works, and split fry vocals.
https://www.youtube.com/watch?v=0sKHOFq9jN4
Amateur Takes Control (1 October, Saturday)
Before there were the likes of lynchpins such as Sphaeras and Two Seas, there was the progenitor and OG – Amateur Takes Control. The legendary instrumental math/post rock band will be making a return for the first time since 2014, with guitarist Adel Rashid leading the way. Their sophomore release We Are All Amateur Takes Control garnered significant acclaim, with music review site Bandwagon hailing it one of the best albums of 2014.
Subsonic Eye (17 September, Saturday)
There seems to be a dream-pop/shoegaze resurgence in recent times, with Subsonic Eye, Cosmic Child and Specific Islander carrying the flag up high for the genre. Subsonic Eye's offerings builds upon the "wall of sound" and are reminiscent of the likes of Slowdive and even dream-pop duo Postiljonen, albeit with bouncy dance sensibilities.
Forests (24 September, Saturday)
We can't stop waxing lyrical about three-piece math/emo outfit Forests, despite catching them countless times – at this year's Bandwagon Riverboat II, their LP launch at The Substation earlier this year, and their set at Hard Rock Cafe last week. Call us a tad biased (what is objective journalism?), but hey – what's good is good.
Watch out for the boys for this festival though, they might throw in a couple of songs which will be featured on their new release.
[bandcamp width=100% height=120 album=2851985976 size=large bgcol=ffffff linkcol=0687f5 tracklist=false artwork=small track=954966161]
Cashew Chemists (30 September, Friday)
We hailed Cashew Chemists' Feels Amazing as the top three songs in 2015, and we're not going to stray from that stance.
A perennial favourite, the Chemists are known for their blistering live sets, together with their intense chant alongs and blazing guitar solos. You can read more about our review of their single Feels Amazing here.
---
We recommend catching most of the acts if possible, so be there or be square!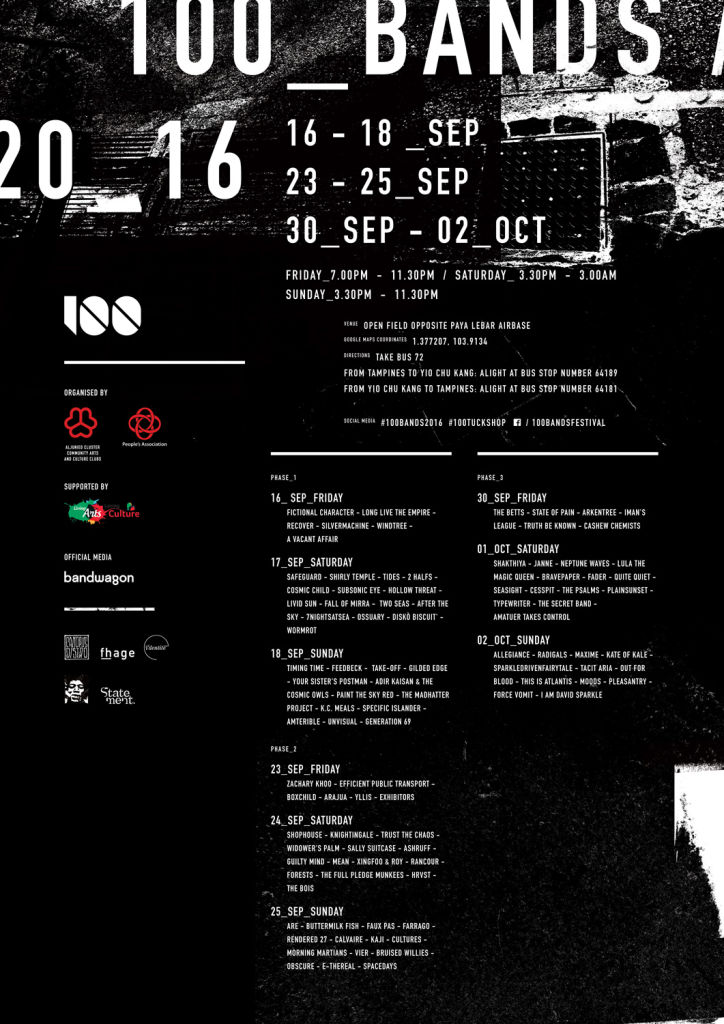 EVENT DETAILS:
Date: 16, 17, 18, 23, 24, 25, 30 September, 1 and 2 October
Time: 7 – 11.30pm (Friday), 3.30pm – 3.00am (Saturday), 3.30 – 11.30pm (Sunday)
Venue: Open Field Opposite Paya Lebar Airbase

=

Stay updated and social with Popspoken: Facebook | Twitter | Instagram