With their 90's video games visuals, majestic casual-like aesthetics, and their brilliantly-shot music videos, four-piece indie electronic group Disco Hue is in lead contention for being one of the hottest acts in Singapore's music scene right now.
Their tennis-themed, rollicking, debut single, Gotta Find You was extremely well-received, bringing the likes of female-fronted synthpop acts like The Naked And Famous and French trio Yelle to mind. "Right now, we are being called the 'CHVRCHES of Singapore'", says their drummer Billy, laughing.
Things have been going swimmingly for the band. Their music video for their next single, "I'll Be Waiting", was released today, and their video game-themed debut EP 'Dead Disco' release party will be held on May 13, next Friday, at the Aliwal Arts Centre – alongside the likes of pop-punk outfit The Summer State, Phyla Digital's experimental producer Fzpz, indie rock four-piece The Neptune Waves, and ambient producer Yeule.
The band's rise has been meteoric. Before the lauded release of single Gotta Find You earlier this year, the band – formed in 2011 by synth player and producer Zie – found themselves in a fix when their original singer left the band.
Zie says, "Our singer had to leave. She had to take up responsibilities and she had other commitments, so we were stuck for about two years." The band's current line-up consists of Zie (synth), Sherlyn (vocals), Billy (drums), and Rush (guitar).
"Meanwhile, NS came in, and our singer had to leave, so we were on a really long hiatus, until we found (current singer) Sherlyn."
The band's breakthrough came when they found frontwoman Sherlyn from social media app Vine. "I was on twitter, and Sherlyn was featured on this twitter channel called SG vines. Someone reposted her work. I thought her voice was amazing, and I contacted her, and we started off from there," Zie says.
The band, who counts bands like The Killers, Ella Riot and Jamiroquai as their influences, plans to pursue music full-time. "For the three of us (Zie, Billy and Rush), we are going to do this full-time, because we are music students," Rush says.
"We felt that 'Gotta Find You' was our best single, and we decided to do a lyric video for that song. That's where things moved off from there."
The three members met in school while studying in Singapore Polytechnic's Music and Audio Technology course. "I met Billy from a faculty camp in SP, where I was his group leader," Zie says.
"When Billy started classes, he roped in Rush. That was when we played a few shows, such as Battle of the Bands (in SP) and couple other shows. That's where things really took off."
"Gotta Find You"
Singer Sherlyn says that the band was looking for a specific look while shooting "Gotta Find You".
"We wanted a lyric video, and we were going for that Sports Luxe kind of look," she says. "We tried to incorporate that with the Tennis Court as well. We took the colour scheme into account as well."
"We had inspiration from Katy Perry's Birthday, where they had a field-panning of pastries," Zie says. "When I was slightly younger, I saw a video of this local band called Quick Quick Danger, they had an afterparty music video where they had lyrics written on them. We wanted the words to be delivered in the same fashionable way."
"The tennis court that we shot at was at NTU, hall 7. It was slightly off from a regular tennis court, it was purple and green. And the best thing was that it was completely new, and no one plays there, I think (laughs)."
Upcoming 'Dead Disco' EP Launch on May, Friday the 13th
"We are going to incorporate horn players, backup singers, and a bass player during our EP launch," Zie says.
"The EP will have two singles. If you pre-order it, you get the two singles immediately. The first will be 'Gotta Find You' and the other, 'I'll Be Waiting' will be out this Friday (today)."
"There will be five tracks in the EP, these five tracks are old selected tracks that we had back then, and a few new ones that we recently wrote."
Disco Hue's 'Dead Disco' debut EP release party will be held on May 13th, Friday, at Aliwal Arts Centre, alongside supporting acts The Summer State, Fzpz, The Neptune Waves, and Yeule. Tickets can be purchased here.
Disco Hue's debut EP 'Arcade' can be pre-ordered on iTunes here.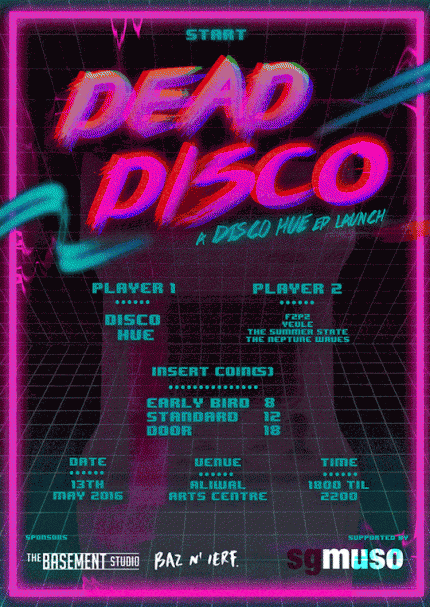 Event Details: 
Where: Aliwal Arts Centre, 28 Aliwal St, S199918
When: 13 May 2016, Friday
Time: 6pm-10pm
Ticket Pricing: Standard Ticket, $12, At-door Ticket $18
==
Stay updated and social with Popspoken: Facebook | Twitter | Instagram