There are not many festivals that can capture the spirit, essence and gratification of attending a full-fledged festival in Singapore. While our counterparts in Hong Kong had the hugely acclaimed Clockenflap festival, we thoroughly enjoyed ourselves in what we thought may be the best and well-run music festival of 2015. 
With the likes of indie folk crooner Damien Rice, ratchet chill-house duo Flight Facilities, post-rock outfit Mogwai and funk legends Chic, Neon Lights offered a diverse musical palette which appealed to even the most fickle-minded of fans. We try to imagine a scenario where the acts are in secondary school and give stickers to who we felt ruled the festival.
A*
Mogwai 
We'll first kick off with Glaswegian post-rockers Mogwai. Gracing same Fort Canning stage two years ago, the Scottish quartet blew us away with familiar tunes such as "Rano Pano" and "How to Be a Werewolf" from their same set back in the short-lived Hostess Club Weekender. Mogwai Young Team, Forever.
Bo Ningen
Who could ever forget Japanese quartet Bo Ningen, with their demented, unhinged performance and gripping stage presence? The Japanese hell-raisers took the show to the next level, with bassist/vocalist Taigen Kawa showing off with his frenetic bass licks and drummer Monchan Monna's ferocious, Dave Grohl-like bashing.
Ride 
Led by former Oasis and Beady Eye guitarist Andy Bell, the resurgent British shoegaze legends ushered in an hour of pure, 90's alternative and shimmering kaleidoscopic goodness.
A
Damien Rice 
Headliner Rice was heartbreaker and romantic, inviting a couple on stage to share a bottle of wine with him. Armed with an acoustic guitar, Rice enthralled probably the whole audience of 10,000 to watch his set. How many people can do that?
Flight Facilities
The day 2 headliners were on fire that night, with the Australian duo enlisting singers Kurt Kristen and Owl Eyes on stage to fill in on vocals. The rain failed to dampen the spirits of happy campers who decided to stay past 12 midnight, soaking in the sounds of FF's chilled-out house music.
Chic feat. Nile Rodgers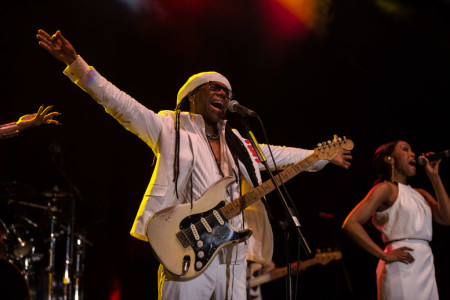 Comeback heroes Chic were given a rousing welcome as flamboyant guitarist Nile Rodgers came onstage. Despite missing co-founder Benard Edwards (RIP) on bass, the collective entertained thoroughly as they segued into evergreen funk numbers.
A –
Viet Cong 
Viet Cong – or the band formerly known as Viet Cong – brought things back to basics, with the four piece set-up searing up the stage with their technical drumming, guitar bursts and Joy Division stylings.
Kiasmos
We absolutely adored Icelandic minimalistic techno house duo, as they transported us with their synth skylines and minimalistic house beats to a sonic and visual representation of their homeland, Iceland.
Kid Koala
Kid Koala gets top billing for churning a tune over Breakfast at Tiffany's classic Moon River by using samplings, crossfades and get this – scratching. The old school DJ favoured analog over digital as he spun everything from Hip-Hop to Trap on vinyl.
B +
Sun Kil Moon 
The bad boy of indie-music (aka Mark Kozelek) didn't do anything controversial that day unfortunately, except dropping a few snarky one-liners like, "This is like an open mic applause. Show some respect!"
Ratatat
The Psychedelic duo played to a packed audience at the Neon Garden stage, enthralling revellers with their duelling guitar-and-bass, trippy visuals combo and penchant for wild cats.
B
Broods 
The New Zealand trio gave similar-sounding trio Chvrches a run for their money as frontwoman Georgia Nott stunned with her sensual numbers and seductive vocals.
Blackalicious 
Neon Lights revellers were introduced to inklings of Hip-Hop, with the Californian duo pumping up the crowd with their infectious 90's beats and freestyles.
Mercury Rev 
We got massive Flaming Lips vibes from this performance (what up, best gig of 2014!), which is a good thing. Rock on, Rev!
B –
Shugo Tokumaru 
The Japanese multi-instrumentalist did good work on his set, throwing in a whole set of eclectic instruments like homemade drums, a melodica, a trumpet, and even a typewriter-like instrument.
C +
Songhoy Blues 
The Mali-based band definitely shook away the blues, with the quartet entertaining the streaming in crowd that hot afternoon.
Rachel Yamagata
Sorry Rachel, but we've seen you for like the fifth time in Singapore already. Good performance though!
C
Pains of Being Pure at Heart 
We were disappointed with the poor sound that plagued POBPAH's set, with Jessica Weiss's vocals frequently drowning out frontman Kip Berman's voice. Also, with the departure of founding keyboardist Peggy Wang, the band seem tired, fatigued and somehow limp. Maybe it's time to give things a break, guys.
Daughter 
Don't get us wrong, Daughter was good, but they somehow didn't live up to the flash and hype that they played at Laneway Festival last year.
Julia Holter 
While we enjoyed Holter's minimalistic double-bass-and-keyboards jazz set up, somehow Holter's faint waif-like singing failed to make a big impression among the other folk and acoustic sets out there. 
Bands we didn't catch, but wish we were able to (Y'know, cos of clashes):
Genghar
Nouvelle Vague
Rüfüs
The Field
Paint the Sky Red (Wassup, local!)
Most Hardworking acts of the Festival:
DJ KoFlow & DJ Rah 
DJ KoFlow played a grand total and impressive number of six sets at the Easy Street stage, single-handedly entertaining crowds with his superb beatmatching, scratching, and mixing skills. Here's to more Hip-Hop nights, Flow. Props to Darker Than Wax stalwart Rah, where she held the fort in-between the changing of acts and entertained crowds over at the main Neon Lights stage
While we failed to give mentions to the other spoken word, comedy, art exhibits, activities and performances, we thoroughly enjoyed every aspect of Neon Lights 2015. Well, there's one thing for certain, and that the supremely family-friendly Neon Lights will be back in 2016. Peace out! 
All photos courtesy of Neon Lights, except for the Kid Koala image which is credited to Getty Images.
==
Stay updated and social with Popspoken: Facebook | Twitter | Instagram