An espresso tastes a hell lot better amid the chill, intimate setting of the inaugural Costa Coffee With Gentle Bones serenading us. Coupled with a drink specially concocted by the singer himself and dubbed "Gentlebones-cino", the atmosphere that night tinged with soothing dark-roasted funkiness that emanated from roasted beans flown all the way from London's Costa Coffee.
Gentle Bones, the first artist lined up for this series of events, shared how his trip to London as part of Singapore: Inside Out (SG:IO) has inspired him, and how the owner of a Costa Coffee London outlet was interested in bringing him to the Singapore outlets to perform as well. The Singapore crooner was only all too eager to update us of what he has been up to, and he certainly seems like a busy kid!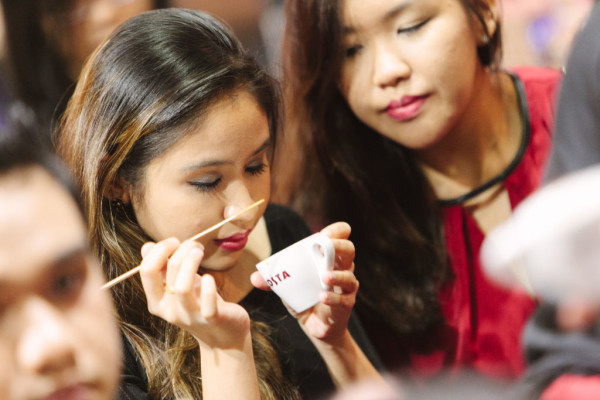 ==
What can we expect from your sophomore release that is currently in the works?
Gentle Bones: I've been dabbling in newer sounds, and my sound is more evolved, sort of an evolution of music. My passion for music and artistry has changed over the past few years since I've started out, so I want to be the artist that is always evolving, rather than someone who plays the same type of music.
I don't see myself as a master of any genre; and I don't want to be the master of any genre. I just want to make music and enjoy it.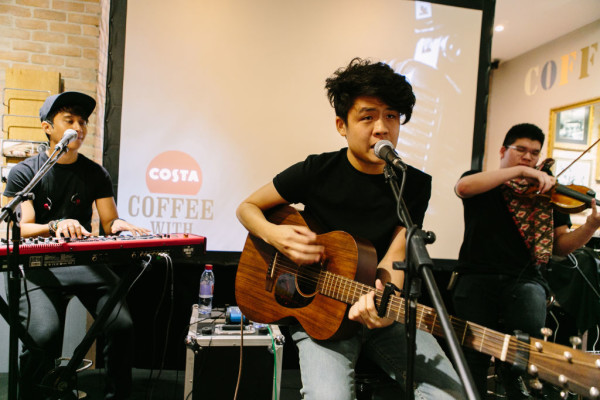 A new genre that I'm venturing into is R&B, and there's a lot more '80s, '90s boyband influences. Yet subject-wise, I still want to address the issues that haven't been done in my previous albums. I mostly sang about my relationships, but I would say my new album delves more into other topics like my opinions on the industry, opinions on hierarchy, and how it applies to art.
Previously I had this song where I tried experimenting this whole idea of a song based on still being together with somebody, yet still drifting apart at the same time, that specific type of situation.
There has been a rise in the prominence of local artists in and around Singapore. What are your thoughts on the social power of local artists?
Gentle Bones: Local has come a long way since 10 years ago, and I'm not saying this only based on musical standards. I believe that Singapore has high music standards, but that people are making more of an effort to try and appreciate the different genres of music. Music around the world is not just about music anymore – as bad as it sounds – it's about making a sustainable living out of it, and it's about marketing yourself and putting yourself out there, and accept the whole universal culture of music like branding and making a name for yourself.
After having travelled around promoting local music, how do you think being Singaporean influences our perspectives on music?
Gentle Bones: If you compare around the world, I would say Singapore is one of the most affluent nations. That results in a more versatile audience as we are more capable of bringing in different acts from around the world. There is the whole Chinese market, and the whole English market, we listen to quite a diverse range of music, man.
Because you make friends with so many people, the closeness of the whole industry is something that I really like. It's kind of similar to how me and my friends are as well. We are all different, and we all believe in different stuff, we have different artistic preferences, yet we still all stick together and support each other in this industry.
You have a new clothing line coming out as well. Tell us more about your fashion inspirations!
Gentle Bones: I've always had a lot of fun making merchandise for Gentle Bones – everything has been designed by myself! I buy a lot of merchandise from other artists as well. So when Topman came to us and asked us to collaborate on a line, I agreed because they are definitely more equipped to design clothing that I cannot do on my own. so we are trying to expand on that and trying to make my vision realized.
I'm not too sure if my line will be made available at Topman or other channels yet, so stay tuned for that.
Now on to coffee…
Gentle Bones: I designed a drink which is only available tonight, and its called the GentleBones-cino, which isn't caffeinated because I like sweet stuff. I'm more of a milkshake kind of guy instead of a coffee person. I always like my convenience when it comes to coffee, and of course kopi-bing also.
How do you fit in all your musical endeavors alongside your schooling? We heard that you just started at Nanyang Technological University and you will be going on tour with Kina Grannis!
Gentle Bones: It's been a really crazy past few weeks to be able to go on tour. I would have to push back all my work, as well as do all my tests in the last two weeks, so I've been studying really hard for that. I've got a load of rehearsals because of the upcoming tour, so I've been practicing like crazy, but hopefully university works and everything works out as well. I've been trying to do as much as I can, and so watch out for what will be coming out next.
Photos courtesy of Vamos Photography
Stay updated and social with Popspoken: Twitter | Instagram | Facebook