This month looks set to be a thrilling one for pop punk fans.
So you've marked your calendar for the Man Overboard and The Story So Far double-billed show, but there's more.
Welsh pop punkers Neck Deep released on 14 August their second album. Their latest full length effort, titled Life's Not Out To Get You seeks to build upon Wishful Thinking's successes in 2014, earning Neck Deep number 30 on Kerrang's "The Top 50 Rock Albums Of 2014" list and propelled them to pop punk acclaim.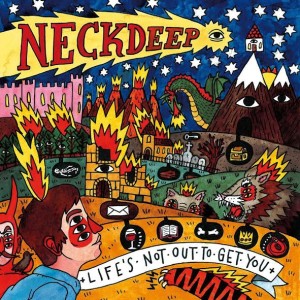 Neck Deep, fresh off their UK and US tours including a spot at the Vans Warped Tour alongside the lieks of Motion City Soundtrack and The Wonder Years, have spent the last year writing material for Life's Not Out To Get You.
"We really worked hard on it and it came out great. I think it's the best stuff we've ever written," vocalist Ben Barlow said in an interview with Hot Topic.
The 2010s hasn't been exactly renowned as a pop punk filled decade, but in a genre where the only way is up,  Neck Deep is leading a mini revival alongside stalwarts Real Friends and Man Overboard.
The quintet from Wrexham drew attention in the pop punk scene right from their 2012 EP Rain in July, drawing them quick comparisons to genre heavyweights Blink 182 and The Story So Far. Blink founding member and bassist Mark Hoppus had previously featured songs off Neck Deep's repertoire on his podcast show.
No one band can recreate the "turn of the century pop punk sound" and recent developments haven't won fans over, but we gave the album a listen, and it seems like Life's Not Out To Get You may be the closest as it gets.
Life's Not Out To Get You is available for purchase here: http://smarturl.it/LifesNotOutToGetYou
–
Image Credits: New Noise Magazine, Secret Signals
Stay updated and social with Popspoken: Twitter | Instagram | Facebook