With just one week left before Pentatonix takes the stage in Singapore again, our friends at Sony Music Singapore kindly hooked us up for an email interview with Kirstin Maldonado of PTX! Earlier this month, we asked you guys to tweet us any questions you might have for the a cappella sensations – and are Kirstin's responses to…
– From @JOVIEEE: Given the massive success of "That's Christmas To Me", is releasing another holiday album on the cards for Pentatonix?
We love holiday albums! I don't believe we'll release an entirely new album this year, but definitely a couple new tracks!
– From @DaddyJosefine: Do you think you'll do a tour outside of the US again next year?
Definitely! We had so much fun on these last couple of tours, and there are a bunch of places we haven't been (that) we hope to travel to!
– From @Nicknickofo: Which PTX YouTube cover took the shortest time to record?
I think Thrift Shop! We arranged it in about 3 hours from what I can remember!  It was super easy to record (on the) day of as well.
– From @LegendBerry2001: Did you guys face bullying when you were younger and how did you get through it?
I think we all faced bullying in different ways. I actually didn't face any hostility until I was an adult. It's always sad and hard to deal with when it is completely a part of your situation, but I always reminded myself to stay happy, to count the little things, and to remember that just because one person found something flawed in me didn't mean it was the end of the world.
You can't please everyone and at the end of the day you have to make yourself happy. There will be people out there that will bring you up and equally as many to bring you down. You just have to ground yourself in what you love and believe in and know that at the end of the day, their happiness or their out is in bullying you, in inflicting pain on another. And that's equally as miserable.
Don't succumb to that or become it; know that you can survive their negativity and hate with little "happinesses" along the way and always push to better your situation whatever that may be!
– From @fletcherstattoo: Would you rather have the ability to sing more than one note at a time or to circular breathe?
Sing more than one note!
– From @kathringluck: What are your Hogwarts houses?
Kevin – Ravenclaw
Avi – Hufflepuff
Scott – Slytherin
Mitch – Slytherin
Kirstin – Slytherin
– From @Piggyyflower: What is your go-to song in the shower?
Aghh, just been on James Blake Pandora recently :)
– From @jinkayy: If you were a dessert, what would you be and why?
Amaretto ice cream with sprinkles and almonds! Because….yum. (Here, we googled that for you)
– From @Evanlxy: Which Beyoncé outfit do you think represents Pentatonix best?
The gold leotard outfit she wore in the beginning of her "I Am… World Tour"!!! We always watch the "Crazy in Love" performance to get pumped up!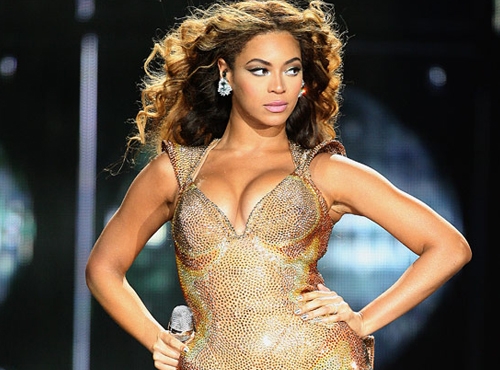 And with that stunning picture of Beyoncé we end this interview.
---
Tickets are still available for Pentatonix's concert here happening next Monday, 1st June! Get your tickets via SISTIC here.
Stay updated and social with Popspoken: Facebook | Twitter | Instagram