With the likes of Kid Cudi, RAC, Augustana and The Jungle Giants, Wanderland Music and Arts Festival is quickly cementing itself as the go-to gig in South-East Asia. Comparable to regional festivals such as Malaysia's Urbanscapes, and Singapore's synonymous St. Jerome's Laneway Festival, Wanderland proved to be a fun, camping-orientated experience that appealed to both the young and the young at heart.
The festival, which boasted a vast area of 21-hectres at Makati's Globe Circuit Event Grounds, allowed revelers to explore the many various nook-and-crannies that were hidden along the green. Complete with a list of enticing international artists and emerging talent of Manila's finest, we couldn't be spoilt better for choice! We provide a comprehensive list of what we loved during the festival.
Vast Greenery
The Globe City Events Grounds was like an amalgamation of Singapore's Gardens by the Bay and a golf green – Everything was spacious, clean, and well, green. The grass was immaculately maintained, and had a light, feathery texture to it. Coupled with the dozens of bean-bags that were left littered in front of the stage (thanks, organisers!) – which inevitably led to plenty of lazing in the shade, Wanderland proved to be arguably, one of the comfiest festivals we've been to.
Amazing Direction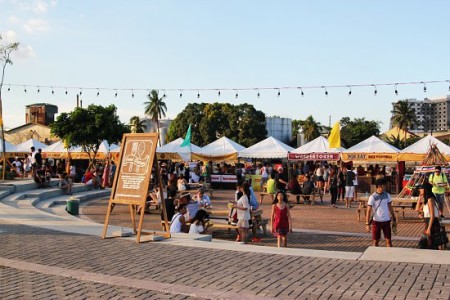 Wanderland was wonderfully curated, and organisers stuck to their guns when it came to art direction. With an outdoor camping theme in mind, they transformed the entire grounds into a giant scout-themed carnival. The fields were peppered with small tee-pee huts for revelers to hide in, as well as small lounge areas (complete with campfires and acoustic guitars) for punters to enjoy. During the night, marshmallows were busted out and roasted over the fires; providing festival-goers an experience that was true to their camping days in boy and girl scout camps.
Music!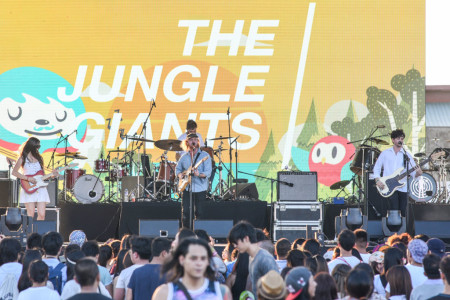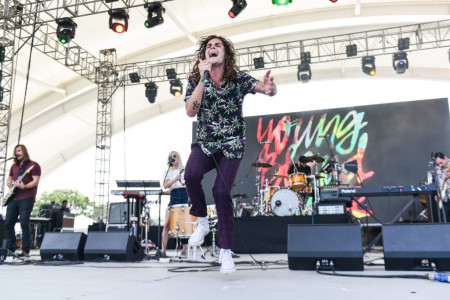 What's a festival to do without music? Wanderland boasted a stellar international cast, as well as a roster of young up-and-coming acts from the local scene. We particularly enjoyed the intriguing selection of electronica, chillwave and R&B acts – showcasing the rise and emerging popularity of this genre. Shout-outs to producer Fxxyblunt for giving us massive sonic earworms, Similar Objects for the ominous grooves, The After-School Special for the Gold Panda-like experimentation, BP Valenzuela for the charming atmospheric synth tunes, and Sinyma's instrumentation-driven tracks. Australian five-piece The Jungle Giants entertained with their bouncy, Two Door Cinema Club-like riffs, and American indie group Youngblood Hawke, who left us dancing to their breezy dance-pop tunes.
Night Time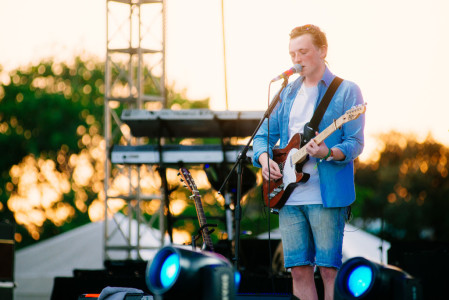 Lewis Watson was one to welcome the night, and his soulful chops and haunting vocals provided the perfect backdrop against the setting sun. Together with his three-piece band, the 22-year-old English singer made revellers swoon along to songs such as "Into the wild", "Sink or Swim" and "Stay".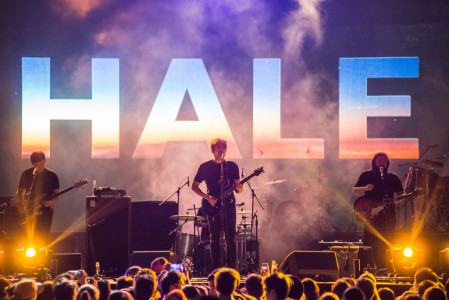 Comeback Filipino heroes Hale sunk themselves into the fray moments later, charming with their brand of alternative rock. Wanderland provided a fitting platform for the band to reunite after a five-year hiatus, having last performed in 2010. The four-piece played to an adoring audience, who sang to well-loved classics such as "See You", "Blue Sky", and "Broken Sonnet".
California-based band Augustana was next, engaging the audience with their piano-infused melodies and soft rock ballads. Audience members were perhaps most pumped for their hit single, "Boston", immersing themselves in the infectious soulful chorus, which was a huge throwback to 2009 all over again.
RAC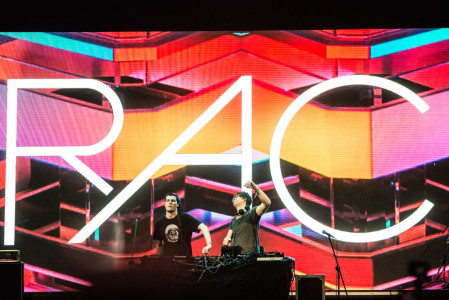 Crowds waited with bated breath for the American producer to arrive onstage. André Allen Anjos, otherwise known under the RAC moniker, came onstage with frequent collaborator and former member Karl Kling. Pumping into remixes of Foster the People's "Houdini", Lana Del Rey's "Blue Jeans", Phoenix's "Armstice", and other instantly recognizable indie classics, the duo invited earlier performers Youngblood Hawke for a rendition of "Wolves".
Kid Cudi
The king was inevitably saved for last. Psychedelic hip-hop artist Kid Cudi made his way to the stage, and was backed by a keyboardist and drummer in full Frank Ocean-isqe ensemble. The artist covered most of his popular hits, such as "Erase Me", "Mr. Rager", and the warped-party anthem, "Pursuit of Happiness". Cudi was an amalgamation of styles, alternating between influences of grunge, rock, psychedelic, and hip-hop. Encompassing themes like space and spirituality, the frontman was his own hype man; darting through the audience and drawing huge adoration from the crowds.
Capping his set off with a remix of "Pursuit of Happiness" by Steve Aoki, the festival grounds cumulated into a massive celebratory rave party of sorts. By the end of the set, there were loud chants for the rapper's name – However, staying true to his rockstar-like nature, Cudi did not reappear.
Wanderland Arts and Music Festival provided an amazing experience for us, and showed that the Philippines had the muscle to go up against music festivals around the region. Albeit not the best line-up, but Wanderland showed what it had most – Character. From the food, to the numerous stalls, the freedom, and friendly people, Wanderland gave us an experience that was true to its namesake. We'll definitely be back next year. Stay fresh, Manila!
Special thanks to:
Karpos Multimedia
Airbnb

Cebu Pacific Air &
Bandwagon PH for having us.