You heard it here first: online music gig-finder and website Bandwagon has launched a Philippines edition.
Adopting a .asia suffix, the Philippines edition goes live today as the made-in-Singapore site aims to branch out into regional markets to capture other live gigs happening in those countries.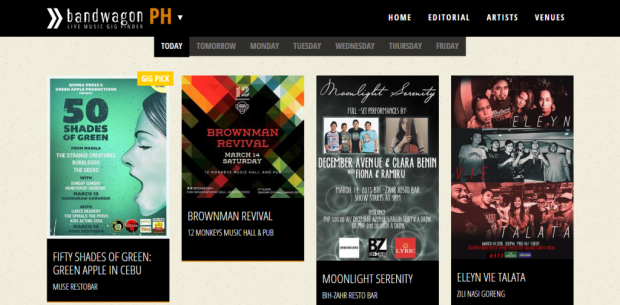 On the new site, slightly more than 60 gigs have been listed as of Friday night — the site had already underwent a soft launch by then. The Manila mention in the vanity URL could be an indication of other areas in the country that Bandwagon hopes to reach out to.
Speaking exclusively to Popspoken, Bandwagon founder Clarence Chan is hopeful of the brand's new prospects in Philippines.
"Filipinos have music in their blood, and they are very participative online too."

"It's always been our intention to go regional. The number of gigs in our region has been growing tremendously, yet there isn't a reliable, easy-to-use, and extensive gig information platform. " 

"It'll be so useful if music enthusiasts like us can find gigs conveniently, reliably and extensively in various cities through one platform that we're familiar with. Bandwagon hopes to do just that."
Bandwagon Philippines is headed by Camille Castillo and will be officially launched Monday.
Photos: Courtesy of Bandwagon