It has been a good run for alternative rock giants Incubus. As they watched their peers from the 2000's like Alien Ant Farm or A Perfect Circle slowly fade into oblivion, the alternative rock group has steered clear from what behest bands from the grunge/alternative era by touring constantly.
Despite having last released mediocre effort If Not Now, When in 2011, the band has managed to maintain relevancy from their undying breed of fans – the very same fans who have grown up listening to commercial hits such as "Love hurts", "Drive", and "Megalomaniac". Fast forward to 9th March 2015, we were brought to what was perhaps one of the most intense and nostalgic moments of 2015.
As crowds snaked into Hard Rock's Coliseum as early as 7.30pm, Ku De Ta's honcho and resident DJ Joshua P was there to greet them. Armed with a medley of indie tunes, the DJ launched into a dance mix comprising the likes of indie greats such as The Killers and Phoenix. Easing into the highlight of the night, Concert Promoter Upsurge Productions spared no qualms in showing that the Alternative kingpins were in the building – with a giant Countdown Clock, no less.
Amid the roaring countdown, the loudest cheers were reserved for Frontman Brandon Boyd when he appeared on stage. Tousled and nascent of a young Myles Kennedy, the singer aptly launched into an acoustic arrangement of 2001's "Wish You Were Here", which burst into the all-too-familiar chorus. With no shortage of crowd pleasers, Incubus ripped into hit after hit, and even took the opportunity to showcase new number "Absolution Calling" from upcoming effort Trust Fall EP.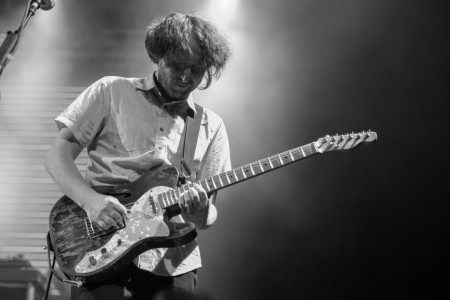 Boyd was a picture of masculinity, taking his shirt off at one point and brazenly encouraging audience members to follow suit. The band weaved together an intricate setlist of 20 songs, and flummoxed between their well-known ballads and hard-hitting numbers. Guitarist Mike Einziger demonstrated his impressive technicality, laying down the warped guitar solos amid the bristling consonance of Bassist Ben Kenney and Turntablist Chris Killmore's playing.
The band was in high spirits, with Boyd entertaining regularly with his idiosyncratic antics and offhand comments. Aside from of punctuating his sets with small vocal warm-up exercises, he openly described hit single "Drive" as "Moist". "This word drives people crazy in the States", he declared, before easing into the 2000 hit single.
The band closed with a spectral medley of 1999's "Pardon Me" and 2003 single "Megalomaniac", before returning to the clamouring audience for encore performances of pulsating "The Warmth" and upbeat titular track "A Crow Left of the Murder". The end of the set threw revelers into an undeniable sense of nostalgia, leaving thousands of secondary school dreams realised and fulfilled. Incubus proved to be an intense show to be reckoned with, with the American juggernauts leaving a whopping audience of 2,300 punters incredibly satisfied that night.