Bringing back memories of European raves and parties in abandoned warehouses in obscure locations, Super 0 Seasons returns as Super 0 Openair to do what they are great at; wild raves showcasing both international pedigree and local underground stars held far from the hustle bustle of the Singapore worker bees. Following previous successes at Gillman Barracks two years ago for a month, and at the Mill seven months after for round two, they repeat their methods and successes. After all, if you are good at something, always keep at it.
As the first divergent music festival for the new year, Super 0 Openair will have high standards to match and wrestle with. But with a stacked programme line up of both music and experiences, they have instead raised the bar for upcoming festivals. And even though the venue of the former SIA Sports Club at 24 Turnhouse Road is no well-polished gem, its off-beat location away from the beaming city lights accommodates a presence that storms through the night.
With the amount of choices onsite to have a go at; from the Super 0 x Tokyo Bike Showcase to the Alchemy Garden by Reyka Vodka x Edible Garden Workshop to the Curated Records Pop-up Store, we decided to map out our time at Super 0 like the tiles off Snakes & Ladders with dices in hand.
Roll Two:
Monkey's Shoulder Jenga XXL
Through the make-shift entrance of Super 0, the Monkey's Shoulder Jenga XXL are in full view, life-sized blocks with the instantly-recognisable logo of three harplorhine primates etched onto its side, are piled up in a well-organized stack. Five minutes in and we have heard it all. From the simplest of banter to the more crude 'that's what she said jokes'. "take it out take it out!" With each block drawn, players have to finish a task written on the top before replacing it onto the top shelf. "Do your best ballet dance, Sing your favourite nursery rhyme, Dance your name with your butt", leaving its audience in a side-splitting chuckle. And of course, the Jenga stack has called itself home to many victory dances. While leaving, we left to see Nathan Hartono planting his block on a contorted stack that towered over the warped brick floor, while his unlucky friend settles for defeat; the blocks initiating restart to zero with a mighty topple.
Roll Three: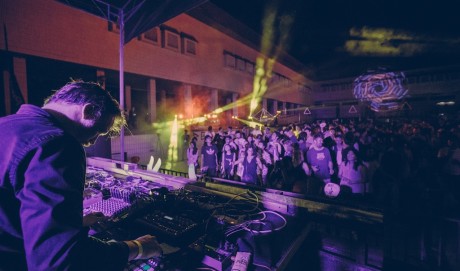 The Field Live
Keeping in mind that this is The Field's first show of the year, it will take his count to 13 years of illustrious playing. By bringing in darker elements into droning ambient music, Axel Wilner, the Berlin-based producer who plays under the moniker The Field, has christened a unique brand to his own looping. Fans gathered in the belly of the uninhabited outdoor pool all subscribe to the same extension, allowing their minds to drift and expand to the quick-fire beats of repetition. While knocking the knobs steadily on his controllers between each transitions, the crowd follow suit obediently, celebrating at each brief pause. His most well-remembered track from his fleeting set belonged to ''Over the Ice', a transpiring track of minimal noise matched with vibrant drums that establishes itself with only two vowels; an intensified 'e' and a low-hanging 'o'. At the end of the set, even after years of making the rounds of the electronic circuit, The Field will always remain a huge talking point.
Roll Four:
Food Options
The quickest way to a man's heart is undoubtedly through his stomach. The same goes to ensuring a successful festival experience. At Super 0 Open Air, Pistola, South East Sliders, SONS Bacaro and Ramle Burger were brought in to fill festival-attendees stomachs, a weighty responsibility considering how external food options were nowhere in sight. Pistola, an Asian-Mexican fusion restaurant specialising in take-aways offered a wide ranging menu which included tacos, rice bowls and pork belly, while South East Sliders served up their specialties of meat-filled light puff pastry with two choices, the 'Limpei' filled with juicy beef rendang and The Big D, a delightful, delectable but not delicate puff filled with shredded chicken. If still in doubt of what to choose, festival-goers could always go for the classics- that is to say, their choice of either a lip-smacking chicken or beef Ramly burger.
Roll Five:
Tokyo Bike 'Art of Cycle' Showcase
Disapproving the notion that sweat and art can go together, Japanese brand Tokyo Bike put together five city bikes designed by local artists. These art pieces on display are the result of hours of effort and pain(t); each bicycle a culmination of the artist's creativity. Our favourite out of the lot is Oak and Bindi's pop-art styled Bissou bike, inspired by old Warner Bros cartoons (we are thinking Porky Pig and Bugs Bunny chomping on his carrot). But that's not all, other than allowing punters a ride on the sturdy two-wheelers, three fans will get to wheel an artist bike home by entering Super 0's Instagram contest through the #Iwantasupersweetride hashtag. For festival goers who missed out on the opportunity, fret not, you will have another shot at two other artist bikes. Head to Super 0's Facebook for more details!
Roll Six:
TOKiMONSTA
Being knighted as headliner comes with a heavier weight that rests on TOKiMONSTA (Jennifer Lee)'s shoulder, most in attendance of her 11pm set were highly attentive and envious of the technologically advanced work that she has been putting out. Whisking into the over-crowded RBMA stage in a black floppy hat, the LA-based producer worked the tunes spewing a weave of R&B, hip-hop and pop influences. Aside from her recognizable singles, intricate samples from lesser-known artists were slotted in, creating a compounding plethora of music that consumes from within. The crescendo of her set revealed itself when Jennifer dropped 'Realla', her 2014 collaboration with Anderson Paak, Paak's dulcet vocals go atop her atmospheric mix of graceful synth parts. If we didn't already have had any previous inclination towards her music, we would have fallen head over heels for her again!
Roll Seven: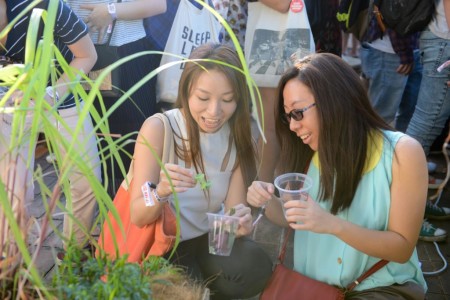 Alchemy Garden
After all the walking about, one will inevitably get thirsty, and what better way to quench one's thirst than a trip to the Alchemy Garden? The aptly named workshop boasts of a good time in the form of an unlikely combination; of all things green and most importantly, alcohol. During the workshop session curated by Edible Garden City and Reyka Vodka, festival-goers were introduced to the various plants such as mint, Italian basil and lemongrass. While some people may feel a little apprehensive in popping strange ingredients into their mouths, staff were present to assure everyone that that everything onsite was edible. In our case, after much hemming and hawing, we took a bite of the mint leaves and was pleasantly surprised at its rich taste, especially from something that didn't come from the racks of the supermarket. For our concoction, we decided on a simple mixture of mint leaves with a touch of chilli to spice things up. The end result was a fresh drink with a distinct herbal taste, complementing the smooth taste of Rekya Vodka.
Roll Eight:
Ben Pearce
Out of all the activities available on the grounds of Super 0, it could be agreed that Ben Pearce has a realm of his own. After his breakout hit of 'What I Might Do', Pearce has been lodged deep into the ends of the open genre of deep house. The British producer rely on vast experience with creation and remixing to spin a congenial set at the center stage of the abandoned complex, and coupled with the projections by motion design artists Non/Aligned twirling in the backdrop, they act like invisible hands shielding our eyes from the spectral darkness. What a sight to take in!
Roll Nine: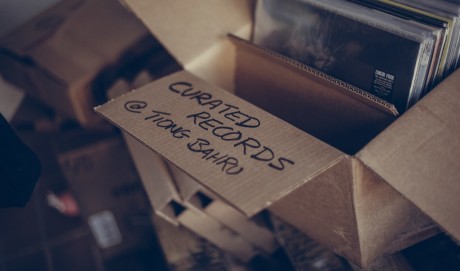 Curated Records Pop-up store
Not until scientists recreate another form of listening to music that resimulate closely how each artist records their music, vinyl will always be the preferred choice compared to the well-known reflective silvery plastic 'CDs'. Not to mention, album art has a huge bearing on the music; there's something innately beautiful about nitpicking at the cover art on a 12" by 12" cardboard sleeve while the needle runs through each etching. With twitchy fingers, customers can leaf through the crates of records piled onto more stacks of wooden boards. These were well-stocked pickings; with all the genres covered from o' school indie rock to contemporary pop. Frequent festival goers would definitely have picked up on the records of Laneway '15 artists like Chet Faker and FKA Twigs. Even for customers without their own vinyl player yet, Curated Records' owner Tremon Lim was sincere and knowledgeable in his approach. Now there's a good reason to start investing in these black beauties!
Roll Ten: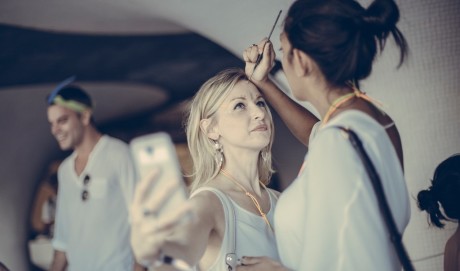 DIY Upcycling Sweatshop by MASH UP
We know headgears and festivals go hand in hand like chicken and mash, the last Laneway Festival saw plenty of Native American feather headdresses, while jewel bindis are started to make it back as a necessary festival fashion accessory. With full consideration that this festival is about showing creativity, participating hands-on and acting as a tribute to the local arts culture, local unorthodox fashion label MASH UP held a booth, dishing out fashion advice, face painting and even providing the art materials for making your own "Phantom of the Opera" masks. There is nothing more rewarding than making your own ware.
Roll Eleven:
Cats on Crack / Kiat
Singaporeans do have a reason to scream and shout about other than at each other over the lengthy jam that stretched across the PIE, local producer Cats on Crack were masters of their craft. Duly understanding the need to get the crowd moving on their feet, they were strong in their approach, lathering fans with a drowsy beat before sending an accelerated paw at the audience's wavering attention from the afternoon heat. Embellishing fans with good vibes and a beat to remember, the local producers bow down to let the international stars take over. Soon, it will work the other way around.
Roll Twelve: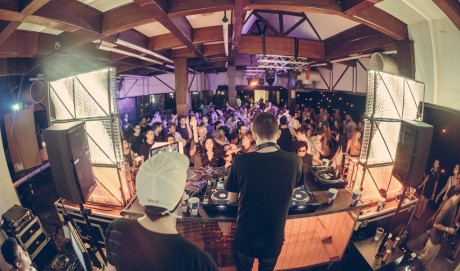 My Nu Leng
Effortlessly class in their act, My Nu Leng left a burning memory to punters with a fitting closure. It doesn't take much to see the genuine affection My Nu Leng have for their close-fisted fans at the Red Bull Music Academy stage. Hollowed-styled beats, an eye for futuristic elongated samples and dark moody synths ruled the night as Bristol based duo – Tommy and Jammo call from their harvest of infectious tunes including 'You've Been Gone' and new knee-busting single 'Masterplan'. While the raised platform was still bustling with action close to the end, the dancefloor was no exception either; except everyone was on their phones frantically uber-ing their way out of remote Changi.
By Darren Ng and Nicholas Teo