It's the big night – their debut gig on the shores of Singapore. First impressions are crucial. So, they decide to dress to impress. Flaunting their matching beer bellies, they slapped on matching, "one size too big" grey tees and matching blue bottoms. One of them selects a pair of scruffy, old trainers; the other, black sneakers. And they're set.
They may seem like a couple of run-of-the-mill mid-agers. But run-of-the-mill people don't compare themselves with The Beatles, claiming to be "superior" to them because they're "going places The Beatles did not". This sort of "head in the clouds", delusional swagger can only be pulled off by two people on earth – Jack Black and Kyle Gass. Together, they are Tenacious D. And tenacious, they are.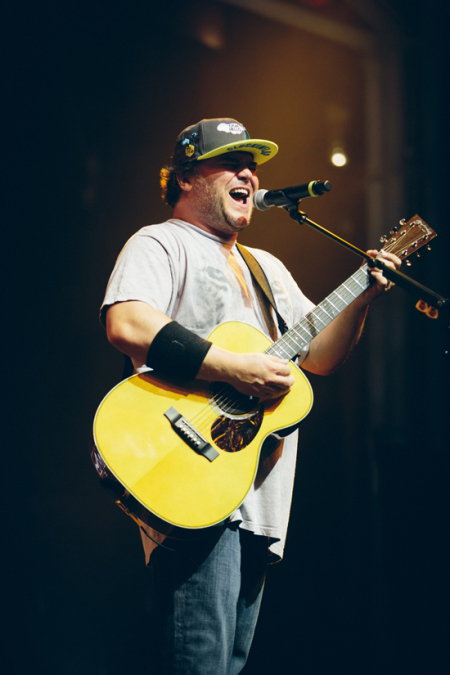 Armed with their trusty acoustic guitars, facing each other in a readied stance, the comedy rock dynamic duo started strumming the familiar tune of Tribute. To that, the entire Coliseum thundered with a medley of raucous applause, hoots and lyrical chants so loud our neighbouring countries must've heard us.
Needless to say, the beast was stunned. Whip-crack went his rumpy tail, and the beast was done. He asked us, "Be you angels?" And we said, "Nay. We are but men." Rock!
The roofed outdoor venue was packed with hordes of big fans. And I mean big fans. Tall, burly, Led Zeppelin band tee-rocking, fully bearded, and mostly fair-skinned. It was evidently a white man's concert. This writer, who's neither white, masculine, nor big-sized, felt just a tad out of place. But this writer digresses.
Besides the generous "smoke machine" action on stage, the only other theatrics colouring the show was the musical comedians' unhinged antics. In a Tenacious D concert, there's never a shortage of cockamamie dancing, prancing, frolicking and rollicking. Over-rehearsed skits, like a band-breaking fight, that still got us chuckling transitioned into numbers like Dude (I Totally Miss You) and Kyle Quit The Band.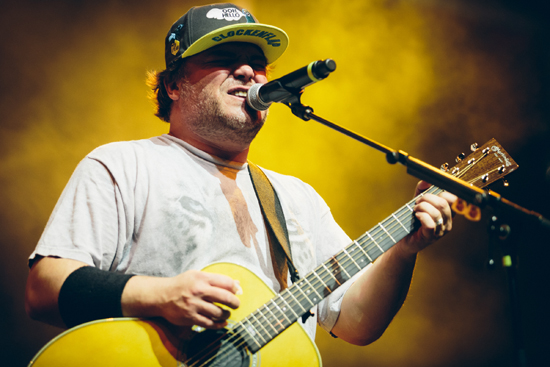 Their best probably occurred during the precursor to Roadie. Apparently, the duo weren't the only stars of the show. Always stooped down at his designated spot at the back of the stage, their eye candy of a roadie was at Jack's constant beck and call. "We have the best roadie in the world," part-time movie star Jack proclaims. "He's not here tonight. This is his nephew. It's his first day. Very frustrating. He doesn't have ESP."
The diligent cutie pie remains hidden throughout the 90-minute set, occasionally emerging from the darkness in between songs to either pat the sweat off of Jack's face, bring water to him, or reload his mic stand with picks. All without cracking a single smile. You can't not love him.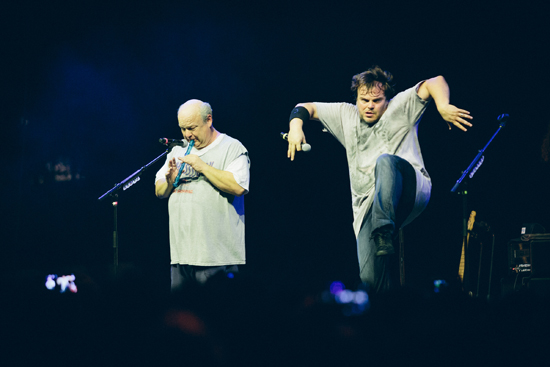 Other favourites included The Metal ("the strongest genre of music", according to Jack), as well as the oddball of the set, Simply Jazz. At the drop of the loungey rhythm, Kyle whipped out his blue recorder and improvised while Jack burst into random, off-key scats. "There are no wrong notes in jazz," he croons. Minutes later, it's back to ear-splitting, floor-thumping, amplified singles like Beelzeboss (The Final Showdown) and We Beat The Devil. Though their guitarist, John Konesky, was supposed to be demon-possessed, he didn't sound quite so devilish. Only during the roll call did he prove his chops with a face-melting solo, guaranteeing us a loss of hearing after the show.
Their big night in Singapore hit the highest of notes – Jack, scream singing his way into our hearts, and Kyle, baring his baldness like a beacon of light shining through the night. First impressions are crucial, yes. But a lasting impression is much more potent. That, they've definitely nailed.
Set List:
Tribute
POD
Rize of the Fenix
Dude (I Totally Miss You)
Kyle Quit The Band
Friendship
Low Hangin' Fruit
Kielbasa
Kickapoo
Simply Jazz
The Metal
Dio
Roadie
Saxaboom
Beelzeboss (The Final Showdown)
We Beat the Devil
Wonderboy
Double Team
F*** Her Gently
Photo credit: The Gathering/Dominic Phua