We never saw it coming.
The news dropped on a quiet Monday morning. Within minutes, savvy netizens were buzzing online about a certain "PTX" and "12th August", with a few mentioning the grand "MBS Theatre".
We should have recognised the symptoms: the frenzied excitement on the ground, this being their first concert here in Singapore, and the unexpectedly-large swarms of entries received by contest-organisers who were giving away tickets for free.
But the tipping point came in the form of a surprise pre-sale that quietly brought the sale of tickets ahead to the 16th of July, a full day before it was expected to commence. Needless to say, seats for the concert were snapped up almost completely before the scheduled hour had even arrived.
Recognising the staggering demand for tickets, organisers scrambled to make a second show happen. A few days after the ticket sale fiasco, a second night (13th August) was added to the Singapore leg of their tour, and tickets were sold out within 2 hours.
But who exactly are these performers? And how did they manage to gain such clout among Singaporeans?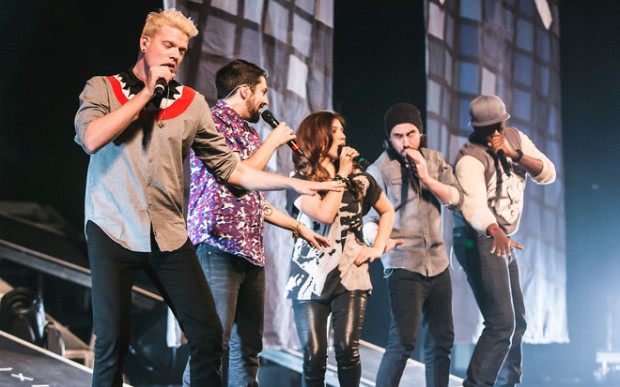 Meet the five-piece a capella group Pentatonix. Winners of the third season of American a capella singing competition The Sing-Off, they awed audiences and intimidated fellow participants with their tight harmony, virtuosic vocal arrangement, and most of all, their small size.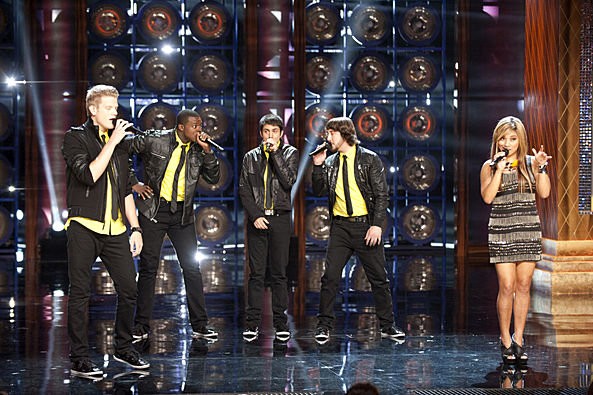 A capella, a genre of music where voices take the place of instruments, is inherently difficult. Pentatonix, however, make it seem effortless. With just five members; the charming baritenor Scott Hoying, the sassy countertenor Mitch Grassi, the beautiful mezzo-soprano Kirstie Maldonado, the earth-shaking bass Avi Kaplan, and the stunning beatboxer Kevin Olusola, they do not have the luxury of relying on others for their vocal parts. Each must be the best at what they do, and indeed they are.
With a flawless vocal blend that could make veterans of the genre swoon, the trio (childhood friends Scott, Mitch, and Kirstie) produce tones that can match a full chorus of singers. Avi and Kevin, the "meat and potatoes" of the group, as quipped by Sing-Off judge Shawn Stockman, are the vocal equivalent of a full orchestra plus a punk rock band.
Fast forward 3 years and Pentatonix has had a slew of viral hits on YouTube. While other groups have faded into oblivion or even fallen out altogether, PTX has kept a steady stream of YouTube covers coming, each an undeniable gem of musical creativity. They have also released 3 EPs, which peaked at #14, #7, and #10 on Billboard respectively, garnered more than 500 MILLION views on YouTube, and signed another contract with Sony. All this before they've even hit their mid-twenties. No big deal.
Aside from making (heavenly) music, lead vocalists Scott and Mitch also moonlight as Internet personalities/ best friends. Their comedy YouTube channel SUP3RFRUIT opened to great fanfare and serves up weekly videos and even collaborations with other YouTube stars (like Tyler Oakley!). Because there's no such thing as being too talented, am I right?
Now that you've been loaded up on the amazing history of Pentatonix, wouldn't you just love to go to one of their shows? Well if you haven't bought tickets, whether it was because SISTIC crashed right as you were about to book the best seats in the house or otherwise, we've got a treat just for you! We wouldn't tease you with all this earcandy without giving you something so here's a little opportunity for you to WIN TICKETS, courtesy of Midas Promotions!
Yes, with just a few clicks you can beat the bummer that is the sold-out status of the two-night PTX show here in Singapore! And here's how:
1) Head on down to our Facebook page's giveaway here
2) Follow the instructions given on that link above (it's just a bit of 'Liking' pages and 'Sharing' the picture)
This contest ends 31st July 2014 at 23:59pm. Winners will be announced on 1st August 2014. All the best and we hope to see you at the Marina Bay Sands Theatre!
[UPDATE on 31 July 2014: The third show of Pentatonix Live in Singapore has just been launched! Meanwhile, win a pair of meet & greet passes, here]
===
Pentatonix in Concert (Singapore)
12th – 14th August 2014, 8PM
Marina Bay Sands Theatre
Image Credits: Hollywood Reporter PTXFans AceShowbiz