Fans of Muse, hold your breath – you're about to experience them live once more. it's been three whole years since we've seen them in Singapore, but they're not about to step foot on our tiny island anytime soon. This time, we get to see them in all angles, from the sky, the front rows and even close enough to see the pores on their faces.
If you were guessing it's a pre-recorded concert, you're about half right. It's not a DVD release you're going to be watching on your TV, and it's not some YouTube exclusive release either. Their July 2013 performance at the Olympic Stadium, Rome, is actually the first ever live concert to be released in 4K Ultra High Definition format at GVmax®.
Okay, so it's still like watching them on-screen and not live, right? Not really. I'll give you a few reasons why this is a little different, and by the end of this piece you might actually be more compelled to buy the tickets before they run out!
1. First, the technical stuff: Tech-savvy friends, listen up. Your eyes will be feasting on 4k Ultra High Definition video on one of the widest screens in Asia – it's a whopping 22.4 metros wide! Not surprisingly, it's also in Dolby 5.1 Surround Sound as well. The air-conditioning in the theatre is also very good.
2. The crazy camera angles: We've all watched DVD cuts of live concerts before, but in this show the production team incorporated the use of "spider" cameras that give you much more flexible shots of the concert as compared to the usual camera cranes. You'll actually get to see how they work in the concert itself, as frontman Matt Bellamy plays around with it during the show. My mouth was agape a few times during the concert so these cameras definitely managed to up the 'wow' factor of the show.
3. The setlist! The super awesome setlist!: Long-time fans of Muse, my brothers and sisters, you will love the way they arranged the setlist. They managed to feature both new and old work in such a balanced fashion that there wouldn't be a minute for you to get bored. You'll hear the newer songs such as Madness, Supremacy and Animals, but you'll also get ear candy like Knights of Cyodnia, Plug In Baby and… well, you don't want me to spoil your surprise, do you? These guys managed to arrange the songs to fit into a concept for the concert as well.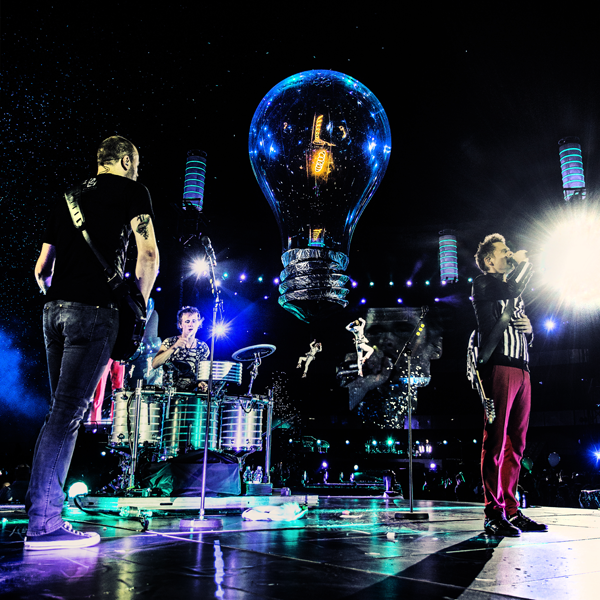 4. The concert concept: Trust these guys to come up with an elaborate, impactful and meaningful concept for their shows – and they did it perfectly. It's not all about three guys playing on a huge stage, my friends. They actually have actors and props around the stage, and everything ties up together in one main theme (which I won't disclose). The crazy camerawork projected on the stage screens is also impressive – you'll get to see lots of Dominic Howards drumming in one scene in this show.
5. Hello, Chris: Last but not least, bassist Christopher Wolstenholme looks badass, and yet cute as hell on stage. He's toned down on his movements a lot, but now we actually get to see him so up close. Girls, this is one opportunity you don't want to miss.
I've managed to catch a preview of the show, but there is only one screening available here in Singapore. My advice is to grab the tickets early if you're convinced you want to watch this exclusive screening of Muse Live at the Olympic Stadium, Rome. Details are below.
Date: Friday, 29th November 2013
Time: 9pm
Venue: GVmax®, Golden Village Vivocity
Prices: $16 (GV members), $20 (Public)
For ticket purchases, head on over to http://www.gv.com.sg.