Written by: Miranda Mikaela
On 15th February, Singapore got even hotter when the heart-throbbing boys of Pierce The Veil landed on her shores. This American post-hardcore band is definitely no stranger to the punk music scene. Formed in 2006 by brothers Vic and Mike Fuentes, the band has released 3 studio albums and toured around the globe. "I hope y'all have the best night of your lives", said lead singer, Vic. Indeed, we most certainly did.
Pierce The Veil put up an exhilarating performance at the Space Warehouse which was the perfect indoor venue, considering the bi-polar weather that drenched the excited fans as they determinedly continued waiting for the boys. Speaking of waiting, the fans waited a disappointingly long time for the crew to set up the stage and for the band to finally emerged. Was it to create suspense? Or was it some complications?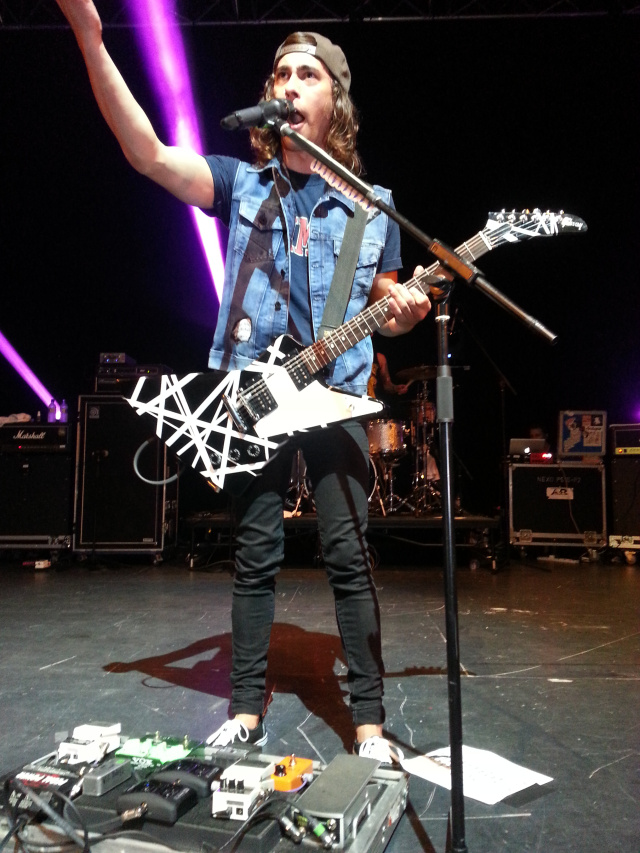 The crowd mainly consisted of feverish girls with their reluctant boyfriends who we're guessing weren't too keen on seeing their girls falling head over heels for the rock stars. The only downside to the whole event were the barricades that separated the crowd from the band. Although it is understandable that these poor boys were still jet-lagged and wanted their space, it would have been much more enjoyable with more interactions. However, that didn't stop bassist Jamie Preciado who was a burst of energy once he stepped on stage. Jumping, kicking, waving his bass around and even briefly crowd surfing at the end of the concert. 10000 points to you, Jaime!
Time flew too fast! In a blink of an eye, the whole concert had ended. They played 10 songs including an encore of their hit song 'King For A Day'. After the show, a truckload of fans swamped at the exit of Scape, awaiting their idols and hoping for a "part 2". To their dismay, however, the boys were too drained and had already left.
Thank you Pierce The Veil for the wonderful experience! Singapore hopes to see you soon!
Thanks to Live! Empire for making this review possible.