Most folks we know have love-hate relationships with caviar. Some people cannot get enough of the luxurious briny roe, and others think that it is no more than a tool for restaurants to increase average spends.
For those who fall in the former camp, they would be glad to know there is a new restaurant in town. Aptly named Caviar (or CVR), which showcases different types of salted cured roe from top caviar houses around the globe. Caviar is located at the newly revamped Palais Renaissance by CDL Properties, featuring a modest 34-seater restaurant, with several permutations: counter seating, regular tables, and private rooms.
Some regions that the caviar hails from range from France, Italy, Russia, Uruguay, Japan, China and the Iranian Caspian Sea. We kicked dinner off with the foie gras toast amuse-bouche, and were pleasantly surprised by the rice sourdough breads, but the star of the show was definitely the beef tallow brioche made with parsley, chives, and honey that was fermented in-house.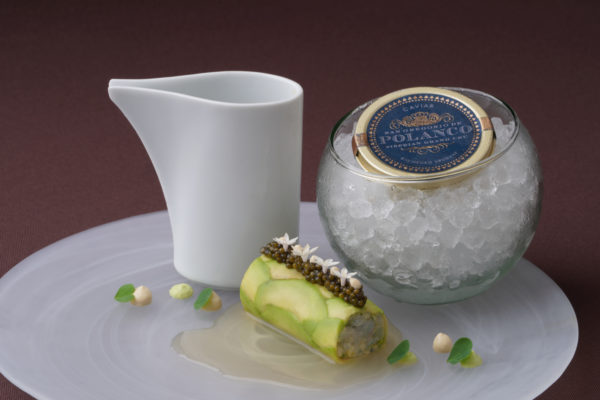 For our first course, we had a chilled Obsiblue Prawn, which is a rare, blue-hued prawn that's raised in New Caledonia, the French overseas territory in the Pacific. This came encapsulated between creamy avocado slices, and was topped with prawn cream Polanco Siberian Grand Cru caviar. We thoroughly enjoyed the contrast in textures between the meatiness of the prawn and the creaminess of avocado, and also liked how the salty, savoury caviar was balanced out with the chilli and mango kombucha sauce that was served on the side.
Our next dish was a Sakoshi Bay Oyster served with braised potatoes and sea asparagus. This dish was served with Giaveri White Sturgeon caviar, and the zest of salted lemons that were cured in-house. We've always thought of fine dining and comfort food as polar opposites, sitting on different ends of the spectrum – but this dish married the two in a masterful stroke.
This was followed by the Engawa, Japanese flounder fin topped with a generous dollop of Bafun uni custard and Kaluga Cross Breed caviar, served in clam broth and apple cider chowder. Of all the caviars we had, the Kaluga Cross Breed was the richest and most buttery. Although you might imagine that the acidity of the apple cider chowder would balance out the flavours, the taste of the cider was a little too subtle, and didn't do much in this respect.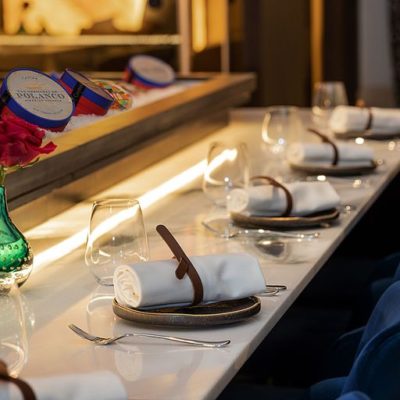 Our last course before dessert was the roasted Hokkaido A4 Wagyu, crusted in bone marrow and served with a banana shallot stuffed with beef mousse and pickled mustard seeds. This was an extremely savoury dish that was packed full of flavour, much of which came from the bone marrow.
We ended off a decadent start with the Yuzu meringue and sorbet with chia seed jelly. After the last two courses that we had, we were glad that dessert was punchy and refreshing, and not cloyingly sweet or heavy. This was followed by Petit Fours, a refreshing selection of dark chocolate bonbon with passionfruit filling, dehydrated rhubarb slices, and marshmallows topped with French Caviar de Neuvic.
The million-dollar question: did the addition of caviar make these dishes exponentially better? Not entirely, which is testament to the skills of Head Chef Denis Jacques Lartigue and Sous Chef Joshua Hariharan. Chef Denis spent time in kitchens across the globe and most recently, the DNATA Flight Catering Centre in Singapore where he creates unique pairings for first class passengers in global airlines. As for Chef Hariharan, he earned his chops at Salted and Hung, LeVeL 33 and Cure. The well-thought out dishes did not have to be punctuated by the flavourful after-taste of caviar, yet, the caviar did accentuate and complement them.

Caviar, 390 Orchard Rd Palais Renaissance, #B1-07, 238871. Menus change from season to season. Summer dinner menu is priced at $228++ for 5 courses, $88++ for a 4-course executive lunch menu, or a caviar and champagne experience $168++.
This was an invited tasting.