Gourmet does not have to be complicated, according to the Esseplore philosophy. This Singapore-based FoodTech company aims to spotlight the best of what its lineup of private chefs have to offer, in the comfort of people's homes or offices. Esseplore offers an unparalled spectrum of food across various cuisines prepared by a team of local home chefs, helmed by Executive Chef KT Yeo.
Poh Mui Hoon, CEO and co-founder of Esseplore, tells us more about what it takes to set up a platform such as Esseplore, and how her prolific corporate career has played a part in her journey to becoming a founder of a start-up.
Popspoken: When on the hunt for gourmet experiences that resonate with a local crowd, what are some themes you look when hiring a chef for the occasion?
Mui Hoon: Chefs in our chef network are not our employees. We partner with private chefs who are passionate about their creations and have family heirloom recipes that have been passed down from generation to generation or recipes that reflect their heritage of who they are. They are giving us their best! For example our BBQ Chef and Pitmaster Jimmy Cheang is very passionate about his BBQ and wants more people to enjoy it; we took that on and make it a product that the public can enjoy. (Side note: Jimmy is the only Singaporean certified Kansas City BBQ judge – he flew there to train in his younger days and he is passionate about bringing authentic Kansas city BBQ to SG that he makes many things from scratch).
It's the same with our private Chefs Julianna and Florence who are passionate about Peranakan food and handmake most of their ingredients from scratch – their spices are all hand-pounded and ingredients are carefully selected by themselves. For example, their staple Heirloom Buah Keluak Pork Belly that this pair of good friends produce is one of the most labour-intensive Peranakan dishes where the buah keluak nuts are individually picked, soaked for a few days before being cracked open to scoop out the flesh and then stewed with tender pork belly and aromatic spices for a rich, umami paste.
Our platform, Esseplore, allows Chefs to focus on what they do best i.e. cooking. We take care of the rest from marketing to logistics. We want to help these chefs succeed. The private chef market is a really fragmented market with nano players and we want to do our part to help passionate private chefs build their business.
We are also passionate about sustainability and the impact we have on the environment. When it comes to deciding our packaging which determine how our customers experience our products, we ensure that the packaging are sustainable and ecological. When we source for ingredients, we are also bearing sustainability in mind.
A key DNA in the food we produce is healthy and gourmet – we want to bring goodness to our customers.
Popspoken: How did you meet KT Yeo, your executive chef, and why did you choose him to front your kitchen?
Mui Hoon: Believe it or not, I found him on LinkedIn. As a start-up, we require someone who has an entrepreneurial bent and the boldness to build something. KT fits perfectly – he has built many businesses and he now wants to be part of something bigger, to build a platform that connects chefs. KT is also well verse in Eastern and Western cuisines – veteran and very versatile with his techniques.
What's important is our chemistry – between us. We understand and trust each other. That's important in a business that is so young, and we need the pioneering team to be close knitted, to share the vision, to pivot and trust that we can go to the next strategic inflexion point .
Popspoken: Why "Esseplore" – tell us more about the name. What were some obstacles you faced when creating the home-dining concept and how did you overcome them?
Mui Hoon: The name "Esseplore" is really a play on the word Explore. We started out as a travel application, wanting to bring unique local experiences to business leisure and DIY (do it yourself) customers travelling to cities. Bringing this initial target group of customers to dine at private chefs' home was one of the pillars of our initial concept.
But of course COVID-19 hit and we were left pretty much stranded with the concept and technology that we built. We had two choices – to give up or find another way to power on. And power on we did, we changed the entire concept to delivering gourmet food to customers, both individual and corporate.
We now have 4 food concepts within Esseplore. It was tough at first with many issues to overcome but we held one thing steadfastly and close to our hearts – customer experience. How do we want our customers to experience us? Trust. If we don't do well enough – we will do whatever it takes to make it better.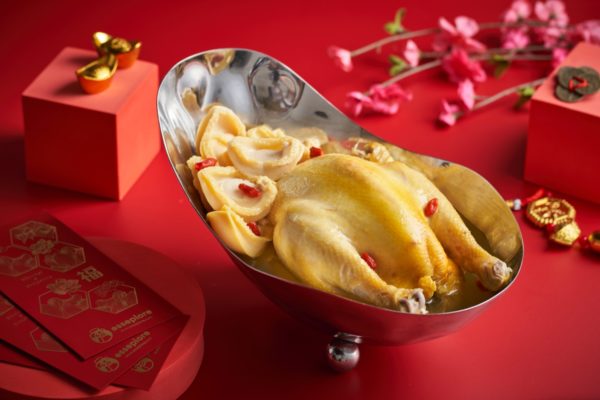 Popspoken: You have a prolific career, being the CEO of NETS and SP Telecoms. What was a defining moment in your career and subsequent turning point that prompted the shift of you wanting to become a start-up founder?
Mui Hoon: I have been in the corporate sector for a long time, and have now even taken on key board roles on major organisations. I wanted to go out and build a business to marry food, travel and tech. When the opportunity presented itself, I thought this is an interesting journey. What's more, in corporate, I feel that I need to be a rebel all the time to change things – in a start-up, we change things for the better all the time, it is natural state.
Popspoken: Tell us more about what you do in the day. What sort of takeaways do you bring from these corporate experiences to your start-up?
Mui Hoon: In the initial days of a start-up, it is all about the idea and how to execute that idea. However, once the start-up has gone beyond the initial stage, the skillsets required are actually quite different.
As someone with a corporate background, my natural suit is really to think about how things scale up and how to create lasting systems, processes that allow the business to grow from a start-up to something meaningful. The initial days of a start-up setup was tough but interesting to me. Things which I used to have taken care of in a larger organisation needed to be done by me.
I implemented systems – eg. HR systems – so that as we added staff, we are able to handle things in a systematic manner. It is a very small example but you can imagine that for many – it will start with a spreadsheet and may remain a spreadsheet for a long time.
For me it is about moving from ideas to instituting system, processes and bringing in people to scale the business. Building the right organisation, with the right people in place is key to growth.
Popsopken: Sustainable sourcing of seafood and GMO products are huge themes these days. Is this something you look out for when sourcing for suppliers?
Mui Hoon: Yes, sustainability is big theme for us. We are continuously looking for products which are sustainable to be part of our menus.
Popspoken: Consumers are always on a look out for the next trendy food item. For example, the use of Uni has been prevalent in local online stores such as Zairyo and other online Japanese e-commerce marketplaces. How do you keep your menu fresh and in sync with such trends?
Mui Hoon: By now, we have had many customers who experienced our food, service and left us great reviews. So, by analysing ordering trends and using data analysis – we know what our customers like and don't like. For e.g., an increasing preference for plant based products from some of our customers. We rejuvenate our menus regularly to remain fresh.
Popspoken: What sets Esseplore apart from a 1-star Michelin restaurant experience? Vibe is conveyed normally through the service, ambience and overall lighting of a venue when dining out. How do you bring this "vibe" into a home-dining experience?
Mui Hoon: Great question. This vibe is in our overall packaging, food and service. Many were wow-ed by the presentation of our food. Customers say to us, "it's like opening a present". Our food taste good when heated up or even if you just eat it at room temperature. We curate that to ensure the food that our customer experience will taste good even after delivery. And importantly, we taste that food ourselves before our customers taste it. And we place emphasis on getting it delivered right, we put the heating instructions in – you know exactly what to do to get it to the right temperature. We have other plans to improve this in the new year. Michelin restaurants focus on the dining experience at the restaurants, we focus on the dining experience for the customers from the comforts of their own homes.
Popspoken: Share with us some sites, books or podcasts that you get your daily inspiration from.
Mui Hoon: I read widely from Medium, Business Insider, WSJ, ST, BT, BBC, Forbes, TechCrunch, Linked in and I get newsletters from various food and beverage publications like Food and Wine.
Popspoken: Let us in on one misconception people have about being a start-up founder.
Mui Hoon: People see a lot of good news or success in raising money and publicity of founders. Behind the scenes are a lot of hard work and many strategic pivots that the start-up team needs to manoeuvre. It is never that one person that so many people see as the hero; it is definitely teamwork.
Popspoken: What was your most memorable foodie experience(s) overseas, and how have you tried to replicate this in Esseplore?
Mui Hoon: I love how the Japanese always present their food to customers so well. I am a big fan of dining in Japan, each master lovingly presenting his or her best. That's how I wish for Esseplore's private chef network to become.
Esseplore's Chinese New Year 2022 Feastbox is now open for orders until 15 February 2022 (Order by 12 February 2022; 2 days advance order needed) at www.esseplore.cooking.