In less than a year, Ebb & Flow's fine-dining restaurant Sommer, and its promising young Head Chef Lewis Barker has managed to clinch its first star from the Michelin Guide Singapore 2021 – in the midst of a ravaging pandemic, no less. At 28 years of age, Barker might just be the youngest starred chef in Singapore, but his youth belies his considerable experience. The Leeds-native has over a decade of experience in the best kitchens in the world under his belt, including his hometown's Anthony's and Vue de Monde in Melbourne.
Sommer, meaning summer in a host of European languages (German, Scandinavian et al), encapsulates Barker's seasonality-focused approach to modern European dining. Despite his hectic schedule, the soft-spoken Loiner generously carved time out for a chat at his restaurant at The Sail. 
Perhaps unsurprisingly, Barker's journey into the professional kitchen began pretty early. "I started becoming interested in cooking at 11. My brother and my father were also interested in cooking, and I was always watching old school TV programs like (celebrity chefs) Rick Stein and Keith Floyd. At 15, I started working part time (at Anthony's), doing shit jobs (like) peeling potatoes, cleaning mussels." Chef Anthony Flynn, often lauded as 'the first British chef to have been paid for working at El Bulli', was instrumental in introducing molecular gastronomy to Barker. "It was a small, tight-knit team of three and we bonded over our love of experimenting and throwing convention out of the window," he shared. "There were foams, gels and crazy flavours but they worked and importantly, you had to master the flavours and basics of cooking first before you could create new dishes. I learnt so much from Anthony in the four years and he has really shaped my perspective and the way I cook, even to this day."
Even as a teenager, Barker was clear-headed about his goals. He left high school at 16 and went to culinary school for 2 years, whilst pulling shifts on weeknights after school, as well as weekends. How did he get his gig at Anthony's? "After a lot of phone calls and emails, Anthony eventually said 'Come and do a trial for half a day.' I was surprised he took me on because I was f*king useless to be fair," he chuckled. "But he must have seen something in me."
After 3 years, and making chef de partie, he set his sights on Australia. "It was just as far away as I could possibly go, in the sense of excitement and adventure." What was the destination? "Well, there was always Vue de Monde and Attica – tried both, didn't hear from one and heard from the other," he grinned. At Vue de Monde, he trained under head chef Cory Campbell, one of Melbourne's best and brightest. It also became his playground in terms of the freshest, locally-sourced produce. "It was all quite new to me. It was the first place where it was all farm-to-table, all ingredients were from Australia."
Needless to say, it was a bit of an adjustment when he came to Singapore – less than 10% of food here is produced locally. "Kitchen-wise, it's the first place we can't get everything immediately. Working on an indent (requisition for ingredients) basis, you can't just pick up the phone to the supplier and ask for turbot the next day. I found it difficult at first, of course, because indent's completely new to me, like how do I know how many pax I got to do next Wednesday? What if I don't order enough, what if I order too much? That took me some time to juggle, to work out, to get on top of that. (But) I learnt how to work in a different way."
Barker's zero-waste policy is as much about practicality as it is sustainability. "Because our menu is always ingredient-focused, we try to use all the best products of the season. It'd be a shame to waste any of that. I want to make sure I try to use everything I can from that animal. Not only that but prices are a bit more expensive in Singapore, because of shipping costs etc. So (for the) pigeon, we roast, we take off the legs, we salt them, we confit them. The liver from the pigeon, we turn it into a parfait, a pate almost."
Why such fondness for the pigeon? "It's very versatile! It works well with different flavours, whether you go down the route of red leaves and veg, or green leaves and veg. It's not gamey, which I think local palates can be put off by." So it's not as gamey as pheasant? "Yeah or grouse, something that's richer in iron." A beat. "I mean, we don't use the Marina Bay pigeons!" he chortled.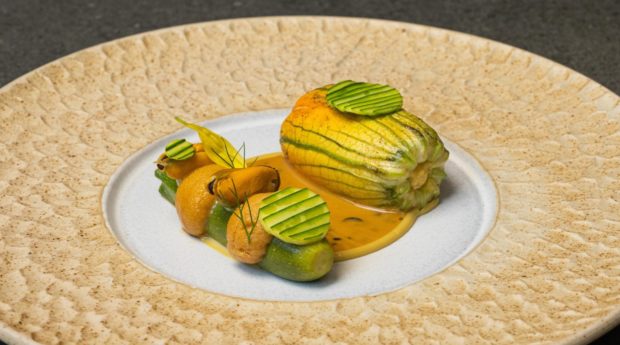 Another beloved ingredient? "The zucchini flower," he replied earnestly. It's a dish that, in a way, bears his stamp as a chef. "It's not too much," he explained. "It's a lot of technique, in a way, but at the end of day, the forefront of the dish is zucchini flower, even though it's served with murasaki uni. We try to make it a complement, because the zucchini flower is the star of the dish. It's in season now and it's a fantastic product. We poach it in mussel stock. In the flower itself, we make a sea urchin mousse – it's almost like a souffle inside, and it elevates the flower. You have the zucchini flavour, but it's (also) a vessel to be creative. Elevation. The sweet-tasting, vegetal (flavours). Uni – very sweet, little bit of umami, salinity at the same time. Think it works well," he concluded modestly.
Sommer is located at 2 Marina Blvd, 01-02, Singapore 018987. Get more information about Sommer via www.sommerdining.com.
For more information about interesting Singaporean dining options, go to our Lifestyle section.