Come December, with the jingling and mingling, it can get overwhelming. There are restaurants that are re-opening their doors and new names popping up to partake in the end of year festivities. There are Christmas dining deals, new launches, home deliveries, and even gifting options for foodies.
From festive deals to gifting treats to a nice list, we have prepared the ultimate guide for dining in Singapore during December. We have covered everything from log cakes to a beef joint. Dig into our selection and be spoilt for choice.
Festive Deals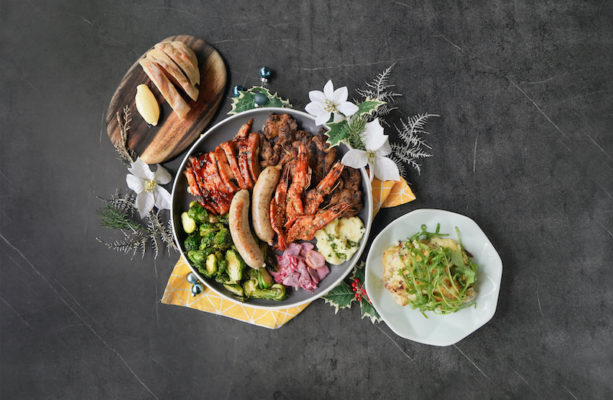 Tucked into the bosom of Singapore Botanic Gardens, Bee's Knees is one of the concepts within The Garage offering fuss-free casual dining. You can opt to hang out at their alfresco area (also pet-friendly!) or grab a picnic basket and venture into the lush park grounds. Headliners of their menu include their Fiery Shrimp pizza, Baked Mac & Cheese with four different spice levels, Spicy Duck Loaded Fries, and "Heart Attack" Burger for those who prefer a heartier flavour to their meals. If the chilly weather also beckons you towards something comforting, we recommend their Seafood Stew, which comes with a medley of crustaceans and toasty sourdough slices for the broth.
For the festive season, they have launched three original Christmas cocktails based on Maker's Mark bourbon called Triple M, Maker's Grapefruit and Maker's Mark Spiked Hot Chocolate; as well as a three-course set dinner with Bacon Leek Potato Vichyssoise, a Meat Platter, and housemade Chocolate Log Cake.
Bee's Knees Christmas Dinner
When? 24 & 25 December
$98 nett for 2 pax, $188 for 4 pax
The Garage, 50 Cluny Park Rd, Singapore Botanic Gardens, S257488
Hailed for housing some of the best burgers in town, Three Buns is now set on making brunch an institution. Their brunch menu, only available from 10am to 4pm during the weekend, is decked with loaded breakfast sets, griddle cakes combinations, and frozen yogurt smoothies.
The Whole She Bangs is a decadent gang of carbs—baked beans, toasted sourdough, and tater tots—with smoked chicken sausage, Dingley Dell black beer and treacle bacon, portobello mushroom, and free-range eggs. We are not sure what else goes into the signature buttermilk pancakes but be warned: one bite and you will be back for more. Now you can have the stack paired with sweet or savoury toppings, ranging from salted vanilla ice cream to miso bearnaise over eggs.
Chef Adam has also whipped up some naughty festive creations, such as the Chook Berry burger with buttermilk fried chicken thigh, a Brie de Meaux cheese fritter, and cranberry sauce, and a special homemade spice infused citrus cocktail. End your meal with the Ho Ho Ho Homey Sundae, featuring 8 Month matured house Christmas pudding with salted vanilla ice cream, brandy brown butter custard, caramelized croutons, and candied orange zest.
When? Now until otherwise specified
Three Buns, 60 Robertson Quay, S238252 
If Christmas is an intimate affair this year, SIRIHOUSE has you well-covered with their Festive hampers, which are not only great gifts, but also beautiful holiday samplers for the household. Expect a line-up of housemade confectionaries, such as vibrant hand painted chocolate bon bons with a delicate Valrhona chocolate shell and three delicious fillings: tea with mint and basil, Szechuan peppercorns with mandarin puree, and coffee with cream; Persimmon and Yuzu Kumquat Chutney; Gingerbread Cashew Nut Butter; Five Spice Citrus Duck Rillette; and specially concocted drinks like the Ruby Spiced Cold Brew Tea or In Good Spirits Bottled Cocktail with scotch, Fernet Branca and cinnamon infused honey.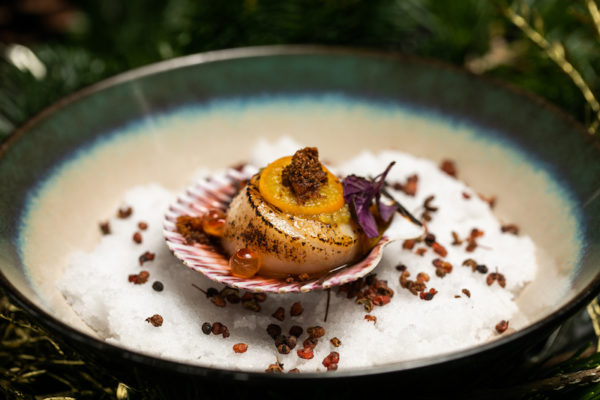 Their festive menus will also roll out from 22 Dec onwards, with new dishes like the Pecan parmesan biscuit with whipped Brillat Savarin cheese, or even the Pan seared scallops, tomatillo salsa verde and pickled kumquats. Those who are looking to host their private dining parties can also opt for a table at the replica luxury Sansiri apartment, which brings the idea of a home within a home to the next level.
When? Now till 2 January
$128 onwards per pax for a six-course dinner
Blk 8D, #01-02 Dempsey Hill, Dempsey Road, Singapore 249672
No one does Christmas like Hotel G Singapore, who not only offers bold, cheeky hospitality as a multifaceted lifestyle destination, but also fantastic deals at their dining concepts, 25 Degrees and Ginett Restaurant & Wine Bar. The Hollywood-inspired burger bar has launched The Truffle-Marker, which stacks a Tomahawk cut patty with soft and creamy truffle brie, mushroom fricassée, a fried onion ring and housemade cranberry onion jam, all between organic cocoa truffle buns.
For those looking to jazz up their dinners, opt for the Wellington series at the French restaurant next door, where you can choose from the classic beef to salmon, turkey, or even Beyond Meat served inside sheets of flaky puff pastries and different roasted sides. A seasonal meat platter with the beef wellington will also be available until the new year, and it comes with turkey roulade, grilled lobster tail and Kurobuta pork tomahawk all paired with duck fat potato wedges, brussel sprouts and chestnuts, homemade cranberry sauce and red wine sauce.
When? Wellington & Burger specials from now till 31 December
Festive platter from 24 Dec till 2 January
Hotel G, 200 Middle Rd, S188980
MO BAR embarks on Volume Three, a new menu inspired by virtual exchanges with renowned watering holes like New Delhi's Sidecar and Seoul's Alice Cheongdam over the past year. It is a rich, eclectic ode to Asia in a time of limited travel. The bar's rustic zero-waste meets hi-tech test kitchen philosophy is evident across the new offerings. We were also pleasantly surprised to see some concoctions presented as a non-alcoholic beverage first, with a spirit add-on option.
Thunder is a rejuvenating gin-inflected cocktail. Incorporating thunder tea distillate with tasteful dustings of matcha, it's a drinkable Tatsuro Yamashita album. In a sea of citrusy G&T derivatives, this is the light that guides us back to shore. Other standouts include the confident, tequila-based White Rabbit (tomato, kimchi, black garlic). Think of it as the Bloody Mary's grown-up, cufflink-wearing brother who also happens to be a great listener. Soma, a clarified yoghurt, chutney and spice invention topped with springs of mint, is a sensorial delight. Fresh, exuberant and a genuine surprise. This is a menu full of twists and turns.
They've also kept their famed bar nosh intact. The decadent Gyu-Katsu Sando feels like a warm, familiar embrace. Meanwhile, the perfect post-rager hotdog on steroids comes in the form of the Singdog (topped with achar, sambal mayo, scallions and dried shrimp). If your jeans still have room after, the Tiger Prawns are also excellent. Just for Christmas, their Asian Mulled Wine will also be on the menu to entice with its combination of winter notes and Asian spices.
When? The Asian Mulled Wine is available from 23 to 31 December
5 Raffles Ave, Mandarin Oriental, S039797

Transformed into an intimate nook for holiday get-togethers, the dual-concept bar has been decked out in endearingly lofi trimmings. They've also launched a limited run of holiday cocktails that are as festive as they are potent.
Of note is the excellent Drunk Uncle Mulled Wine. A blend of Buffalo Trace bourbon, red wine, triple sec, pear, citrus and spices is the salve for frazzled souls in a year like 2020. It is a familiar knock on the door, boisterous laughter through the evening and the parting wave from your last guests. For the reluctant adult, try the Hallelujah Hot Chocolate, spiked with your choice of whiskey, bourbon, tequila or rum, with melted dark chocolate and marshmallows. Otherwise, the Tiny Tiki ,which arrives in a kitschy snowman cup (yes!), is a refreshing palette cleaner – ask for a double shot and you might meet the ghost of Christmas past, present and future.
Chef Heryadi's also amped up the bites. Temper your yuletide bender with the Grinch's Gratin Dip (brussel sprouts, four cheeses, applewood bacon and chestnuts), which is the final evolution of every Tastemade recipe you've craved for at 3am. In particularly great company? Give the gift of their dinner plate special, Santa's Helper (beef wellington, mushroom forestiére, sauce chasseur and celeriac puree), and the Seasonal T.T.W. Sando (with duck fat tater tot waffles).
When? Now till 27 December
16 North Canal Rd, Singapore 048828
Fans of the ubiquitous lobster roll will be pleased to know that Clarke Quay's Fremantle Seafood Market is now serving three new flavours with premium lobster flesh housed in grilled buns: Tom Yum Pumpkin, Truffle, and Cayenne. There is also a platter option, featuring half-portions, available for those who are unable to choose between the three. Of the lot, the Tom Yum Pumpkin roll easily stood out with its addictive spice and lemongrass notes.
For something more family-friendly, opt for their new Seafood In A Bag. It requires you to get dirty with your hands, but be assured as gloves, bibs, table-covers, and even handwipes are all provided. Customers can choose from prawns, clams and mussels from Ah Hua Kelong, and add on premium seafood such as live Mud Crabs and Boston lobsters. Just for the festive period, the restaurant is offering free island-wide delivery through Capita3eats and 20% off their lobster rolls!
When? Now till 30 December
Fremantle Seafood Market, 3E River Valley Rd, #01-05/06, S179024
View this post on Instagram
Our national love for hawker food is still strong during this festive period, which is why Penang Culture's two festive creations cannot arrive at a better time: Lobster Cheese Bee Hoon and Sourdough Curry Chicken Bomb. Whether you belong to the camp of seafood or meat, or even creamy or spicy, either of these dishes will be a sure hit with the entire family. The Boston lobster is cooked until the flesh is succulent, then soaked in a flavourful cheese broth slowly absorbed by the chewy rice noodles. On the other hand, the presentation of the curry chicken is reminiscent of the traditional Golden Pillow dish, where golden gravy is housed inside the crusty bread.
When? Now till 1 January
Available at all Penang Culture outlets
View this post on Instagram
A fixture since our childhood, Pizza Hut unveils their Christmas Super Pan Pizza Series as a dining and gifting option this year. Made with the season's special super crispy crust that oozes out with luscious cheese, the Christmas pizzas are available in three flavours: Christmas Ham Super Pan Pizza, The Four Cheese Super Pan Pizza, and Hawaiian Super Pan Pizza. The first features tip-top toppings such as roasted pineapples chunks, baby spinach, succulent turkey ham, marinated spicy chicken chunks, and roasted onions all coated in BBQ sauce. To spread the festive love, every purchase of the pizza also comes with a heartfelt Christmas card designed by the creative students over at the Association for Persons with Special Needs.
When? Now till 4 January
Available at all Pizza Hut outlets
When it comes to cheese, the more the merrier! It is hard to tear our eyes (and mouths) away from Domino's Cheese Xplosion, which amps up the cheese by 2.5 times and houses everything inside a Cheesy Crust loaded with Mozzarella Cheese sprinkled generously over their house sauce. Only available for till the new year, we can see this being the top choice for small house gatherings. The result is a hot, sinful, oozing mess that promises pizza burns, but speed is key here as the cheese can harden. The first few mouthfuls are quite an experience as your mouth fills with the soft, melty combination of cheeses. Even as the sauce and cheese are incredibly rich, the pairing makes a good contrast to the signature crispy and chewy crust.
Aside from Domino's website and stores, the pizza will only be exclusively available on foodpanda and customers will enjoy 30% off the regular price only if they order via the platform.
When? Now till 4 January
Available at all Domino's Pizza outlets and foodpanda
Gifting Treats
Christmas is the season of desserts and Amara Singapore has its elves working overtime to produce an array of sweets. The line-up includes log cakes in four variants: black forest, white chocolate, green tea, and coconut passion fruit; or traditional festive cakes like the chocolate fruit cake, Christmas Stollen, and Sugee Cake. The last is a distinctively Eurasian mark for Christmas, and Amara's version is rich with semolina and ground almonds but has an additional layer of citrus from the berries to cut through each bite. If you have always wanted to chomp down on the gingerbread displays, their Gingerbread House tastes as good as it looks, layered with candies and intricate icing features.
When? Now till 25 December
Amara Singapore, 165 Tanjong Pagar Rd, S088539
It has been barely two weeks but Hendrick's Gin's re-run of its Midsummer Solstice swept through its old (and new) fans like a holiday romance. The refreshing edition features floral notes with a nice, crisp finish, making it the top choice for festive cocktails that are more citrusy or botanical in nature.
Even if you are unable to acquire a bottle, the original Hendrick's Gin is still versatile enough to be part of holiday dinners or nightcaps. To aid home-hostesses, they've partnered with stylish Manhattan bar to launch the Hendrick's x Manhattan Festive Pack. It contains the Henrick's x Manhattan Teapot Set and the Hendrick's x Manhattan Teacup Set. Both sets feature the seasonal 350ml bottle of the Yule festive cocktail made with a delectable mix of Hendrick's Gin, Lairds Applejack, Taylors Port Wine, Oloroso Sherry, Spiced Syrup and Cardamom Bitters.
When? Now till otherwise specified
Hendrick's Gin is available on LazMall, Shopee Mall and The 1887 Bar on GrabMart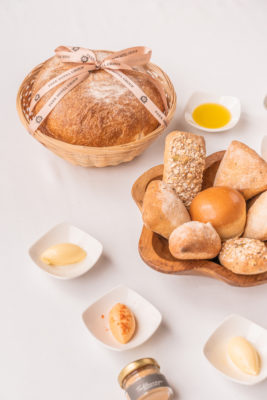 Over the lockdown period, the popularity of sourdough has increased exponentially. Purveyors of European cuisine, Tablescape, is more widely known for their acclaimed bread trolley, but it was only offered as a gueridon service when you dine with them. Earlier last month, they finally launched a takeaway and/or delivery bundle for fans of their signature bread trolley.
The Bread & Butter Set comes packed in a lightweight bag containing a generous selection of five different types of artisanal breads: a Sour Dough round loaf, golden mini loaf Brioche, classic mini Baguette, sweet-savoury Onion Bread, and Multi-Grain Bread, two types of house-churned butters: one set of Signature Housemade Butter in two mini jars and one set of rich housemade Lobster Butter in two mini jars as well, and a delicate, rich truffle oil. It makes an excellent gift this gifting season as the breads are freshly baked and an absolute treat with the aerated butters.
When? Now till otherwise specified
Available at their website here
View this post on Instagram
When it comes to snacks, portioned servings are always great, especially if the flavours are as addictive as the ones by The Kettle Gourmet. Their Christmas Gift Box Special ventures out of the traditional binary flavours of sweet or salted, and features all six eclectic selections from their signature range: Salted Caramel, Chocolate, Nasi Lemak, Chilli Crab, Chicken Floss, and Kaya Butter Toast. The local-inspired popcorns feature surprises in each bite, such as the ever-changing flavour profile of the Nasi Lemak pack, which gives off hints of coconut, sambal chili, and even ikan bilis.
When? Now till otherwise specified
Available at their website here
Marrying the best of a restaurant and café, The Connoisseur Concerto (tcc) serves up its Christmas wonderland menu with savoury dishes and delectable log cakes. The festive highlights include Turkey Cordon Bleu, Angel Hair with Prawn & Turkey Paupiettes, as well as three different log cakes that easily dominate the limelight: the Nutty Choco Fantasy, a thick Valrhona milk chocolate mousse peppered generously with toothsome caramelised peanuts and crunchy hazelnuts; the Snowy Wonderland for earl grey lovers as it layers the tea with milk chocolate, mixed berries, yuzu marmalade and praline crunch; or the Choco Coffee Surprise for those who love daily caffeine shots, now topped with dark chocolate and sea-salt caramel curd.
When? Now till 3 January
Available at tcc and The House of Robert Timms outlets
It is the new season of flavours with IRVINS! Widely recognised for their mastery of the fried fish skin game, they have recently launched their new Danger Lab Series for the next three months and pivoted to an overarching brand concept to house other ingredients. For example, the new Danger Lab line features Salted Egg Tomato Dumpling Skin and Sichuan Pepper BBQ Dumpling Skin, both of which are crunchy vehicles of umami goodness. There are also two condiments, the Pineapple Sambal and Ikan Bilis Sambal, for those who like a ton of heat. The two types of floss—Fish Floss Fish Skin, Chicken Curry Floss—are the first of the range produced by IRVINS, but go well with a range of base, such as porridge, rice, or even bread. The products will be rotated based on popularity, so be sure to snag them for the holidays before they are gone.
When? Now till otherwise specified
Available at all IRVINS outlets and their website here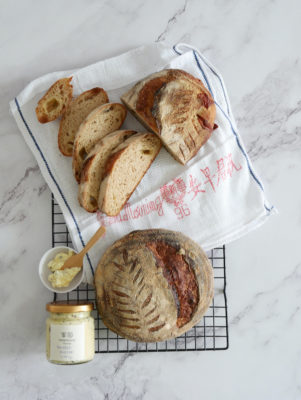 Perhaps you have already seen their loaves throughout your Instagram feed, wrapped in the signature Good Morning towel, studded with cheese, fruits, and healthy slabs of their homemade Truffle Butter. Heartland Sourdough is a home-based online bakery specialising in the crusty bread and they are doing Christmas right with more carbs to share. Their Festive Sourdough Gift Sets, "Hope" or "Faith", offers a collection of handmade items such as cookies, bread board and knife set, butter, and one of the two limited seasonal sourdough flavours: Spiced Orange & Cranberry, or Brie & Figs. The loaves are soft and flavourful, with a beautiful crust and best part, holds up well when left out on the counter.
When? Now till otherwise specified
Available through pre-order via their social media account here
Christmas is also the craziest time of the year for parents. Between sourcing for presents and planning for parties, it can get overwhelming. SwissBake's Christmas specials are perfect for those who do not lose want to flavour of home for convenience. As a centrepiece, their Herb Roasted Chicken with Assorted Sausages & Potatoes is great for sharing. The roasted meat is succulent and because the bird is stuffed with the Chef's secret recipe, it is well marinated with flavour throughout. It is also served on a bed of chicken sausages, baby potatoes, vegetables, and drizzled with a rich mushroom brown sauce. Do not miss out on the new Festive Viennoiserie as well, especially with holiday specials such as Mocha Almond, Cookies & Cream, and Cranberry & Cream Cheese.
When? Now till otherwise specified
Available through their website here
View this post on Instagram
We all have festive gatherings where the attention is on drinks, and well, small bites. Taste Gourmet Market's Christmas catalogue is a curated selection of festive delights, ranging from traditional dishes ot Japanese sushi and sashimi platters. New dishes under their house-brand include the Sake Kurobuta Ham, Slow-cooked Peppery Beef Pastrami, and Roasted Beef Ribeye with Homemade Herbs Mustard with Shallot & Thyme sauce. The selection is incredibly high quality, curated from Swiss Butchery meats, and a selection of cheeses such as Manchego, Pecorino Moliterno with Truffles, and Parmigiano-Reggiano, and various cold cuts such as their crowd-pleaser Guinness Beef Sausage.
When? Now till otherwise specified
Available through their website here
View this post on Instagram
Set to be one of the most accessible thirst quencher during the festive season, Somersby's new range of Hard Seltzer comes in two flavours: Lime, and Mango & Passionfruit. Positioned as an alcoholic sparkling water, the fruity notes ensure a more balanced taste as the main body is extracted from wine. This is the brand's first foray into a brand new direction as more people are mindful of their health and choosing to drink lighter, better alcohol (free) concoctions. It is also low calorie, making the drinks a perfect companion to meals or as a refresher during the warmer afternoons. It also makes a great mixer as the flavours and carbonation are perfect to mix with others to form new beverages.
When? Now till otherwise specified
Available at all major supermarkets and e-commerce platforms
Nice List
The quintessential Taiwanese street snack gets an uplift at the iconic rooftop bar and dining concept, BAO by CÉ LA VI. Fluffy steamed buns are served with luxurious fillings, like Black Angus BBQ Beef, Tempura Sea Bass, and Salted Egg Crispy Prawn. It is a combination of Asian flavours with everything else: the view, alcohol, and atmosphere. Our favourite of the lot, Iberico Pork Char Siu, features a tender slab of pork belly perfectly balanced with ginger relish and lettuce. Pair the buns with their Truffle Fries, which comes with the addictive Truffle Dip, and cocktails for a memorable night out.
When? Now until otherwise specified
1 Bayfront Avenue. Level 57, Tower 3, Marina Bay Sands, Hotel, S018971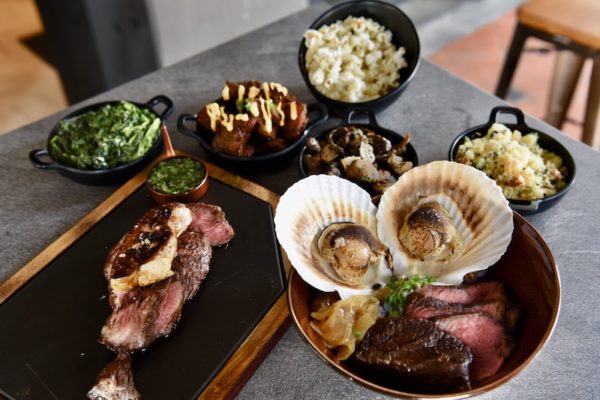 Picanhas', the new kid on the block of Club Street, celebrates the eponymous steak from Brazil and it is not shy about its single-minded focus "for the people". The easy-going joint serves two signature mains: the Queen of Steaks and Picanha Don. The former is a serving of picanha steak slices drizzled with browned charcoal butter, while the latter features the same cut over a bed of butterfly pea infused rice and topped with crunchy garlic bits, caramelised onions, pickled cabbage, and onsen egg.
They also have a secret, off-menu item: just ask for the burger! As the picanha is from the rump cap muscle, it has a strip of fat that renders the meat tender and buttery. All the mains can be topped with luxurious additions like Foie Gras and Hokkaido Scallops, and/or complemented with sides of double-cooked Potatoes, creamy Spinach, sautéed Mushrooms, and Cous Cous with tomatoes, olives and orange.
When? Now until otherwise specified
Picanhas', 90 Club Street, S069458
It may be the best kept secret of Orchard Central, but if you have noticed a snaking line at the corner where the toilets are situated, it is all because of Tempura Tendon Tenya. Hailing from Japan, the popular tendon chain brings its excellent value and quality to our shores by implementing its signature automatic cooking process. This not only ensures the precise nature of the batter, rice servings, and even consistency of its udon and soba noodles, but also makes for a great futuristic viewing experience.
The chain store has almost 200 outlets in Japan alone, and prides itself for great Tendon—a donburi bowl of lightly battered, crispy seafood, meat and/or vegetable tempura atop steaming Japanese Aomori rice with an umami tare glazing sauce drizzled over. All the ingredients are carefully sourced and prepared, then put through their patented automatic fryer, which cooks the tempura to crispy perfection in two minutes. Their noodles are also precisely cooked to ensure that they are springy. Those with a sweet tooth will enjoy their root-beer float, which features their house-made Hokkaido Soft Serve, incredibly creamy, smooth and can be purchased separately in a charcoal cone.
When? Now until otherwise specified
Tenya, 181 Orchard Rd, #B1-01 Orchard Central, S238896
Previously of VENUE and Ember, Chef Sebastian Ng is now serving the best of his culinary experience in the form of Singaporean rice bowls. The selections are a good mix of flavours from different cuisines, with some bearing the familiarity of home cooking to others with the flair of restaurant creations.
The Signature Spice-Crusted Chicken is crusted with a blend of 16 house-made spices and served over Jasmine rice with vegetable curry. The highlight for us was Chef's signature 100-hour Duck Confit. The meat was tender, even after reheating, and the skin remains crispy and flavourful thanks to more than 10 types of herbs and spices used in the dish. It is complemented with green sambal, white rice, and the staple egg roll of every bowl. The Wok-fried sliced Beef with Ginger and Scallion was also incredibly tender. All the bowls are available in the Signature Rice Bowl Bundle, which also comes with home-brewed Cucumber-Lime and White Chrysanthemum drinks.
When? Now until otherwise specified
Available through their website here
==
Stay updated and social with Popspoken: Facebook | Twitter | Instagram