The best culinary experiences take place where a confluence of talent happens. A Michelin star-studded line-up of celebrity chefs, industry insiders and mixologists descended upon Hong Kong's Peak Galleria for T.Dining's newest flagship gourmet event, Off Menu, that presented a gastronomic feast which included dishes prepared exclusively for the event. Here are some highlights. 
Special Guest Appearance by Chef Mitushiro Araki
Mitsuhiro Araki of 3-Michelin starred The Araki, showcased his deft skills of slicing a tuna Edomae-style to VIP guests. What shapes his mindset to keep him "calm and focused"  spans right down his go-to wind down tune, which is aptly "Last Emperor" by Ryuichi Sakamoto. Araki's culinary journey started at a tender age of 24 when he migrated to Sydney and started by visiting wet markets to choose seafood and armed with a genuine curiosity, went from shop to shop to find out what was particularly special about each fish. 
"When I saw the faces of the guests whenever I presented them one of my new creations, I knew I had found my calling and it wasn't in Western cuisine." – Chef Araki 
Gourmet experiences that sit at the top of Araki's mind globally are Kyuo-aji – his favourite wasouku restaurant, Fook Lam Moon – which sparked his love for dried seafood and not forgetting Kiyota Sushi – where his master, Takeaki Niitsu continues to be a huge inspiration for him. 
Chef Araki is not one for racial exclusivity when it comes down to mastering a cuisine. "I want to end the notion that only sushi made by Japanese masters can be good," he declares, "I am planning to train up several Hong Kong apprentices so that after they master the skill of transforming any premium ingredient into works of art whilst following the traditions of Edomae sushi, they can eventually open their own restaurants". In order to be accepted as an apprentice under the "emperor of sushi", Araki persistently went back to dine at Kiyota in Ginza even though he was initially rejected, and attributes his success to his two years of unofficial mentorship he took under the acclaimed sushi chef.
Petrus x Rajasthan Rifles: Grilled Abalone with Smoked Vegetarian XO Sauce and Pepper Leaves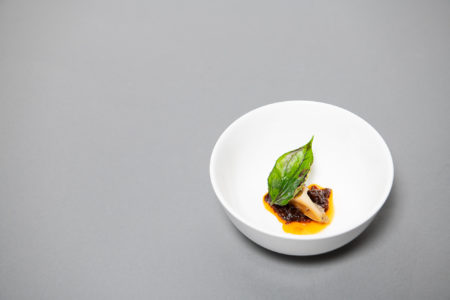 Exploring the parallels between the French and Bengali cuisine were Uwe Opocensky of Petrus and Palash Mitra of Rajasthan Rifles, who brought seafood with local short-grain rice and a fork-tender grilled abalone served with liver cream and smoked vegetarian XO sauce to the table. Though not many would think to mesh the cuisines, the two chefs played up to the similarities in cooking techniques as well as their penchant for slow cooking and making reductions to dish out complimentary tastes. 
Chef Palash fondly recollects the time he interned at a friend's farm. "All our meals stemmed from a very organic farm to plate approach, everything grown was used completely, with no wastage. The food was treated with a certain reverence, experiencing this first-hand defined how I wanted to approach my cooking and shaped my career." This mirrors itself in his abalone dish that features locally-grown vegetables and foraged pepper leaves.
With an incredible 33 years of culinary experience under his belt, Chef Uwe has dined at many restaurants which are at the top of their game, and cites Noma, Geranium and Berlin's Tim Raue as choices that never fail to delight him.
Toyo Eatery x Amber: Lung Guang Chicken Breast Roulade with Yellow Wine Sabayon and Bok Choy
Culinary director of Amber, Richard Ekkebus, puts his years of experience to the test in a collaboration with Toyo Eatery's award-winning chef Jordy Navarra from Manila to perfect a rendition of the traditional Lung Guang chicken. In this re-conceptualisation, Ekkebus transforms the classic Chinese dish of chicken and yellow wine into a crispy roulade, seasoned with dried sea lettuce and a jus of chicken carcass and oyster sauce to top it all off. This seamless marriage of cuisine stems for a bond that runs much deeper than the three-day pop-up event; the pair have been close friends for over two years.
Chef Ekkebus' adventurous streak unsurprisingly transcends beyond the kitchen. "I love hiking and climbing through the mountains", he states, and interestingly, Chef Navarra too has ventured in an art form a little different than cooking—he used to be a drummer in a band.
Mume x VEA: Flower Crab and Fish Maw Congee
In a marriage of East Asian fares, Vicky Cheng of VEA and Mume's Richie Lin have made local rice the staple element of their dishes. While Chef Lin saw through a claypot rice dish that incorporated Taiwanese sushi rice; a component that he was familiar with from home, Chef Cheng dressed the accessible comfort fare of congee with handpicked flower crab, braised fish maw, homemade chye poh and pieces of fried dough sticks.
Aside from luxurious nosh, Chef Cheng indulges in fine watches. He is also deeply appreciative of his mentors and family; a key moment in his culinary journey is when he received his first Michelin Star and was able to thank the people who helped him get to where he was, similarly to Chef Lin, who founded Mume—the name of Taiwan's national flower that shares the same Chinese characters as Chef Lin's mother's first name.
Wagyumafia x Tate Dining: Sesame Sichuan Wagyumafia Beef Tartare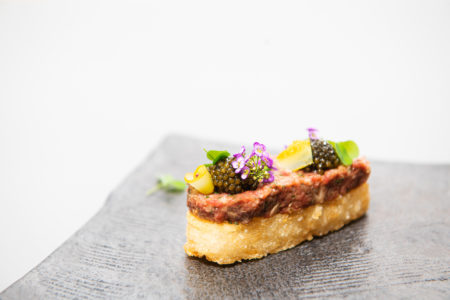 Together with co-owner of Wagyumafia, Hisato Hamada, Tate Dining's Vicky Lau gave the premium marbled cattle a Sichuan spin with the Sesame Sichuan Wagyumafia Beef Tartare. Delicately sitting atop a rice crisp that comprises of Hong Kong, Hokkaido and Chinese rice, the beef tartare flavoured with a concoction of Sichuan spiced oil and sesame oil balances the best of cultures and certainly packs a bite-sized punch. 
Listing modest kaiseki restaurant Kitcho in Kyoto as one of his top food destinations internationally, it's clear that Chef Lau's belief that "simplicity is the ultimate sophistication" is something that plays out in his creations. He rounds up the list with Per Se in New York and Maison Pic in Valence.
More announcements coming soon on Off Menu's website.
==
Stay updated and social with Popspoken: Telegram| Facebook | Twitter | Instagram