Let's be honest here. People on holiday just want to see other people at work. And there's something oddly sensual about experiencing the sweet scent of distillation, of a certain liquor that's going to mellow out your vacation just a tad more.
We're talking craft liquor distillery tours when in Asia, as a means of going beyond the label, understanding the terroir and perhaps a country's cultural heritage a little better. If you're the sort to let wanderlust take over, here are some distillery tours you might want to consider fitting into your itinerary.
---
When in Goa, it doesn't get more local than Cashew Feni – the only spirit in the world that is made by distilling the cashew apple. Thrill seekers will revel in the day distillery tour which transports guests to a tropical spice and fruit farm where they will get to partake in a delightful tasting platter complimented with pours of Grand Cazulo Feni, all while their toes are submerged in crystal cool waters from a nearby spring.
https://www.instagram.com/p/BMCOh2ZhtF0/
After a tour of the centuries old working distillery where guests can witness the ancient tools of the trade, journey to the charming Beco Das Garrafoes, or Feni carafe cellar, to taste the spirit. The evening reaches a climax with a live BBQ buffet, more cocktails and classical live music under the stars. What better way to celebrate the joie de vivre of the Goan spirit?
Tours: Conducted by Hansel Vaz, the founder of Cazulo Premium Feni, himself, the two experiences have to be arranged privately. RS 2000/person (distillery tour + tasting + BBQ), RS 1000/person (regular day tour), RS 3000/person (Exclusive water tasting; max 6 people).
In true HK spirit, this gin integrates the flavours of the city using traditional gin distillation techniques.  Listen as founders Jeremy Li and Nick Law explain the hidden meaning behind their brand N.I.P which stands for 'not important persons' – the craft gin celebrates grit and perseverance, two qualities much needed in them building their business up from the ground without previous experience in beverage.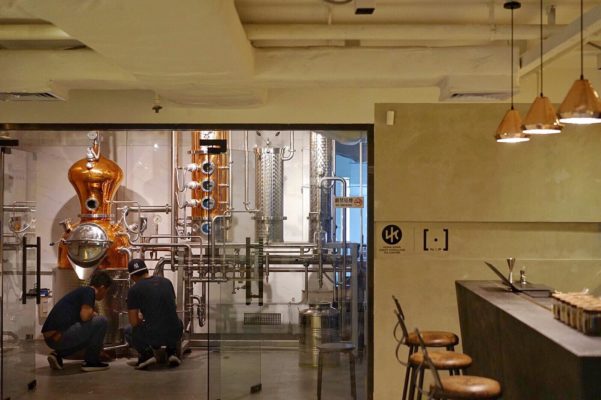 Understand how botanicals such as tangerine peel, shoumei tea leaves and fresh pear are derived in the gin through distillation in their artisan Christian Carl copper still. Finally, wrap up the tour with a tasting session and get handsy by building your own N.I.P Gin cocktails from scratch.
Tours: Must be arranged privately. Group sizes range from 6 minimum to 12 maximum. HKD280/person (tour only price), HKD 660/person (tour and a bottle of N.I.P Gin valued at HKD480 to take home).
Winners of the 2019 International Gin Producer of the Year at the International Wine & Spirits Competition (IWSC) in London, Four Pillars distillery may be small, but they definitely live large with their ambitions. Aside from tasting their 5 gins, the bar boasts a healthy selection of gin cocktails including namesake classics such as negronis and martinis.
https://www.instagram.com/p/B82SvavijYz/
Sip on a refreshing Gin & Tonic while investigating the Carl stills downstairs on weekends, or do the full tasting upstairs in Eileen's loft; Eileen, the majestic 50L Carl copper still is quite a stunner. This is a gin distillery that doesn't take itself too seriously and is a place to visit to indulge in one's love for craft gin.
Tours: Call +61 3 59622791 or send an email to info@fourpillarsgin.com.au to arrange tastings way in advance. Gin tastings cost AUD$10/person and entrance to the distillery is free.
Every Saturday, tours led by gin enthusiasts and founders Dimple Yuen and Ivan Chang is a titivating experience with walk-throughs of gin history and the story behind Two Moons that was launched in December 2019. It is first kicked off with a limoncello, made in house in a bid to minimise wastage. Go beyond the logo and meet its inspiration – a beauteous custom built copper still from Germany that's fully operational and learn how she crafts their small batch gin.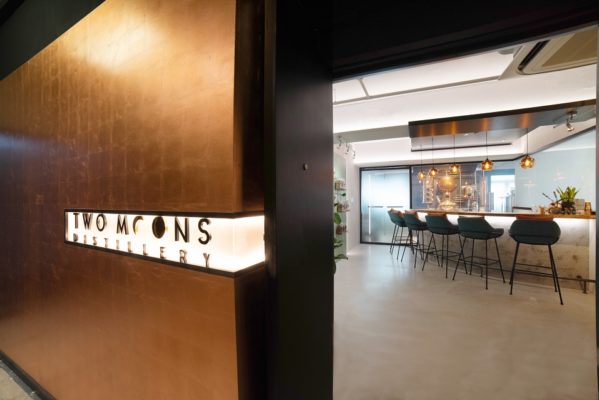 Before unleashing yourself on the gin & tonic flight, familiarise yourselves with the unique botanicals such as liquorice root and Chinese apricot kernel that is so pivotal to the taste profile of Two Moons.  All bottles are still batched, labelled, sealed and waxed by hand, which speaks volume for the hand-crafted dedication. Their involvement in eco-conscious initiatives – including one in which all their botanicals used in distillation gets converted into fertilisers and donated to nearby urban farms – all echo the distillery's fetching anachronistic ways.
Tours: Two sessions held every Saturday – one in Cantonese, one in English. HKD$300/per head (welcome drink, distillery tour, Gin & Tonic pairings and a little surprise). Groups are kept to a maximum of 6 people.
Feeling a little overwhelmed by your visits to the genocide museums in Phnom Penh? A spot of rum should do the trick. Samai is Cambodia's first and only premium rum distillery and starting with just molasses from Cambodia's Koh Kong sugar production factories, a most wonderful golden liquor is bourn.
Inquisitive imbibers are treated to tours of the fermentation labs and the steamy hot main floors where two bulbous pot stills are put in the spotlight. It's where the magic happens and watching the agonising drips of rum into collection vessels helps you foster a deeper respect for the liquid in your glass.
The distillery's flagship product, the Kampot Pepper Rum employs what is considered one of the world's most prized pepper to impart a unique crisp sweet aroma to the craft spirit. If you must know, in the 1970s, the Khmer Rouge regime viewed peppercorns which were highly revered by the French as a symbol of colonialism and banned farmers from growing them. Only by the late 90s, did the pepper make a comeback, earning itself a Protected Geographical Indication (PGI) status from the WTO.
Replete with fun facts, the Samai Distillery is one for the history buffs, truly a spirited way to immerse oneself in the country's cultural heritage.
==
Follow Sihan's journey in spirits, here. 
Stay updated and social with Popspoken: Facebook | Twitter | Instagram