"Singaporeans are a worldly bunch that travel and understand the finer things in life", observed John Pemberton, an English globetrotter who was determined to scour the world for the best craft beers after his first brush with a home-made Indian Red Ale. What started off as a pipe dream in his bathroom that was converted into a brewery-of-sorts, has been magnified into a full-blown supply chain since 2016, a brewery in Vietnam and ambitions to take Heart of Darkness to the rest of Asia.
In the last two years of visiting Singapore, John observed a craft beer boom in Singapore. Local breweries such as Pink Blossoms Brewing and Brewlander have emerged to cater to the refined taste palettes of those who enjoy a twist to the mass-produced pilsners that are a dime a dozen in supermarkets.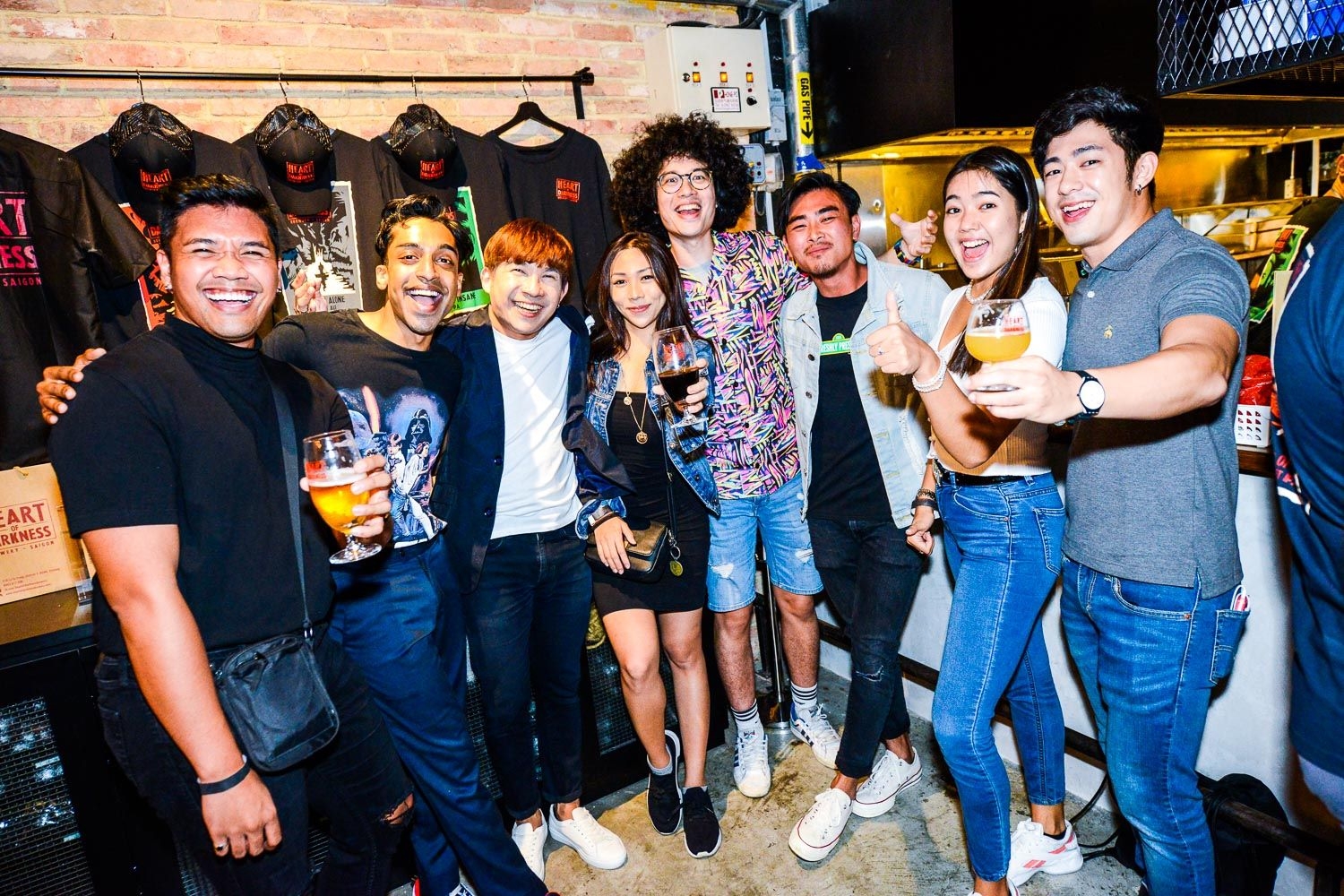 Armed with the passion to bring to Vietnam a bar where people have genuine interactions; that same effervescent personality that emanates from John which saw success in Vietnam, is similarly found in his Singapore crew.
He has handpicked those who are truly passionate about the 30 different beers on taps (20 Heart of Darkness Beers and 10 guest taps). From big bold balanced hop profiles though to delicate flavour full pilsners and IPLs, John and his business partner, Kevin Ngan, guarantee that you will be able to find a beer that truly speaks to you.
It might be a hoppy pilsner bursting with flavours you have never experienced before in a beer or a big bold IPA that shocks your pallet until you start to really pick out the intricate flavours as they dance around your tongue. A good beer should leave you with a smile on your face and a feeling of "what just happened there!" – John, CEO and Founder of Heart of Darkness (Singapore)
---
Popspoken: How different is Vietnam's nightlife scene from Singapore's?
John: Vietnam stole my heart on my first trip to Saigon. I fell in love with the cool designs of the bars and restaurants that are all so unique. There was a personal touch of each owner and the love they had for their venues. Once you dive in, you will find friendly service and very high standards of quality and creativity. It is truly an honour to be rated as one of the top bars in Saigon given the amazing level competition, not just amongst my fellow craft brewers but all F&B in Saigon.
The other thing that really stood out for me was how social the Vietnamese are, you see groups of friends hanging out in coffee shops until the early hours or just sitting outside sharing a tea and snacks on the street corner. Laughing and joking with each other not just hiding behind phone keyboards, but actually interacting with each other. This was refreshing to experience.
The common thinking when we started was that craft beer should be "mellowed down" to make it approachable to the Vietnamese, or that local ingredients needed to be added to make it more "Vietnamese".
We said to ourselves, well first let us be true to the spirit of adventure that defines the US craft beer movement and let us bring that to Vietnam and Asia. We'll let the consumers decide what they'd like to drink from craft breweries.
When you think about Vietnamese food — it is about big bold flavours, but is also delicate, citrusy, vibrant and balanced flavours, much like a good craft beer. So, we set out to make solid craft beers that push the envelope and show people what craft beer is truly all about, a journey of adventure. This approach has worked very well for us in Vietnam and it is safe to say we are the leading brewery on the scene now.
We are actually a Singaporean company and have strong ties to the city. Singapore was our second international market that we opened up after Thailand. I loved the scene when we arrived in Singapore – the local scene is strong with creative brewers like Brewlander and distributors know their beers, bring in great ranges and understand the importance of cold chain. When we thought about our first international bar, it was a very simple choice for us – Singapore.
So far we have been amazed at our welcome to Singapore. The thing that has shocked me the most is the number of people that had been to our bar in Saigon, loved the experience and were genuinely excited to have one of our bars open up in Singapore. It is our aspiration to be the top Asian craft brewery so this level of recognition in such an important Asian gateway city is very encouraging for us.
Popspoken: Can you share some challenges you faced when setting up the brewery and how you overcame them?
John: Any brewer will tell you that you are crazy to start a brewery. The old saying in the business is that it is a great way to lose a large fortune just to make a small one. Your first challenge is finding people crazy enough to do it as it is a big heavy, upfront investment. I was lucky enough to find two other spirited partners who have given amazing support in getting the brewery self-funded and in navigating our way through the bureaucracy of Vietnam. But the cost is worth every penny as we have 100% control over the quality of our product at all times.
Once we overcame the set-up, we had a whole new market to create. The scene back then was very small, and we had a nation to educate on the wonders of craft. This is where strong branding and marketing kicked in. My partner, Andrew, did an amazing job leading the charge on marketing and really helped us to establish the strong brand presence we had. We started to bring customers though the door to try something radically different and beginning the education process.
This meant training up a young team of Vietnamese to not only practice amazing customer service, but to also learn and understand about beer. We have been so lucky to have a team with so much passion for the brand and the beer. They have learnt so much along the way and 5 of them are now Cicerone-qualified which makes me so proud. Seeing the pride in their eyes and hearing them talk about beer with such confidence is really inspiring. We are so happy that we have managed to replicate this in Singapore as well. Service is such an important part of the Heart of Darkness experience and ensuring that we replicate that is one of the most critical parts of what we do every day as a business. It is the passion at all levels of our business that separates us from the pack in my opinion.
Popspoken: Top three bars in Vietnam? 
John: Other than our own bars, I would say:
Saigon Craft in District 7
Pioneers of the scene with a fantastic range of beers. The owners are awesome, and their team are really good too. It is a very chilled-come-as-you-are vibe with a great mix of nationalities. Just a solid neighbourhood craft beer bar.
Malt in District 1
One of the first taprooms and still a favourite of mine. A very low key US-style taproom with friendly serve and a nice balanced range of the local craft beers.
https://www.facebook.com/biacraft/photos/a.305240822933594/1274240309366969/?type=3&theater
BiaCraft in District 3
This is one of the powerhouses of the scene when it comes to bringing craft to the Vietnamese. With 50 taps, they bring most of the local breweries together under one roof and work their BBQ magic on the menu. These guys truly are granddaddies of the scene
Popspoken: What are your thoughts on new products such as 0% beer? How do you keep updated of customers' tastes and preferences?
John: We are all for it. We do not have much time for beer snobbery. We should be exploring all avenues and learning as much as we can.
I personally longed to have 0% beers on tap. I often have to do all day events and is expected to drink. This can be challenging; 0% beer would be prefect! Craft is not really about getting drunk anyway, it is more about savouring the flavours and giving people that option to do that without getting drunk. That is the sensible approach, as long as you do not compromise the flavour. If you want to make your own craft beer at home, you can! View more about them here https://www.brewskisbev.com/.
We are a very prolific brewery and have made 270 beers in just over 2.5 years. We like to give the customer newness at all times, this helps us better understand what our customers want. We do trial batches at our bars and brew the high demand beers for distribution so we can share the newness through our distribution channels. We love to share new beers with our customers as much as possible, this is what excites us.
Popspoken: Aside from Singapore, which other countries are you keen on expanding to? 
John: We are getting a lot of interest out of Cambodia at the moment. We are selling in a few outlets there already, but it is on the list of places. Still need to do a bit of research, but it falls into line behind Japan, Korea and China at the moment. Our mission is to be all over Asia — we will get there soon.
---
Heart of Darkness (Singapore), 55 Tras St, Singapore 078994
Heart of Darkness (Saigon), 31D Ly Tu Trong, Ben Nghe, Ho Chi Minh, Vietnam
==
Stay updated and social with Popspoken: Telegram| Facebook | Twitter | Instagram