The act of consuming mooncakes is a unidirectional affair, one that divides and brings people together.
Purists often stick to the traditional baked choices of lotus paste or mixed nuts, while others may test their palates with the season's highlights: durian, odeh-odeh, beer, and even roast duck. While it is customary for people to share one or two of these loaded confections, our selection shows that there is nothing wrong with having a whole piece by yourself this Mid-Autumn Festival.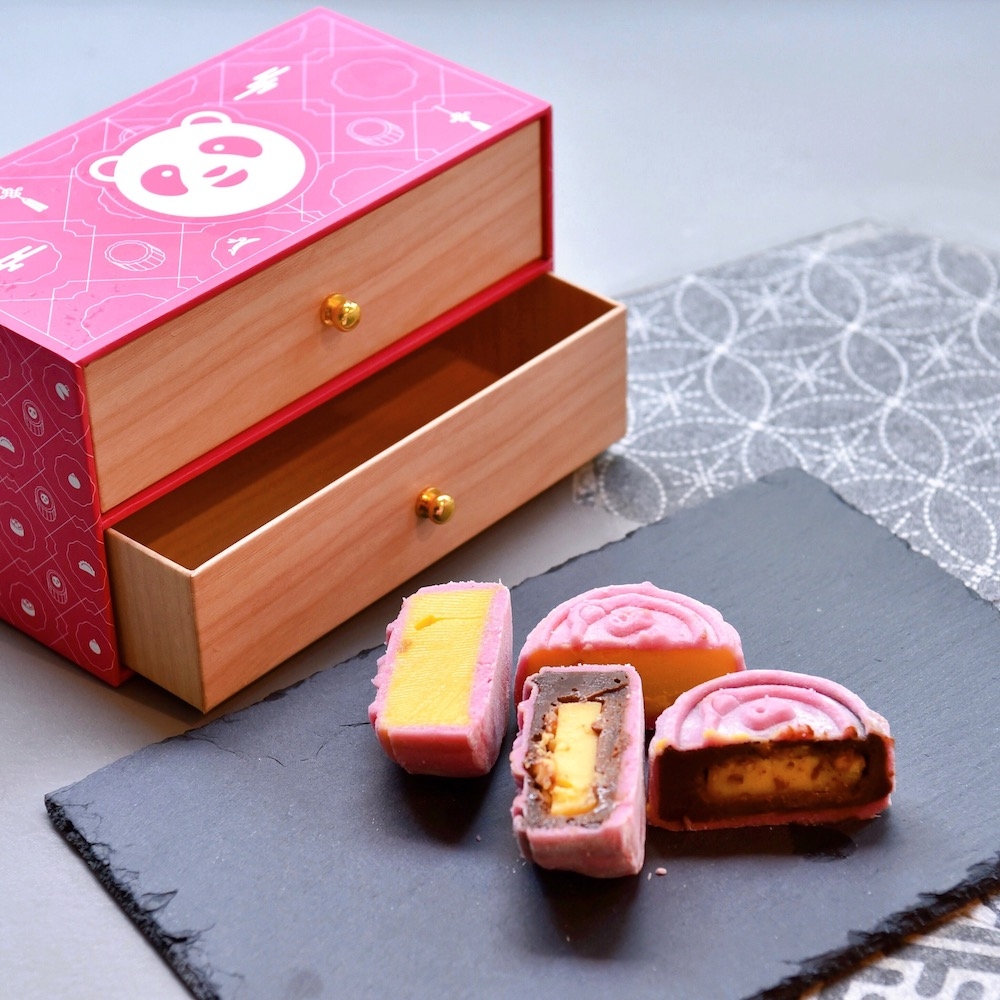 Indulge in both style and flavour with foodpanda's exclusive snowskin mooncakes, launched in collaboration with Pan Pacific Singapore and Hai Tien Lo. The delicate, eye-catching pastel pink body is embossed with the signature panda motif and houses four innovative flavours: Gianduja and Yuzu, Earl Grey and Cherry, Coconut and Pineapple as well as Passionfruit and Mango. Equally luxurious is the packaging, in the guise of a customised two-tier drawer nestled within a vibrant pink tote carrier.
Best part? You can get it for free. To get your hands on these mooncakes, simply follow them on Instagram and winners will be announced up to tomorrow.
When? Now till 13 September
Follow @foodpandasg on Instagram to win these mooncakes
If you wanted to drink your bubble tea and eat it, Bakerzin has once again put their creativity to the test and whipped up some interesting flavours. This year's new limited-edition feature flavour pay homage to the trend that has taken the nation by storm: boba. The Boba Love collection features four snowskin creations with white boba within their paste bellies: Pearl Latte Snowskin, Pearl Yuan Yang, Kanten Passion Fruit Mango Grains Snowskin Mooncake, and Kanten Matcha Red Bean Pomelo Snowskin Mooncake. For the traditionalists, the Been There series features a comeback of the classic red bean filling, either just the heartwarming paste or with egg yolk.
When? Now till 13 September
Available at all Bakerzin outlets and online 
The debut mooncake collection by Alvin Leung for the Capitol Kempinski Hotel Singapore is devilishly good, but as the cheeky design on the intricate floral and gold packaging indicates, he is counting on it. The signature offering, aptly called the Mini Theatre Combo, features bold flavours that honour the history, colour and artistry of the Capitol Theatre. Half of the mini baked mooncakes are infused with the addictive fragrance of Golden Corn in its velvety paste, while the other half of the Caramel Mixed Nuts plays with a delightful crunchy texture. Another delight is the first-ever American Fig mooncakes, which is a fruit-based creation that harnesses the natural sweetness of fig so we can indulge with less guilt.
When? Now till 13 September
The Capitol Kempinski Hotel, 15 Stamford Rd, Singapore 178906
The impeccable hand-baked treats from Shang Social's Four Treasures collection reminds us that old is enduringly gold. They come in an exquisite crimson silk box that can be easily mistaken for an imperial jewellery box (mirrors in mooncake boxes are severely underrated) and in four traditional fillings: Reduced Sugar White Lotus Paste with Double Egg Yolk, Reduced Sugar White Lotus Paste with Single Egg Yolk, Reduced Sugar Plain White Lotus Paste, and Black Sesame with Taro and Cashew Nuts. Despite their nod to the reduced sugar content, the mooncakes were still moist and decadent, with the fragrant egg yolks easily taking centerstage. 
When? Now till 13 September
78 Airport Blvd, #01 – 219 to 222, Singapore 819666
Purveyors of premium roast meats, Kam's Roast's latest 5 Nuts Roast Duck mooncake is a creative twist on the Cantonese five-nuts classic, which often features cured ham, candied pork, and nuts. Various assorted nuts, lotus paste and their signature roast duck are used to give the mooncake a distinctive savoury note and incredible mouthfeel. For those who are in the mood for something less savoury, their Red Bean Orange Peel Mooncake blends together creamy red bean paste and 23-year aged premium orange peels to evoke both nostalgia and zest—a sure-hit at familial gatherings.
When? Now till stocks run out
Available at their outlets at Pacific Plaza and Jewel Changi Airport

==
Stay updated and social with Popspoken: Telegram| Facebook | Twitter | Instagram