Craving Japanese snacks for supper but too much effort to leave home and grab a bite? Keisuke X Kemono might be the answer to those late night hunger pangs.
Billed as the "largest ramen chain in Singapore", the Ramen Keisuke Group has partnered with Kemono, the healthy roast chicken joint that has adopted memes as its marketing strategy.
https://www.instagram.com/p/B15cONanTwS/
Japanese chef Keisuke Takeda entered the Singapore market in 2010 when he opened Ramen Dining Keisuke Tokyo in the now-defunct Parco Millennia Walk. Kemono is a much younger entrant, having launched in February 2018.
For Chef Keisuke, working with Kemono offered him an opportunity to introduce delicious cutlery-free Japanese snacks to a wider audience, especially for a convenience-seeking generation that prefers to eat in, opting for food delivery services to cut down on time spent traveling and waiting for their meals. 
The menu is now available on Kemono's website under the KEISUKE x KEMONO tab. Islandwide delivery is available till 12 midnight daily.
Some must-tries include Salmon Yaki Onigiri, Spicy Miso Saba Pie and Chicken Tsukune which is available in two different flavours (Teriyaki and Okonomiyaki).
Mixed with salmon flakes and wrapped around Camembert cheese — a slight nod to Chef Keisuke's early years working in a French restaurant — and chargrilled slightly, the Salmon Yaki Onigiri (S$4.90) is a multi-layered snack. For those dining at home, warm the rice ball in the microwave for less than a minute and glaze it with the sweet soy provided to fully enjoy the onigiri. 
Possibly inspired by local sardine puffs, the Spicy Miso Saba Pie (S$9.90) puts a Singaporean spin on the Japanese fish by adding spice to the sauce and serving it up in pastry. While the saba fish is flavourful, be prepared as the pastry packs a punch with its heat. 
Both types of Chicken Tsukune (Japanese chicken meatballs) were equally delicious with their cream cheese centre, although the Teriyaki version (S$5.90) had an edge over the Okonomiyaki (S$6.90) interpretation.
In addition to the delivery menu, a Keisuke X Kemono roadshow will take place at The Cathay from Sept 13 to 15. Sample and purchase the snacks onsite and stand to win cash prizes and meet local celebrities in celebration of the collaboration.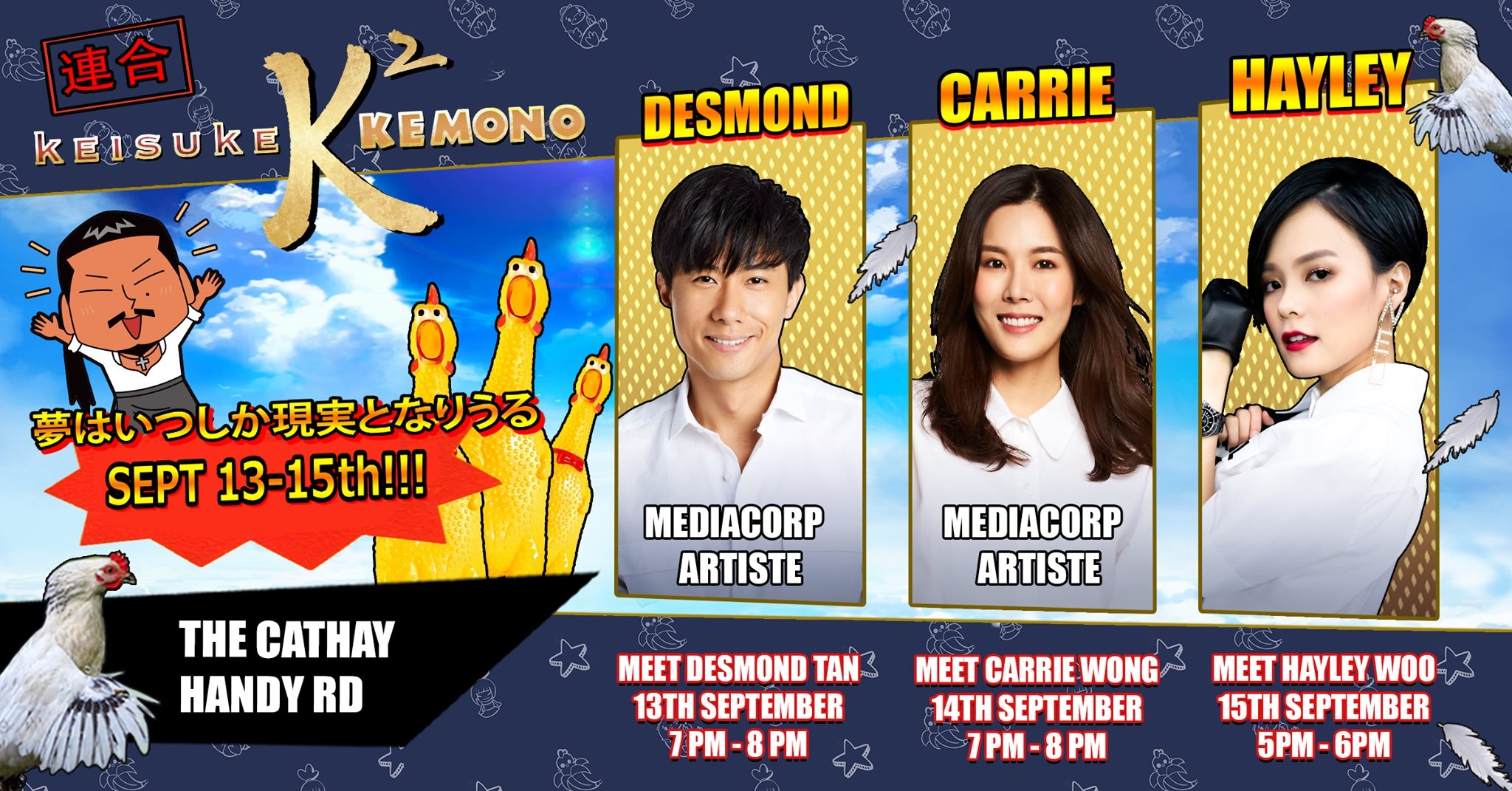 The Keisuke x Kemono menu is now available for order on the Kemono website. 
==
Keisuke X Kemono 
Sept 13 (5pm – 10pm)
Sept 14 (12pm – 10pm)
Sept 15 (12pm – 9pm)
The Cathay, 2 Handy Road, Singapore 229233
==
Photo Credits: Keisuke x Kemono
Stay updated and social with Popspoken: Telegram| Facebook | Twitter | Instagram