It is hardly farfetched to claim that our national sport is eating. We eat, we remember, and we celebrate July.
Feast on this month's selection, a juxtaposition of cultures, periods, and cuisines. We travel from the mountains of Italy to the heart of Japan, from our present neighbourhoods to traditions of the past, from intricate handmade butter croissants to a comforting bowl of broth, rice, and fried fish.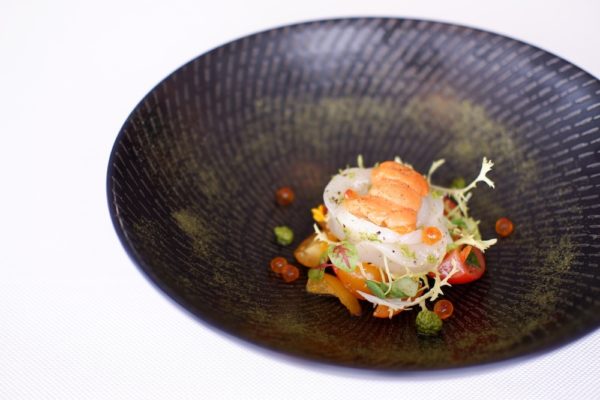 Located at the apex of The Fullerton Hotel, The Lighthouse Restaurant & Rooftop Bar pairs the breath-taking sights native to Marina Bay with excellent authentic Southern Italian cuisine. Helmed by Italian Chef Carlo Marengoni, his exclusive menu for this month features the Sicilian delicacy Ricci di Mare, or sea urchin.
It is no coincidence that July also marks the start of the sea urchin harvesting season in Salento Apulia, Italy, thus ensuring that some of the freshest and sweetest shellfishes end up as your dinner. The Hokkaido Scallop Carpaccio showcases the delicate, briny nature of the seafood, but it was the Fresh Sea Urchin Gragnano Spaghetti, tossed with a rich sauce of garlic, anchovies and bottarga, that sealed the deal for us. Salty, creamy, and highly addictive, the use of a slightly thicker pasta further creates a non-stop journey around the ocean.
Both mains are served with a housemade creamy sea urchin sauce that while pales in appearance, packs a serious punch in flavour. It is a tough choice but the Half Naked Boston Lobster, served with crunchy turnip greens, paired better with the briny notes of the sauce, as compared to its meat counterpart. And be sure to leave space for Chef Marengoni's decadent re-make of Amalfi's traditional Italian lemon dessert; a gorgeous, frothy tower that proves that when life gives you lemons, always turn them into Limoncellos.
Chef Marengoni's Signature Sea Urchin Specials
When? Now till 26 July
$148 onwards per person for a four-course lunch or dinner menu
The Fullerton Hotel, 1 Fullerton Square, Singapore 049178
A perennial favourite with seemingly everyone, croissant gamechanger Tiong Bahru Bakery recently opened their sixth outlet at the newly revived mall, Funan. With an ethos rooted in "celebrating neighbourhoods", their new bakery is a stunning 90-seater multi-concept space that shares its new home with various beauty services, a pop-up wall art mural in retro-futurism style by BetaBeta co-founder and designer, Melvin Ong, and three exclusive pastries to celebrate the spirit of locality.
Their best-selling viennoisserie, Kouign Amann, now comes in two alternative flavours, inspired by the Chinese fried doughnut (ham chim peng) and five-spiced snacks. The first is a gentle upgrade of the original with miso and cinnamon, while the latter will be a hit with those who enjoy crunchy sesame seeds.
If you have a savoury tooth, go for their tongue-in-cheek Porkcast Pie. Just like its French butter croissant, which seems to stand in defiance of automation and technology, this is a playful throwback to all things nostalgic, a halcyon period where podcasts, pork cheek rendang, and homemade rempah ruled.
When? Now till otherwise specified
107 North Bridge Rd, #04-22(-25) Funan, Singapore 179105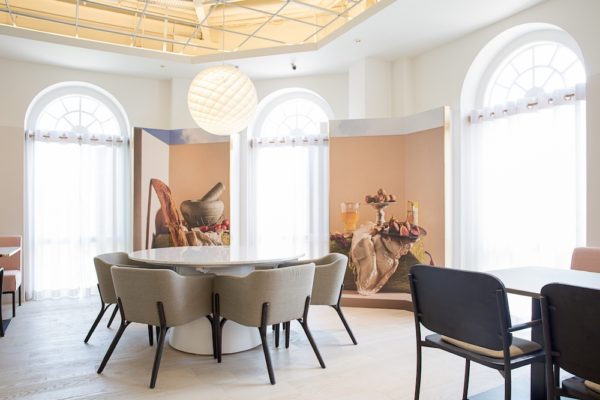 In Singapore, there are hundreds of fine-casual eateries but the few that truly stand out are the ones that pay attention to details. The Supermarket Company, who owns SPRMRKT, has always brought refreshing, multi-faceted concepts to the local dining scene (Telok Ayer Arts Club, anyone?) and their latest launch of SPRMRKT at STPI is a demonstration of the same effort, accentuated by Chef-Owner Joseph Yeo's conscientious cooking.
Under his care, modern European fare is stripped of its unnecessary trimmings and served family-friendly with a decidedly Asian twist. His Indonesian roots come through in appealing starters such as the Corn Fritter with Cuka and the establishment's signature Brussel Sprouts—each offensive barrel coated with burnt corn, creamy sriracha mayo and pomegranate seeds. Their Spicy Prawn Marinara is another winner in our books, after all, what's not to love about potent hae bee hiam and big juicy prawns?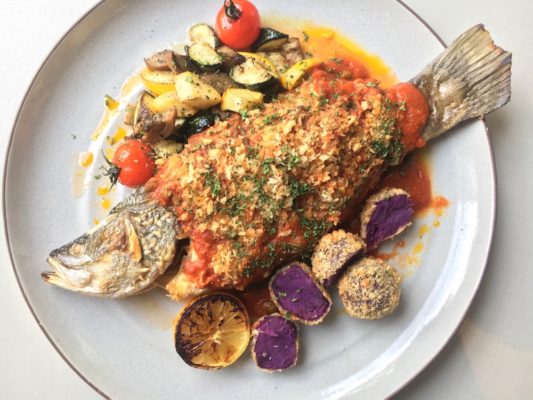 Hungry for more? Tossed with roasted vegetables, garlic butter, and Grana Padano, his Pesto pasta may seem simple in execution but remains complex in flavours. If you have enough people, do not sleep on the outlet's new seafood addition, the Whole Roasted Boneless Seabass. The locally-sourced fish is entirely de-boned, slow roasted, and served with a medley of grilled vegetables and purple potato croquettes that are easy on the eyes and stomach—taking fuss-free to the next level.
When? Now till otherwise specified
1 Robertson Quay, Level 1, Singapore 238236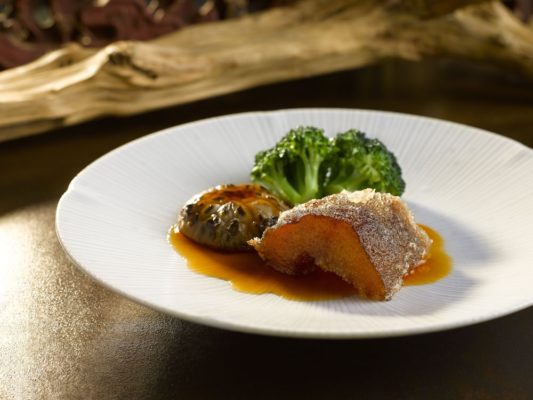 Teochew cuisine has a reputation for being both exquisite and wholesome, with a focus on fresh seafood. These three traits come alive at JUMBO Group of Restaurants' newest dining concepts, Zui Yu Xuan Teochew Cuisine and Chao Ting, both housed within the historic Far East Square precinct. Flanked by intricate wood carvings, a sweeping tiled roof, and an old-fashioned Chinese entranceway, it is no wonder the two-storey heritage building is marked as one of Singapore's historic sites by the National Heritage Board.
If the impressive architecture is not enough, the establishment's dishes is a performance of mastery and tradition. Encapsulating how cultural history can be elevated into a modern culinary experience, the dishes are a delightful blend of the old and new.
Highlights like the golden Deep Fried 'Ngoh Hiang', Teochew Oyster Omelette 'Gooey Style', and their unique take on Orh Nee / Yam Paste with Pumpkin and Gingko Nuts flirt with one's familial memories. Concurrently, the unorthodox treatment of cultural delicacies introduces a refreshing break from the past, thanks to dishes like the Crispy Fried Sea Cucumber and Shiitake Mushroom with Abalone Sauce.
For those who only have time for a quick lunch, opt for their satisfying 'Pao Fan' (soup-rice) next door at Chao Ting. Each bowl features fluffy Jasmine rice paired with flavourful broth that comes with three options for ingredients, namely, king prawns, sliced fish, and fried fish. What really makes this bowl a knockout is its tantalising soup, a luxurious concoction made of prawns, pork, chicken and fish bones to ensure rich, umami sips that will leave you coming back for more.
When? Now till otherwise specified
130/131 Amoy Street, Far East Square, Singapore 049959
One of the most coveted dessert brands from Osaka is now available at Vivo City, Gram Café & Pancakes. The catch? Sales are strictly limited to three times a day with 30 servings each time at 11am, 3pm and 6pm. Despite the controversy (aka the copycat saga), it still churns out a long waiting time, so turn up with your queue game.
Famous for their impossibly fluffy, 4cm-high, Japanese soufflé pancakes—topped with decadent butter, whipped cream and maple syrup like a drool-worthy anime scene—the café also serves other notable pancake creations that feature a thinner, chewier version of the signature batter. Our favourite is the slightly bitter Rich Tiramisu, but for the more adventurous, the Salmon and Avocado combination means brunch is only a pancake away!
When? Now till otherwise specified
Vivo City, 1 Harbourfront Walk #02-110, Singapore 098585
==
Stay updated and social with Popspoken: Telegram| Facebook | Twitter | Instagram