We are too often spoilt for choice when it comes to fine dining, but this cosy French spot at Duxton Road proves that there is always room for surprises.
Underlying its sophistication, whimsicality becomes the characterising flavour of Restaurant JAG. Local ingredients are elevated through delicate French techniques, with balance as the crux of the cuisine's mastery. Exposed brick walls peek through heavy velvet curtains, playful flavours enhance the refined ambience, and the open kitchen right at the end of the long dining hall allows for an unparalleled view of the chefs at work, while maintaining discretion for each of the seven tables.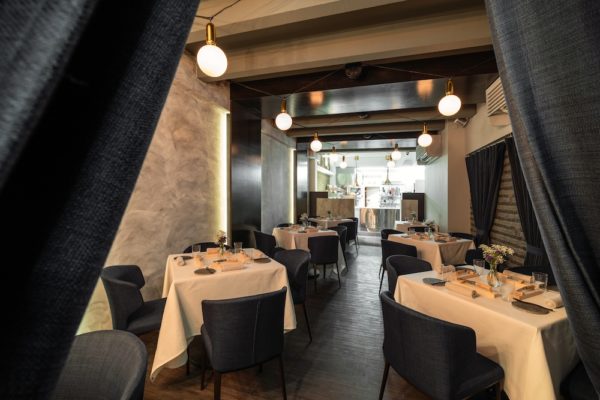 To start, there are no menus available at JAG, only seasons. Inspired by the beauty and nature of the mountainsides in Savoie, France, indigenous herbs are specially curated and then thoughtfully integrated into dishes, garnishes, seasoning, vinegars, and even whisky. It is even present in the butter that comes with the complimentary bread. Guests can choose between three dining choices — five, seven or ten Expressions — each embodying the best seasonal ingredients, carefully-selected herbs, and protein selections.
Spring already beckons crisp, delightful images of green and root vegetables, but what Owner-Chef Jeremy Gillon excels at is highlighting the produces' remarkable versality by teasing their full potential through a myriad of textures, temperature, aromas and flavours.
For example, a daring marriage between Angelique morel and sweetbread — a dish that straddles both Asian and French influences, or mushroom and bouleau presented in five distinct ways—served over a strip of foie gras and finished with mushroom meringue. Although mains tend to be more straightforward, here they are paired with excellent polenta, making for a wonderful contrast.
Overall, Chef Jeremy's creations are innovative and yet, exacting and gratifying. We speak to him to find out more about his journey as a chef, the thought process behind JAG, and learn which ingredient he cannot do without in the kitchen.
We need to establish a trust between the kitchen and the diner and be confident that our interpretation will hit the right spot with the diners.
From Le Montana in the French Alps to JAG, a lovely shophouse in Duxton, is this a place you could have imagined yourself several years ago? Why?
Definitely! I have known my JAG Restaurant partner and co-owner, Anant Tyagi for over six years now. What I was creating in the French Alps is what led me to Singapore as the Consultant Chef at a restaurant he was managing. Singapore has the infrastructure, the global appeal, access to the finest suppliers and a rich dining culture, which is a great combination for any restaurant.
We are also thrilled with our home here in Duxton. This beautifully restored shophouse is elegant and the heritage of the building captures the true essence of Singapore with its rich history and modern outlook.
How did you know you wanted to be a chef?
For me, cooking is ultimately about making people happy. Growing up, I always think back of my mum as the perfect host in our family kitchen. She was a great cook and she usually prepared big meals for family and friends, sometimes for up to 50 people! So, in my opinion, you don't always know if you want to be a chef. You become a cook first and your experiences and drive take you to the next level. For example, I used to cook at French Brassiere and never thought I'd be in fine-dining!
Can you share a little about the thought process behind the courses?
The dining concept is led by our herbs from Savoie, seasonal vegetables and then finally the protein. It's a very delicate approach and all elements must come together with a perfect balance. We offer our diners Omakase French Dining. We simply ask our diners if there are any dietary restrictions and offer them various expressions or courses, depending on time they have. We then have their trust and our freedom in the kitchen to prepare a unique tasting menu for them to take them on a one-of-a-kind culinary journey.
What do your signature dishes say about you?
We do not have signature dishes but rather signature produce. For example, in Spring I had beautiful plump, juicy sweet green peas from France. In Summer, it will be eggplants amongst other selection. We have a structure to our menu and even with omakase we have a plan but on any given day we are entirely driven by the quality of the ingredients. Preparing memorable dishes is more about feeling. We need to establish a trust between the kitchen and the diner and be confident that our interpretation of the vegetables and protein will hit the right spot with the diners.
What is the one ingredient that you cannot do without?
Passion! In any kitchen, you either have the most beautiful and expensive produce or normal and everyday humble ingredients. But you need the passion and drive to transform them into a beautiful meal – no matter how simple or complex a dish.
Are there any emerging dining trends or destinations that have piqued your interest recently?
Locally sourced ingredients are always a pleasure for chefs. A lot of restaurants around the world are trying to use ethically-sourced and locally grown ingredients but not all are able to commit to it as supplies can be limited or inconsistent in quality. There is a restaurant in Bali that has really excited me: Locavore in Ubud. I have not had the chance to visit but I read that the menu is entirely driven by strictly Indonesian produce – from seafood, poultry to the vegetables and spices, all ethically sourced and from small-batch producers. It will be interesting to explore!
When? Now till otherwise specified
$108 onwards per pax for a five-course dinner menu
Restaurant JAG, 76 Duxton Road, Singapore 089535

This is an invited tasting.
Discover more interesting chef and food stories in our Lifestyle Section.